Politicians are easy targets. They're constantly in the public eye, and just like an actor they're being mercilessly scrutinized on a daily basis. The difference between them is that an actor serves themselves and a politician tends to serve the people, or so we all like to hope and believe. When it comes to their personal sense of style and fashion however Hollywood, critics, and the public in general seem to have little to no mercy when it comes to what are seen as obvious fashion faux pas. The fact that Chris Christie is a public figure is a big reason why he's so noticeable when it comes to his fashion sense, or lack thereof. The other part of course is the big belly that he seems willing to broadcast so often.
Before you go any further keep in mind that this is not a fat-shaming article. Many bigger folks in politics and in the news are either just as big or bigger than Mr. Christie. The difference is that a lot of them know how to present themselves in public without allowing their stomach to be the lead man for the rest of them.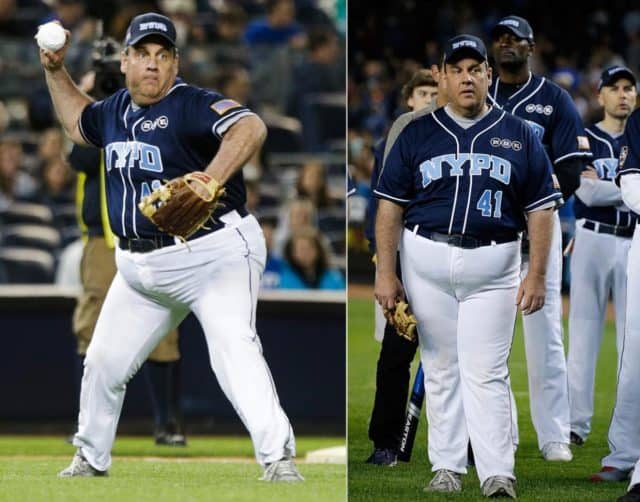 We all know baseball pants are supposed to be stretchy, but how far is too far? To be honest Mr. Christie looks like Humpty Dumpty with a baseball jersey. Just from the look of this photo it seems like a fully-powered pitch might tip him over. But obviously he's found a way to make it work. Also, if he goes to scratch himself does he just scratch his belly and call it good enough? Oh that was horrible, but still needed.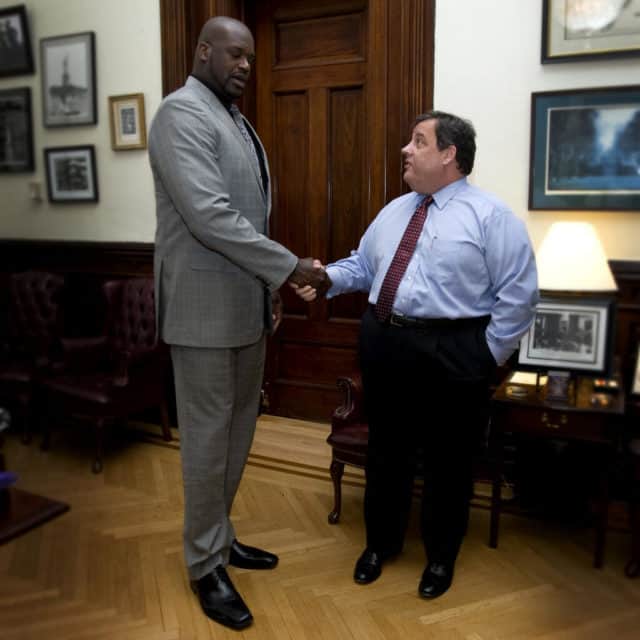 So there are a few reasons Shaq might be looking at Christie like this. 1) He's wondering where the rest of Christie's torso is, 2) The most obvious, he was caught blinking in the flash, and 3) He might think Christie is a shaved-down teletubby. It might not make sense, but neither do his pants. Seriously, his pants cover more of his body than his shirt does.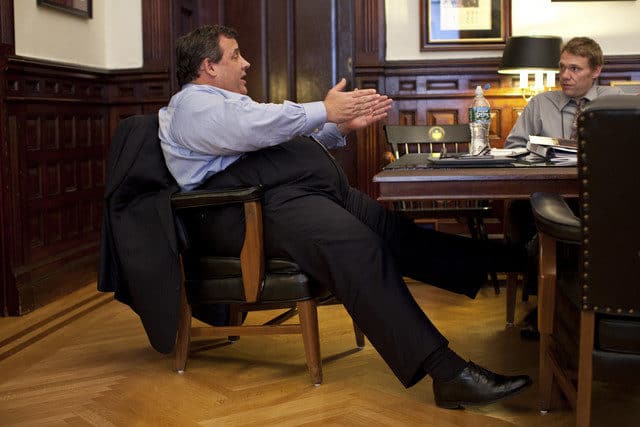 There are so many things I could say about this picture but I'll stick to just a few. He looks like he had to fall into his chair just sit down. It almost looks like his pants are trying to consume him from the ankles up. If he leaned forward he could probably take down his zipper with the edge of the table. With his pants up like that anyone looking at him from across the table might think he's wrapped in a giant sleeping bag. Really, these could go on and on even if they didn't make sense and did eventually start referencing his weight. Christie is a man that's actually lost pounds and still feels the need to accentuate his protruding stomach like it's a thing of great importance.
A person's weight isn't a good enough reason to get after them about anything at any time. But honestly if that person has a horrible fashion sense and seems to think that broadcasting their belly to the world is a good idea then yes, they should expect at least an opinion or two thrown their way.
Save