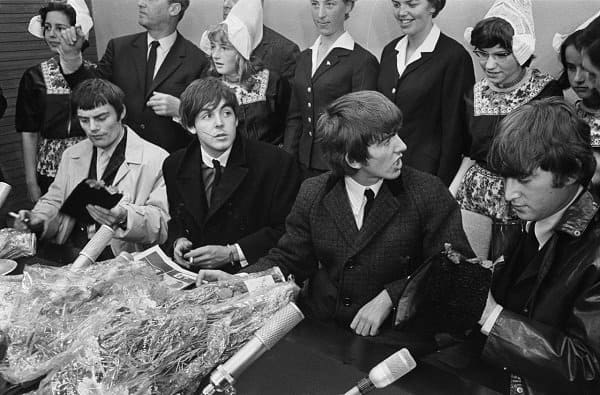 Back in the 1960's when the Beatles were still at the top they apparently wanted to make their own version of The Lord of the Rings. My mind just kind of short-circuited for a moment trying to think of what that would be like. Does anyone remember fantasy movies from the 60's? That's when we had movies like Jason and the Argonauts, the Godzilla and King Kong spinoffs, and other such movies that dealt in the kind of effects that we now see as rudimentary and low-tech. Granted they were good for the time but the Beatles were a rock group, not a band of actors and as a result the movie would have been entirely underwhelming, in my opinion.
It would have been a valiant attempt really since Paul wanted to play Frodo and Ringo wanted to play Sam. John wanted to play Gollum and George would have taken up the role of Gandalf. I say would have since they did go to Stanley Kubrick with this in the attempt to get it made, as well as the author, J.R.R. Tolkien, but were shot down both times. For whatever reason Kubrick didn't want to take the project on, and Tolkien didn't want to give permission. Tolkien was the final deciding vote of course since it was his story and he didn't want to see it profaned by a collaboration he didn't agree with. I can fully agree with the man on that point, since when you create something that is special to so many you want to see it treated right.
Kubrick making LOTR seems like it would have been darker and far more brutal than it had any right to be no matter that it was in essence a very dark story in some ways. Yet Kubrick turned it down, thankfully. Paul McCartney actually was pretty gracious when he told Peter Jackson that it was good thing they never got to make their movie since it allowed people to enjoy his version a lot more. This is one of those moments when you want to say what's on your mind but tend to want to avoid it for fear of how the other person will react. So I'll just go ahead and say it, people would have still preferred Peter Jackson's version even if the Beatles had been allowed to do theirs.
In fact I think it's safe to say that the only people that might have thought any way about the Beatles in a LOTR movie would have been the diehard Beatle-maniacs that wouldn't utter a single negative word about the band if every member of them came up and slapped them across the face. That kind of dedication is what it would have taken to watch a LOTR version made by the Beatles in my opinion, largely because they weren't actors, but also because it just wasn't the right time. Even the 1978 cartoon feature of the LOTR wasn't really the right time, though it was still more entertaining than a Beatle's version might have been.