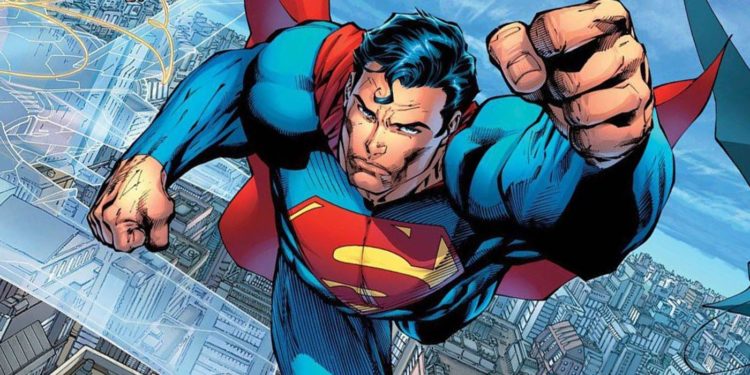 When it comes to comics there are a few facts that simply can't be ignored:
First, Superman is the gold standard. He's Mickey Mouse, Michael Jordan, Super Mario; if there's a superhero more ubiquitous, I'd like to see him. Everyone knows Batman, and these days Marvel guys like Captain America and Iron Man are wildly popular, but Superman remains the evergreen. That's a fact.
Second, Superman's power-level does NOT hinder him from being involved in compelling, dramatic, or harrowing stories. I say again, the fact that Superman is, essentially, godlike in his powers, does NOT mean the stories around him must necessarily be boring and tension-deprived. On the contrary, Superman has been going strong since 1938 and in that time has had some incredible runs, storylines, and multi-issue sagas, none of which were hampered by his "super" powers. That's a fact.
Third, there hasn't been a universally beloved take on the big blue guy since Dick Donner's 1978 film and, arguably, that first movie remains the only version of the character everyone agrees is the perfect depiction of the hero. You can find those with a soft-spot for the Fleischer cartoons, but they were early in the hero's lifespan, before his power level was codified. Some look back fondly on the Dean Cain Lois and Clark show…while forgetting how cheesy the special effects were. Bruce Timm's take was really good, though it was always in the shadow of his Batman work. It goes without saying that the wonderful Henry Cavill has been a bright spot in some dull movies. No movie in over forty years has touched the first in regards to acclaim and fondness. That's a fact.
So what gives?
If Superman is so universal as a comic book hero, and if good stories can be told with the character, then why haven't we gotten a good movie with him in forty-two years and counting? Why does Warner/DC seem so averse to having another attempt?
In my opinion it's because the movies have failed to utilize either his vast Rogues Gallery and instead have fallen back to the same three kinds of villains over and over. Think about it: What villains have we seen in big budget Superman movies?
Luther,
Zod,
Evil Superman (but not Bizarro),
Nuclear Man,
Luther again,
Zod again.
That doesn't count the Batman v Superman (Luther again! and Doomsday) or Justice League (Steppenwolff)
Luther is Superman's Joker, his Norman Osborne, his Dr. Doom…except he has none of Joker's versatility, none of Osborne's powers, and none of Doom's nuance. He's just a guy. Back in the day he was a mad scientist, and after that he was a shady businessman of sorts. Is there material to mine with Luther as a Donald Trump-esque mogul who becomes President? Sure (the comics did it), but now is not the time, for no other reason than how overdone Luther is.
Zod offers plenty to work with but he's been done recently, and twice-over as well.
The other villains are just guys with Superman's skill-set or power-level, making the climaxes of those stories just mindless punch-offs. Different kinds of villains are needed if you want to create a modern, great, Superman movie…or even a series of them.
For example…
Brainiac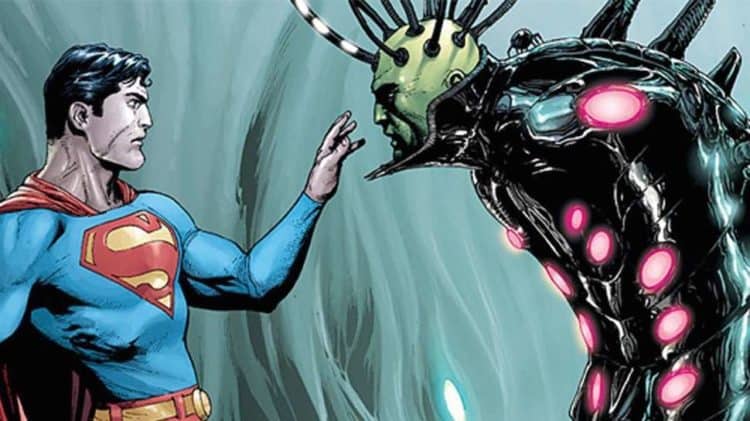 Let's start with the most intriguing villain of the bunch, Brainiac. Depending on the source material you want to draw from, this could be the guy responsible for Krypton's destruction. He could also be in possession of the shrunken city of Kandor (the last survivors of Krypton, other than Kal'El himself). Right there you have potential for good character/emotional drama to play with.
In terms of power, though it's always easy to give a guy a super-suit to help him fight Superman, Brainiac's true ability is his intellect, making for a different sort of central conflict. A fight with Brainiac naturally takes Superman out of his element, takes his movie away from the same three locales (the Daily Planet, Kansas, the Fortress of Solitude), and pushes the franchise into bigger, more cosmic, territory.
Bizarro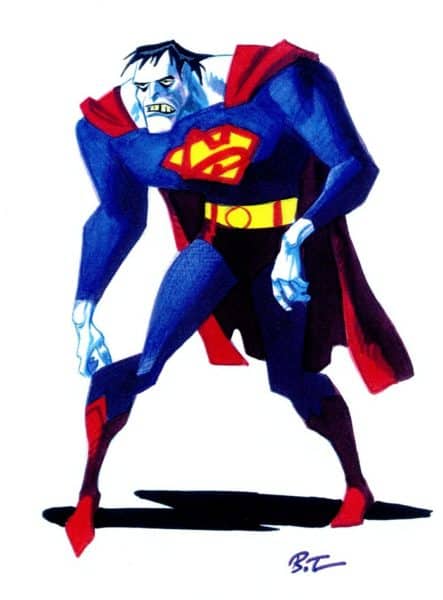 Bizarro is more than just a one-note baddie, though that's often what he's reduced to. He's Frankenstein's monster, a warped creation of Lex Luthor (in some stories), abandoned as a failure, who lashes out against everyone around him. It makes for a different kind of villain than Superman typically fights, who are usually two dimensional and polar-opposite his boy-scout demeanor.
This is not a villain you necessarily want to see Superman punch to death…and there are very few of those in his Rogues Gallery.
A story like Bizarro in the center can take the, typically cliched, "hero fights mirror-villain" trope that so many Marvel movies employ, and give it the kind of pathos that Warners wants out of its comic book films. Bizarro is a tragic character, a pawn of the true villain Lex Luthor who, in this story, would barely have a supporting role. Whether you redeem him or have him die in a poignant way, you're guaranteed a movie unlike any we've seen from DC thus far.
Darkseid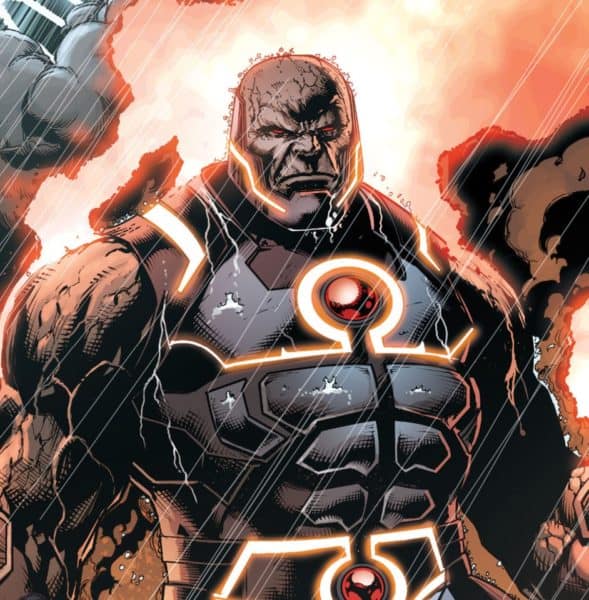 Finally, we come to the big tuna. A few years ago, the ultimate DC supervillain was set to be the villain at the center of Justice League II. Instead, Justice League I flopped (and hard), throwing every apparent plan and film into limbo at Warner Bros. Every year that we go without a Superman movie, or every year we go without Darkseid as a villain (either against Supes alone or the whole JL) is a missed opportunity.
Granted, much of Darkseid's look, backstory, and ultimate goal are thematically similar to Marvel's Thanos (of course they are; Jack Kirby created both characters), but in every way Darkseid is the original and the superior version. His goal is not simply to wipe out half the universe, but to obtain the Anti-Life Equation to strip away the free will of every living being in existence.
As important as it is to give Superman different kinds of villains, Darkseid remains the ultimate final boss for the hero, because other than a gimmick-villain like Doomsday, he's the only DC baddie with the history and credibility to be a genuine threat to the Man of Steel…and the whole universe Superman would die to protect.
Conclusion
DC has a vast library of amazing characters, only a meager fraction of whom have appeared on screen in any decade. It's a shame that the company's flagship hero has had such a difficult time getting a movie off the ground at all, not to mention one that can live up to the long shadow of a movie now forty-years past its release.
Hopefully Warner Bros. has not given up on the hero. Hopefully they see the need to break away from what's been done and step out with bold ideas. If they do, hopefully fans reward them with something Superman hasn't had in a very long time: A box office hit.