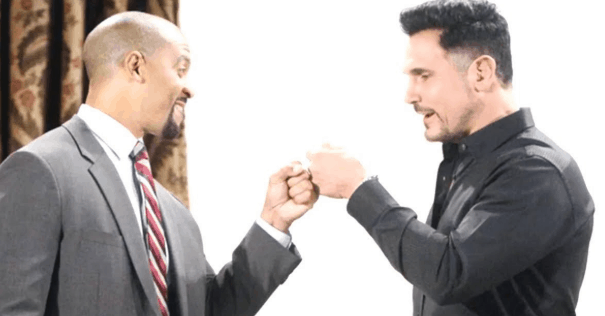 The Bold and the Beautiful fans love a good best friend, but we are not all that sure that the people here really do have a best friend. Honestly, what is going on around here is too much for most of us, and there is little we can do to change the fact that these people tend to focus on themselves and not anyone else in their lives. There are friendships, of course, but they aren't really that great. Honestly, you can take a few moments to think about all the people here in LA, and ask yourself if you'd like to be best friends with any of them. They aren't the kind of friends we want in our real lives, honestly. But, in their own weird and strange and not really appealing way, they all have something that might make a good friendship. They do have best friends, and we want to discuss the best friends who seem the closest to us.
Bill and Justin
They are, by far, the very best friends in this show. But, they are still a sad set. Justin doesn't always love what Bill is up to, and he's mostly just paid to be Bill's best friend since he is on tap as his attorney. There is nothing really good about that, but he has Bill's back more than anyone else in town. And he is the only person who is there for Bill all the time And Bill is the only person there for him all the time. They have a strange bromance going on, but we like it a lot. They make us happy that they are still together after all these years, but we also suppose that there is a lot of money exchanging hands around here as a result of the things that Justin is asked to do that aren't exactly legal, moral, or ethical. But, they work, and we love them. They are the best of the best friends in LA, and we get that.
Liam and Wyatt
Interestingly, these two did not always get along. But, in the past year or so, they have become a lot closer as brothers, and we love that. They have become a couple of men who spend some time together, and they are there for one another, and we love that. They were once both married to Steffy, and they seem to be all right with that. It doesn't seem to be a problem that really does make them seem as if they are not over it, and that's nice. We have loved watching them become friends and grow closer together in the past year, and we hope that they can stick it out and stay that way for a while. They have a long road to go, but they do have some similar qualities and they do seem to want the same things in their lives.
Brooke and Hope
They might be mother and daughter, and they might have some big issues with one another in the past, but they are the best of friends. Hope doesn't really seem to have another set of friends outside of her mother, and that might be why she's been pushing so hard to befriend Flo, who is someone she feels she can be friends with — now that they are family. Brooke is always there for Hope; and Hope always goes to her mother for advice. They might not always see things the same way in the same light, but they don't fight, they don't have any major issues, and they always forgive one another. They do have some issues to deal with, but they are good to go in every way. They are the best of friends, and they do have things to offer. They are the kind who don't say anything else that would hurt the other to anyone else. But they are having the time of their lives with one another, and we are pretty sure Hope has no idea just how overbearing her own mother is. She doesn't seem to realize it, and that's something we don't really get. But, for now, they can handle things on their own.
Tell us what's wrong with this post? How could we improve it? :)
Let us improve this post!