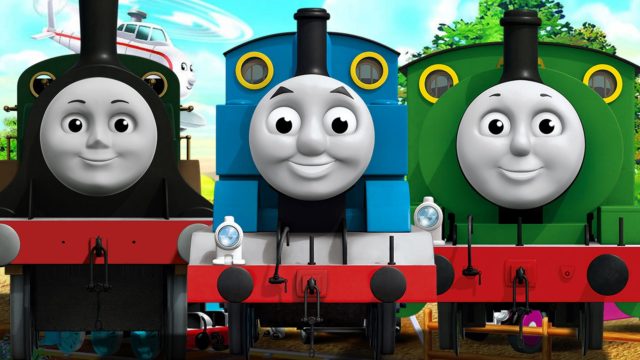 Thomas and Friends is a long-running children's TV show that comes from the United Kingdom. As a result, it should be familiar to a lot of people out there, not least because it is centered around living train engines. In particular, it is centered around Thomas the Tank Engine, whose unmistakable face has been plastered on a wide range of products over the course of the character's existence.
Regardless, it is interesting to note that Thomas and Friends will now have a new home in the United States. In the past, the TV show was broadcast on PBS. Now, it will be broadcast on Nickelodeon through Nick Jr., where it should make a fine addition to that particular channel's programming for children. This means that said channel is where the new season of Thomas and Friends will start broadcasting in March. Furthermore, this means that said channel will be home to a new series called Thomas and Friends: Big World! Big Adventures! as well as a Thomas and Friends movie, which can be expected sometime in the not so distant future as well.
The change seems to be part of the owner Mattel's plan to expand the presence of Thomas and Friends in the United States. Part of this plan consists of the move, which will enable the children's TV show to reach new viewers. However, it should also be noted that there will be a change of direction for the content of the children's TV show as well, which the people behind it hopes will help them with their goals as well. Said change in direction is rather extensive, with examples ranging from Thomas the Tank Engine venturing out into the wider world to the introduction of new characters that happen to include some created with the cooperation of the United Nations. Something that speaks volumes about the sheer extent of the children's TV show's influence.
It remains to be seen how Thomas and Friends will perform at its new home. However, considering that the children's TV show has managed to remain popular since 1984, it seems probable that it will continue to remain popular with new generations of viewers for the foreseeable future. After all, that kind of success is no coincidence, meaning that it seems reasonable to assume that the people behind Thomas and Friends know what they are doing.
With that said, it is worth noting that there is a fair amount of cash involved with the latest happenings with Thomas and Friends as well. After all, considering its popularity, it should come as no surprise to learn that the franchise manages to bring in a fair amount based on its merchandise. It is interesting to note that Thomas and Friends's relocation to a new home came with Nickelodeon becoming Mattel's sole consumer products agent for entire categories of merchandise associated with the franchise, which is a move with some rather significant implications to say the least. As a result, the financial performance of the franchise in the near future could well prove to be interesting.
Tell us what's wrong with this post? How could we improve it? :)
Let us improve this post!