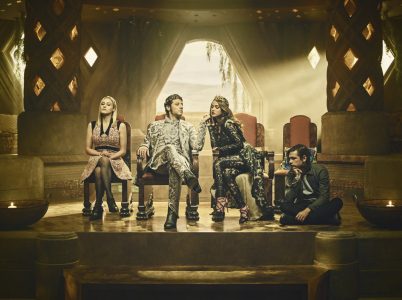 Recently, series are known for their show stopping season premieres. Honestly, The Magicians is not one of them, but "Knight of Crowns" was a great start to the second season.
The Magicians surprised me last season. Somehow everything about it came together nicely, the effects, the cinematography, the relatable characters, and the dorkiness that Syfy brings to all of its content. Naturally, I was excited to see how season two would pick up after that nasty cliffhanger.
"Knight of Crowns" tied up several loose ends from the first season. Elliot apologized to Alice, Margo apologized to Quentin for ruining his relationship with Alice, and Penny found a magical healing pond.
The test to acquire the crowns of the high kings and queens was by far the best part of the episode. It reminded me of Monty Python and the Holy Grain and Elliot's Patrick Swayze impression was spot on. I love that this show has a sense of humor, even allowing Margo to question if she was even a hero in this story.
While the show has a lighter side, the writers did not forget the darker side. Julia began her quest with Martin, the Beast, to kill the demon who raped her and killed her friends. The writes handled this well. The scenes included flashbacks of her attack and showed the trauma Julia experienced.
I trust that the writers will continue to handle this subject with care. I am always interested to see how writers handle traumatizing subjects like this one. Julia had a difficult plot last season, so I hope she get some redemption.
The Magicians surprised me, I love this show, and did not expect to. If previews for season two have you curious, I recommend binge watching it right now. Catch up, so you can see how amazing this season will be.
[Photo by: Jason Bell/Syfy]