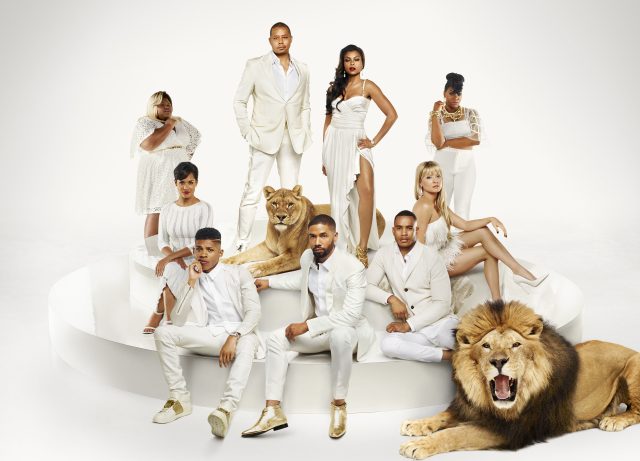 I know, I know. We live in a digital time. Streaming is the name of the game. You can find pretty much every single show you like, past or present, somewhere online. That doesn't mean that DVDs don't still have value, especially when the bonus footage is so good. Before Empire's third season premieres tonight on FOX, we thought we'd give you a preview at some of the moments you didn't see behind the scenes from the hit second season, as well as the subtle steps it takes to create such a massive phenomenon.
The first thing you'll notice on the Empire Season 2 DVD footage are the uncut musical performances. Meaning the musical moments you originally saw are put together to create the feel of a music video for each song. Now you might think that splicing together the footage you've already seen means you're not missing anything, but there's a certain magic in separating the musical moment from the storylines. Watching Terrence Howard and Jussie Smollett work together on "You Broke Love", you can tell the magic in the room isn't Lucious and Jamal, it's Terrence and Jussie. Truth be told, the chemistry between Bryshere 'Yazz' Gray's Hakeem and Jamila Velazquez's Laura is more pronounced in their uncut music sessions than was ever seen during their time together on air. Freda Gatz's music video is her actual video which showcases some of the best Season 2 moments. The Studio Sessions take you into the moment when the tracks are actually laid down. The real star of that show is Ne-Yo, whose work as a producer for Empire's music is invaluable.
Set Director Caroline Perzan and Production Designer Cece Destefano will take you through the physical environment they've built for the show. They explain how creating a sense of grandeur for the Lyon family was actually doable with alot of second hand items, and give tips on how you can create your own Empire look in the home or business. That includes the artwork, which Lee Daniels personally handpicks to be featured on the show.
Music is a huge feature of the show, but we all know its draw is family. The cast cares about family on and off the show. To that end Jussie Smollett, Bryshere 'Yazz' Gray , and Taraji P. Henson spent part of December 2015 on a USO Tour in Japan. In this exclusive footage from that tour, you'll get to see how the experience touched the Empire cast and learn exactly why these types of events are important to U.S. military and their families. Not to mention, you'll see that teenage fangirls are the same in every country.
The only real bummer is that there are no deleted scenes. That is probably more due to the fast-paced, quality-packed nature of the show's material. All in all there isn't one minute of behind-the-scenes or on-set material from Empire that isn't must-see TV.
Season 2 of Empire is now available on DVD. Season 3 premieres tonight at 9pm on FOX.