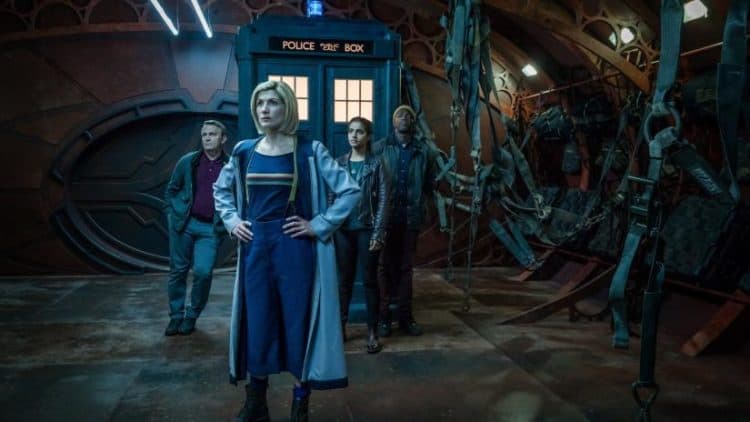 Obviously Jodi Whittaker has really managed to get into character since most of the questions that she's been posed by fans that are likely diehards and have seen Doctor Who from either the beginning or much further back than many people. She's a good sport about it and is pretty knowledgeable when answering questions so it's kind of fun to think that she's having a good time with it and knows enough of what she's talking about to make a good showing. There have been moments in some Q&A sessions when those that played the parts most loved by the fans didn't know much of anything and could barely keep up with the questions. This of course tends to dampen the moment just a bit since a lot of fans will expect the actors to know something and be able to give them the answers to questions that have been burning in their minds for some time. The only drawback of course is that some actors prep for their role and nothing else and go by the script without having much of a working knowledge of the show or movie overall. That kind of kills the enjoyment for some people since up until that point a lot of folks are happy to think that the actors know everything about what they're doing and will be able to answer in with the type of expertise that fans expect.
Thankfully Jodie is able to answer quite a bit and doesn't appear flummoxed by anything since she's been immersed into the world of Doctor Who and has in fact become the character. The outcry that a woman would become the next Doctor is kind of funny now when one thinks of it since so many fans sounded concerned about the switch that it seemed almost likely that the show would suffer the moment that Jodie took over. But instead people have decided to accept the current doctor, though there are rumors that the next season could be her last. There's also a lot of talk about the show losing a good number of viewers lately for whatever reason might be responsible. One big issue might be the continuity of the show and the efforts that the showrunner is trying to make in attempting to bring something new to the fore in order to up the ratings. Unfortunately at this point it would appear that the opposite is happening since the show is swiftly becoming something that people are willing to abandon as it continues its course. It's likely that many people wouldn't attribute this to the cast since they've been on point and doing their job for a while now, but the story sounds as though it's in a spot of trouble.
Things could turn around quickly though as sometimes happens considering that all it takes is a few careful tweaks and a story can be back on track again and back in favor with the fans since many of them are notoriously fickle and will follow just about anyone that appears to have some authority when it comes to their favorite show. Hopefully Jodie can keep inspiring people since thus far she's done a pretty good job and she's handled the mantle of the Doctor pretty well. The fact that she knows so much about the show she's in is also a big up since it allows her to relate to the people asking the questions in a manner that's much more comprehensive than many people. Any time an actor can actually tell the fans about what they're doing, their part, and the project they're working on as though it's a huge part of their life, which it is, fans respond in a very positive way since it means that the actors are putting themselves fully into the project and aren't just dancing around the fringes reading every other line in the script. Thus far Jodie Whittaker has done what she needs to do when it comes to the role of the famed Doctor, she's studied up and knows more than enough to answer the questions posed to her by the fans, and she can even be friendly and funny while doing it. Some fans obviously ask questions that don't make a lot of sense or are possibly kind of inane or even laughable just because they want to know why something is going to happen in the show that hasn't been revealed yet.
Of course she's not about to do that thankfully but she does manage to answer many of the other questions in a very friendly manner and is cordial to every one of the people whose questions she answers. That alone tells a person that she does enjoy her job and that she's right there with the fans when it comes to the show.