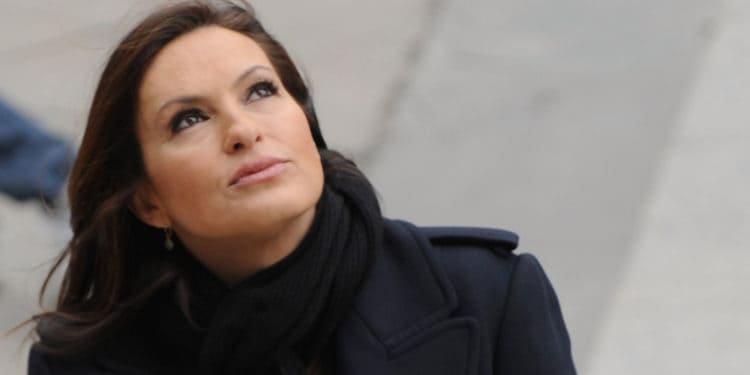 Law & Order SVU is one of the longest running series from the franchise. It's characters like Olivia Benson (Mariska Hargitay) that makes the show all the worthwhile 23 seasons later. Over the last few years, Olivia Benson has been allied the "best female character on tv" popular magazines like Glamour, The Washington Post and Harper Bazaar. Olivia Benson is often referred to as the heart of Law & Order SUV. Here are 8 reasons why she is our favorite character on the series:
1. Olivia is extremely empathetic
Olivia shows great empathy for victims and she almost always willing to go out of her way to protect them. Perhaps it is the fact that she was a "product of rape". Benson's mom was raped and she decided to keep her. This is at the heart of Olivia's genuine compassion for rape victims. Her empathy sometimes clouds her judgement. In Season 1, Olivia is appointed to a case involving female vigilantes that are murdering their rapists as an act of revenge. Captain Cragen has to remind her that her emotions cannot overrule the law. The truth is that Olivia Benson's emotions will always make her cross the line when handling such cases but that's one of the main reasons we love her. Olivia also has a run in with a dangerous and psychotic sexual predator that kidnaps and tortured her for days. Having experience this makes her even more empathy of victims that have undergone such abuse.
2. She's incredibly loyal to Stabler
Benson and Elliot Stabler have been partners for about twelve seasons. We love their partnership because of the undying devotion they have for one another. Being Elliot's partner isn't easy because he has an anger problem that often gets him into a lot of trouble. Fans of the show have always wanted the writers to explore a romantic connection between the Benson and Stabler. However, Stabler was married and even when he separated and divorced his wife his friendship with Olivia never developed into more. A platonic close friendship like Olivia and Elliot was very important to television. That's why it was so disappointing when Elliot abruptly retired and disappeared from Olivia's life.
3 Benson is tough as nails
Detective Benson is actually the first female lead detective ever in the Law & Order franchise. Most of the women on the series under the franchise featured women as lawyers and psychologists. Throughout the twenty three seasons we have observed Benson navigating the sexist criminal justice world. She has always stood her ground, strived to do what's right and it has paid off. We've seen Benson evolve from a detective to a lieutenant.
4. She's flawed
Olivia isn't perfect by any means but that's what makes her relatable. Olivia is complicated and viewers really get to see the demos she has to fight when it comes to her personal life. At one point Olivia struggles to maintain a good relationship with her brother who is a drug addict. When he overdoses she regrets not having a chance to say goodbye. As Olivia gets older she also struggles with the idea of not having children or a successful relationship These are all real-life struggles that women experience especially once they get older.
5. Olivia is a great mama
True fans were genuinely happy for Olivia when she was awarded custody of Noah. Motherhood is scary especially when you're doing it alone. De using to adopt a baby linked to such a troubled past was t an easy decision but there was something about Noah that pulled at Olivia's heart strings. In the last few seasons we've seen Noah grow and Olivia grow as a mom. Despite her busy schedule as a lieutenant she makes sure that she spends time with Noah and that he is well-loved.
6. Benson respects her detectives
In the twenty-three years of the show we have never seen Benson have a real problem with any of her coworkers. Her kind and genuine nature makes her one of the most likable characters in the show. Now as a lieutenant she doesn't flaunt her power or authority. Instead she respects and genuinely cares for Tutola, Rollins and Tamin. She always shows her support to her detectives. For instance, in Season 22 when Stabler makes a brief return his wife is bad hurt in a bombing that was meant for him. Olivia showed her support by regularly visiting the hospital, making sure Stabler didn't go off the reigns and she was quick to round up all the detectives to find the culprit.
Tell us what's wrong with this post? How could we improve it? :)
Let us improve this post!