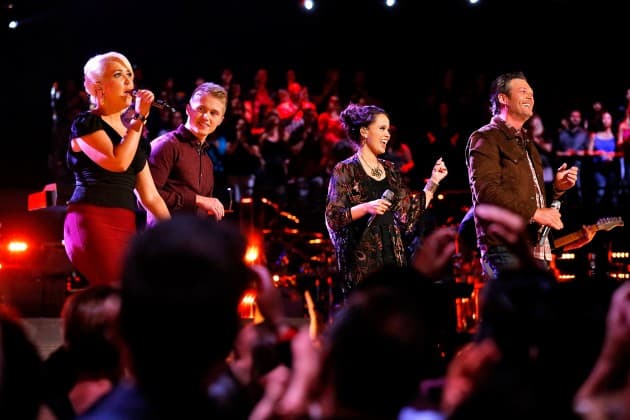 Results shows are always interesting, as they attempt to fill most of the hour-long episode with filler so that they can build up the suspense of who is going home. They do this with performances, video packages, useless pitches from the coaches, and, most annoyingly, minute-long dramatic pauses between announcing who is safe. After all of this, we do finally get to find out who will be leaving the show in the last minute of the episode. Last night's results on The Voice were somewhat shocking with one of the better singers leaving along with someone who did not stand a chance.
The night started out with a performance from Nick Jonas who is clearly a fan of the show, having already appeared this season as a mentor. This transitioned nicely into the coaches revealing who the mentors will be next week, something that would have been more exciting if most of America knew who they were. Regardless, with this out of the way, the results finally started to be revealed, which is really the whole point of the episode. It wasn't a surprise that Kimberly Nichole, Sawyer Fredericks, and Meghan Linsey were the first three announced to be safe, all the best on their team.
Next up was more filler, as Blake took the stage with his team in a fun performance that clearly highlighted how much stronger Meghan is vocally than the rest of her team. No more time was wasted before another round of results came in, this time revealing that Joshua David, Adam's best team member, was safe. Along with Joshua, India Carney, and Hannah Kirby also landed safely in the Top 10. This came as a surprise to me as I thought for sure that Hannah would be in the bottom three.
Christina also got to perform with her team last night, leaving me questioning why Adam and Pharrell were not afforded the same opportunity. If they had spent a little less time with the dramatic pauses between results, maybe there would have been time left over for the other two teams to perform. We also didn't need to see the video montage of the contestants talking about how they spend their free time, which aired after Team Christina's performance.
Finally, the focus switched exclusively to the results with Koryn Hawthorne, Rob Taylor, and Corey Kent White joining the others in the Top 10, leaving the remaining contestants to make up the bottom three of the night. Mia Z, Brian Johnson, and Deanna Johnson all had the chance to sing for their chance to remain on The Voice, as America voted for which of the three they wanted to save. It was no surprise to see Brian and Deanna in the bottom three, both of whom suffer from being utterly forgettable. Mia Z, on the other hand, is completely original and unique with an interesting style, and I thought she would easily move on to the Top 10
When it came down to it, America chose to save Deanna, who benefited from a passionate plea from her coach, Adam. She has struggled with confidence all season, and Adam wanted her to feel what it's like to be saved by America, most likely garnering her enough votes to make it through. It's always sad to see contestants leave but only one person can be named the winner of The Voice. But like Adam pointed out, they should all be proud that they made it this far, having beat out thousands of other hopefuls. Mia and Brian's journey on the show may have ended last night, but that doesn't mean they didn't accomplish something great.
[Photo via NBC]
Tell us what's wrong with this post? How could we improve it? :)
Let us improve this post!