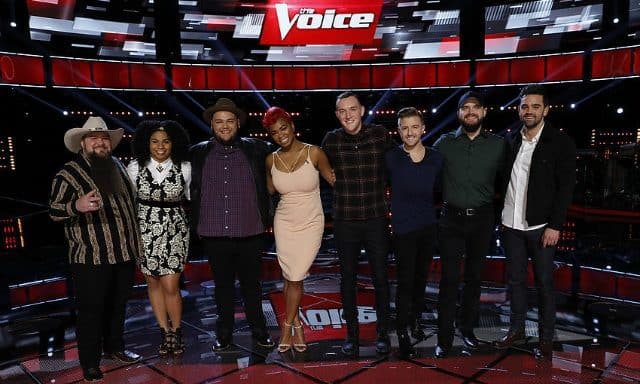 The Voice season 11 semi-final performances give viewers a tough choice. With four people going home there's no room for being nice. Viewers have to decide whose voice they want to hear for one more week. This is going to be brutal.
I know, it's supposed to be all about who wins and gets the record contract. Except this is not American Idol. There have been no mega stars – yet. However, how many Voice artists are still making music and have new iTunes singles, concerts tours, and are still working in music? A whole lot! Some of them even are working with their former coaches. Every year the talent level on The Voice has gone up, and The Voice season 11 is no exception.
The point is, every performer that's made it to the top eight (and really to the live shows) have tremendous talent. Whose voice deserves one more week? All of them – but we have to pick four. What viewers have to decide is who they really want to hear to do one more song while working with their coach.
Here are the performances we've got to consider for the voting. (Remember you can vote three different times: Use The Voice App, then vote on Facebook, and by downloading a performer's song
The Voice Season 11 Semi-final Performances
Team Alicia: Christian Cuevas
Song: "To Worship You I Live (Away)" by Israel Houghton — Download at iTunes
Christian is a worship leader at his church and he really wanted to this song:
Alicia: "At this point in the show you have to do what you love."
[youtube https://www.youtube.com/watch?v=YMKs5VPb0Qs?rel=0]
The energy in the room changes when Christian sings this. For those of us that believe in God, we'd say The Spirit was in the room. Those that don't, likely would call it deeply emotional. You can't fake that. So, I'm ignoring the cynical part of me that thinks on a season that's recently amped-up its appeal to the Bible belt this was just a calculated move to push Christian up on iTunes. Sometimes things can be both heartfelt and smart thinking.
Team Miley: Ali Caldwell
"I Will Always Love You" by Dolly Parton/Whitney Houston — Download at iTunes
A couple of weeks ago I noted that Ali was the closest we've had to a Whitney Houston in a long time. It wasn't surprising to hear Ali tell Miley Cyrus that Whitney was the first singer she remembers making an impact on her as a little girl. This Dolly Parton original is probably the most recognizable Whitney Houston recording of them all. Ali managed to do a version that did it justice – while also making it her own.
[youtube https://www.youtube.com/watch?v=hEfM7sz9g6g?rel=0]
The dress and the staging where perfect for this. What quite a feat is that vocally Ali blended some of Dolly Parton's recording into the Whitney Houston arrangement. She also had some heartfelt phrasing choices that were all Ali. This is definitely her best performance to date – and it's flawless. Not to say that she hasn't done great jobs before. However, if one were picking the finalists strictly based on what they did tonight, Ali deserves to be one of them.
Team Adam: Brendan Fletcher
"Angel" by Sarah McLaughlin — Download at iTunes
At this point in the show you start to realize how difficult choosing just four singers is going to be. Brendan's got a unique rocker voice, deep, smooth, and yet gritty. He's also got those big brown eyes….
[youtube https://www.youtube.com/watch?v=84H_dzkTwh4?rel=0]
It may have been nerves, but for the first half of the song Brendan had a death grip on the mic stand and was eating the mike. A lot of the words got lost because of it. Once he loosened up and let go of the mic stand it was great. "Angel" was a good song choice for him, but he still needs some work with being on stage – especially when he's not on guitar. Maybe that's a reason he needs another week on the show.
Team Alicia: Wé McDonald
"Scars to Your Beautiful" by Alessia Cara — Download at iTunes
Damn-it Alicia…. I understand why you chose this song. The lyrics are perfect for her. It's the music that's not. After doing "God Bless the Child" last week, switching to something contemporary makes sense. It's good to show her being a modern performer. However, Wé needs music that is more melodic it its structure. This song is far more rhythm-based which makes it a tough song to sing.
[youtube https://www.youtube.com/watch?v=r_iMkuYXVdg?rel=0]
Even though Wé looked to be having a great time doing the song, she loses the pitch about half-way through. This was not one of her best performances. I'd love for her to make it through because I like the growth we're seeing in her. She really is a phenom. I'd like her to have one moment to get it absolutely right.
Team Miley: Aaron Gibson
Song: "Everything I Do (I Do It For You)" by Bryan Adams — Download at iTunes
Miley has said more than once she plans on working with Aaron once The Voice is done – no matter how the show turns out. I can totally see her putting a great entertaining band for him to front.
[youtube https://www.youtube.com/watch?v=LhwWTadg1bc?rel=0]
Despite a couple of moments where he's off-pitch emotionally this is one of his best performances. He's had trouble at times with sounding connected to what he's singing. Tonight that was there. Vocally though, I feel like all of the music he's done just blends together. There's no vocal progress or development in his sound. He was a good alternative rock singer when he came in – and still is. The question is do this: do I want another week of it over say Christian or Brendan who feel like there's even more growth in store if they stayed?
Team Adam: Josh Gallagher
Song: "Danny's Song " by Loggins & Messina — Download at iTunes
Every time Josh sings I think he truly epitomizes country music. He doesn't have the biggest voice or range, but country is a whole lot about the feelings of a simpler time – simple, but deep. Josh conveys those feelings with ease. You can't teach that.
[youtube https://www.youtube.com/watch?v=d4QlBFjUINg?rel=0]
It was good to see Josh doing a quieter song. The appreciating stillness that is present as he sings is the other side of that southern everyman that's social and liked by all. Josh talked about how he personally related to the lyrics in "Danny Boy" and that comes through in his performance. This was a perfect choice for him.
Team Blake: Sundance Head
Song: "Love Can Build a Bridge" by The Judds — Download at iTunes
This is definitely my favorite performance of his!
[youtube https://www.youtube.com/watch?v=VF3sebS9UWI?rel=0]
Sundance is country/soul and that soul shines through no matter what. There's not a cowboy hat in the word that can cover that up. There is no way he's not in the top four. None.
Team Adam: Billy Gilman
Song: "I Surrender" by Celine Dion
Billy got to close out the night with this song. To say that he nailed it is an understatement.
[youtube https://www.youtube.com/watch?v=WFGmAyGBid4?rel=0]
I've been waiting for Billy to really wow me since his blind audition. This song blew me away. His sheer vocal power and control is amazing. He may not have the depth of soul or heart as Sundance or Christian, but there is emotional power that soars through the sheer strength it takes to sing a song with such huge held out notes. It's one of the things Adam Levine pointed out. Watching Billy sing something like this is truly awe-inspiring! Like Sundance, there's no way he's not in the top 4.
The Voice Season 11 Semi-final Performances: Duets
Adding to the mix of voting decisions are the duets. These were scattered throughout the competing performances, likely thrown in to take up time. However, the duets also opened a door to seeing some of performers in an entirely different light. For example, Ali Caldwell and Brendan Fletcher….well, let's wait until we get to them
Wé McDonald & Aaron Gibson – "FourFiveSeconds" by Rihanna, Kanye West and Paul McCartney.
[youtube https://www.youtube.com/watch?v=vtcrUReL0tQ?rel=0]
This was the first duet of the night, and when it was announced I was definitely thrown for bit. Why were these two being paired together? The answer is probably that their voices blended really well! Wé was far more vocally in control. I think I like their version of this song even better than the original!
Josh Gallgaher & Sundance Head – "Feelin' Alright" by Joe Cocker
[youtube https://www.youtube.com/watch?v=b0r6dOwbCJ8?rel=0]
This was fun to watch because Josh and Sundance are very different country singers – but country definitely unites them! Two guys with guitars having a grand ole time. Who's gonna argue with that? Not me!
Ali & Brendan
[youtube https://www.youtube.com/watch?v=RRTpmTwWCWI?rel=0]
Okay, these two need to take this act on the road! This is most relaxed and engaged I have ever seen Brendan, and Ali was a revelation of hotness! Ali & Brendan brought out the best in each other. I might want them both in the finales just to see them do another duet, because this one was so much fun! As soon as it's available I will be downloading this!
Billy and Christian
[youtube https://www.youtube.com/watch?v=e5R2V7Nnvpo?rel=0]
This may not have been the best idea because it highlights that Billy's vocal mastery doesn't always convey the soul and depth that Christian's voice does. On the other hand, Billy's purer tones blend beautifully with Christian's when they sang together.
The Wrap Up
As you can see, there are only two slots I'm sure about: Billy and Sundance are definitely in. As of this writing they are numbers one and two right now on iTunes. Christian and Josh are at 8 and 10 – but there's still 6 hours to go. Brendan, Wé and Ali are numbers 12, 14, and 15, so they could possibly move up into the top 10 as well. Aaron is at number 47 – which is a lot higher than he's been previously.
However, if there's one thing that The Voice season 11 has shown it's that iTunes isn't everything. Ali has come in ahead of performers who have charted when she didn't. YouTube doesn't count for voting, but she and Billy are second only to Christian in popularity, Wé and Brendan are the next highest.
If I were going just on The Voice season 11 semi-final performances I'd have Sundance, Billy, Ali, and Christian. However, I also really liked Josh…. If I start thinking about the overall season I'd probably go with Billy, Wé, Sundance, Ali. Or maybe Christian, Brendan, Wé and Ali. Or perhaps…yeah, no, this is a nightmare.
For the first time ever there is a Voice finale 8 where I really feel everyone deserves a shot to win. Are you having a tough time deciding as well, or do you know your ideal top 4? If so, leave the list in the comments. I'd love to see what other viewers are thinking!