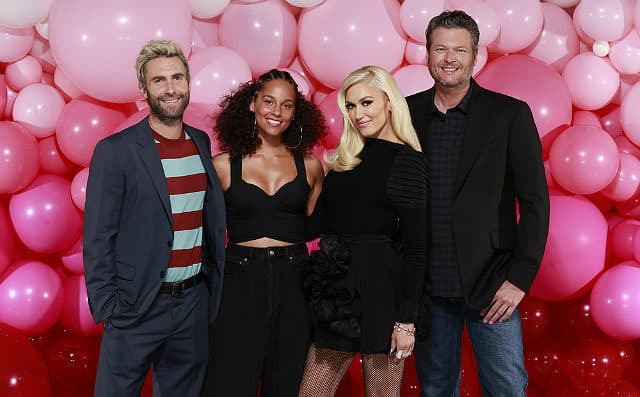 The Voice season 12 premiere felt…long. It's not that they've added any time to it. Nor is it due to a lack of some interesting singers. There are already a few of them that should absolutely make the live shows.
So, what's making it drag? It could be too much focus on the romance between coaches Gwen Stefani and Blake Shelton. Don't get me wrong, Gwen is lovely as a coach and I'm happy for Blake and Gwen. However, things actually worked better when they were trying to keep the relationship a secret. Now it seems to be pulling focus from the actual show.
There's also a new layer of artificialness – and downright weirdness – to the dynamics between the coaches. At one point Adam says he didn't turn around for a singer because he felt he'd be a third wheel with Gwen and Blake having turned around. Like, seriously? (Especially since he'd turned around when they had before.)
Granted, we all know Gwen and Blake are dating. It would be silly for it to never come up at all. Host Carson Daly called it, "the elephant in the room." I guess the producers thought the best way to deal with the "elephant" was playing up the relationship. The problem is that if The Voice isn't careful that elephant is going trample over the entire show.
The Voice is at its best is when the coaches are really engaged as artists with the singers and having fun with competitive side of being a coach. This is why the bromance rivalry between Blake and coach Adam Levine has always worked. It was an organic dynamic that came out of their back-n-forth of trying to win.
Likewise, last season's dynamic between coaches Alicia Keys and Miley Cyrus grew out of their being on the same page about their roles as female artists. Despite how different the two are as artists they have a genuine passion for female empowerment and celebrating a person's individuality – and it showed. It was actually surprising how well that worked.
Of course, this was just The Voice season 12 premiere. Hopefully, this new element will be allowed to fade into the background. It works well there and offers fans of "Shefani" some moments of sweetness and sizzle. For instance, they caught a couple of times where Blake gave Gwen a look to encourage her to turn her chair. There's also that couple's shorthand that shows up when they're both reacting to a singer and share their thoughts without a word. Those times are genuine, not them trying to highlight that they're together, and they add a nice element to things.
So, no, it's not that Gwen & Blake should pretend they aren't dating. That would be just as silly. However, forcing the subject of their relationship into so much of the conversations between the coaches is an unnecessary distraction. Doing so had The Voice season 12 premiere reminding me of all the things I dislike about those "reality" shows about people's relationships.
If Blake and Gwen want to do a reality show about them dating I'm sure it would do well, but that's not this show. The Voice is a vocal competition. Even though the personalities of the coaches have always played a part in the show's DNA, it's been in the service of the competitors and the music. This playing up of Gwen and Blake's personal connection puts too much focus on them. Straying into the the area of the Kardashians is not a good thing.
Tell us what's wrong with this post? How could we improve it? :)
Let us improve this post!