UFC President Dana White and TUF's official Twitter page have been vigorously tweeting about how amazeballs the KO at the end of the episode was going to be. Dana White even tweeted this during the early moments into the episode: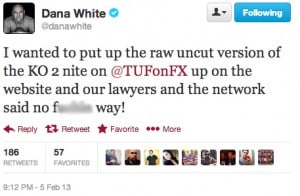 "Dude, if the lawyers and the network think the uncut version of the knockout was too much for the Internet, then all this hype and anticipation that I'm feeling was completely warranted."
Going into this fight, Uriah had a huge advantage over Adam. His fight to get into the house was insane and it sent shockwaves throughout the room that he was the man to beat and fear. He's Coach Sonnen's No. 1 pick and it makes complete sense. The guy was the poster child for winning this show and the complete package to be a top contender in the UFC. But fans of The Ultimate Fighter know that just because you were the first pick, it doesn't guarantee you spot in the live finale in Las Vegas. All it takes is one lucky punch and your career in the UFC will be over before it begins.
Guns of Navarone! What a kick! I'm surprised Adam's head was still on his shoulders! In 17 seasons of watching this show, I don't think I've ever felt a wide range of emotions from one spinning heel kick. Elation for Uriah for cementing his dominance on the show. Sadness for Adam for having to be on the receiving end of such a kick. Fear that Adam may be seriously hurt. And caution for the poor sap that gets picked to face Uriah in the semi-finals.
I think Uriah just sealed up the $25,000 for the KO of the season. DAMN!
With that Team Sonnen is 2-0 and retains fight control. Next week, Kevin Casey will take on Colin Hart a.ka. not Bubba.