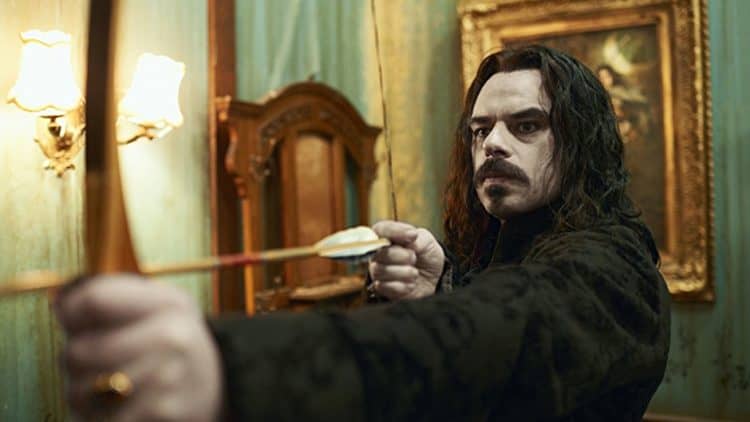 Originally a 2014 feature-length movie by Jemaine Clement and Taika Waititi, this hilarious spin-off follows the misadventures of three vampire roommates in New York City. Set to premiere its third season on September 3rd, What we do in the Shadows is a surprisingly hilarious take on modern-day vampires, with each episode being crazier than the last. However, the real question is, what are the five best episodes? Let's check out which episodes are the best of the best of this top-notch comedy.
Season 01: Episode 04 – Manhattan Night Club
In episode four of the first season, Laszlo, Nadja, and Nandor venture out to Manhattan to form an alliance with an old friend, who's now the king of the Manhattan vampires. The episode hilariously starts out with Laszlo paying the price for his ancient hat that's clearly cursed. The hilarity continues once the gang gets to the nightclub in Manhattan, with Nandor letting his familiar, Guillermo, being possibly eaten by another vampire and the feud between Laszlo and the Manhattan vampires. Not surprisingly, everyone plays their parts so well here, especially Nandor, whose development with Guillermo was sweet and riotously funny. Nandor saying that Guillermo was his friend during the hospital visit and then instantly taking it back highlights the fun and charm that this world brings.
Season 01: Episode 07 – Trial
So, the Baron's dead, and Laszlo, Nadja, and Nandor must stand trial for the murder of their master. Arguably the best episode of season one was this star-studded affair that features top Hollywood names Dave Bautista, Tilda Swinton, Danny Trejo, Wesley Snipes (by skype), Paul Reubens, Evan Rachel Wood, Kristen Schaal, and the original cast members of the movie, Johnathan Brugh, Jemaine Clement, and the director himself, Taika Waititi. The special guest stars all got their spotlight to shine during the trial, namely Dave Bautista and Wesley Snipes. The running joke of the vampires not taking Guillermo seriously as a vampire killer was a fun one and Laszlo, Nadja, and Nandor being drunk out of their minds with the burned Baron was a strong gag. An all-around jam-packed episode that didn't miss a beat and advanced an important plot point as well.
Season 02: Episode 01 – Resurrection
Season two starts out with a bang as Laszlo and Nadja run through the familiars that have been killed in a gory manner. It's through this montage that the dark humor continues to shine through, it also helps that the charisma and performance of both Matt Berry and Natasia Demetriou elevate the otherwise grim scenes. It's amazing that the writers of What we do in the Shadows have managed to make the three vampires likable characters despite the death of these innocent humans. The star of this episode is Haley Joel Osment as Laszlo and Nadja's latest familiar, the veteran actor is tremendous in his brief role, from his douchebaggery of taking credit for Guillermo's hard work to him being resurrected as a zombie. While it's a shame that he likely won't be making any more guest appearances on the show, his presence on the season premiere was definitely welcome.
Season 02: Episode 02 – Ghosts
Laszlo, Nadja, and Nandor have ghosts! In this hilarious and whacky episode, each of the three vampires realize that they have ghosts, which turn out to be ghosts of their human form who have unfinished business that they need to be attended to. This bizarre story sees Nadja and a talking doll, Laszlo jerking off his dead human counterpart, and Nandor finding his delicious dead horse; All stories were funny in their own right and Colin Robinson summoning his grandmother to just blow her off seconds later was a perfect end to the show. While Gizmo wasn't in much of this episode, his little spat with Laszlo brought in some nice laughs as well.
Season 02: Episode 04 – The Curse
Never let thousands of years old vampire read his email. In another silly, but hilarious story, Nandor, Laszlo, and Nadja happen to fall upon a curse from their electronic box (computer). While anyone can clearly see that the Bloody Mary email was nothing more than a typical junk mail scam, the vampires not knowing the customs of our world make for riotously funny jokes. In addition, Guillermo's side quest with vampire hunters is a nice fluffy story that added to the drama. Granted, we as the audience know that nothing is going to happen Nandor, Laszlo, and Nadja, but the "how will Guillermo get out of this" question provided some mystery and more importantly, laughs.
Tell us what's wrong with this post? How could we improve it? :)
Let us improve this post!