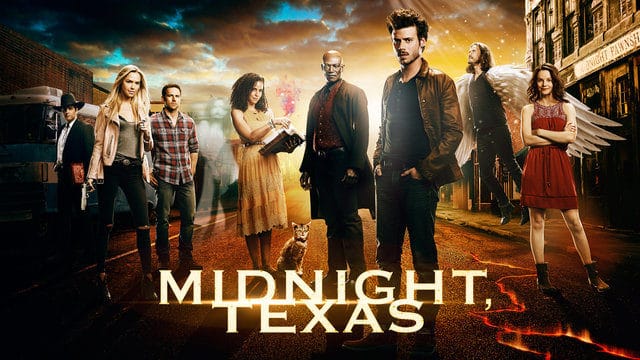 In addition to the Battlestar Galactica reunion, the upcoming ATX Television Festival (8-11 Jun) will present other features. Among these other features will be a screening of the premier of NBC summer supernatural drama, Midnight Texas.
NBC supernatural drama Midnight, Texas grew from the pages a book series from TrueBlood author Charlaine Harris. Monica Owusu-Breen, whose prior work includes Agents of SHIELD, produces Midnight, Texas. NBC, Ms Owusu-Breen and her cast previously screened the pilot at WonderCon in Anaheim, CA. At WonderCon, Ms Owusu-Breen and her cast expressed great excitement for their show and its characters. They say the characters are interesting in their own right with pasts and secrets, apart from their powers. Cast members have expressed their wonder at the amazing things they get to do working on the show. Midnight, Texas is a character driven show, that reveals powers and secrets, slowly like pealing back the layers of an onion. Hopefully with tears of joy and excitement.
A remote Texas town, Midnight sits on a veil between the living and hell. This supernatural thriller follows charming and powerful psychic Manfred (Francois Arnaud, The Borgias) on his journey from the real world to Midnight, Texas. In Midnight, Texas, not only is nothing what it seems, but normal is strange
Manfred will surround himself with human and supernatural allies such as Bobo (Dylan Bruce, "Orphan Black") proprietor of the local pawn shop and a witch called Fiji (Parisa Fitz-Henley, "Luke Cage"). A mysterious assassin called Olivia (Arielle Kebbel, "Ballers") wields a weapon for every occasion. An angel called Joe (Jason Lewis, "Sex and the City") knows all the secrets. A wise vampire called Lemuel (Peter Mensah, "True Blood") has a long history in Midnight. An aspiring writer called Creek (Sarah Ramos, "Parenthood"), who imagines big dreams, learns of her family's deep secret. And then there's Rev. Emilio Sheehan (Yul Vazquez, "Captain Phillips") who just might be a werewolf, or a weretiger. The town may call Manfred to lead this unlikely bunch, and others besides, as they stand against biker gangs, outside police, their own dangerous pasts and maybe even hell itself.
Save
Tell us what's wrong with this post? How could we improve it? :)
Let us improve this post!