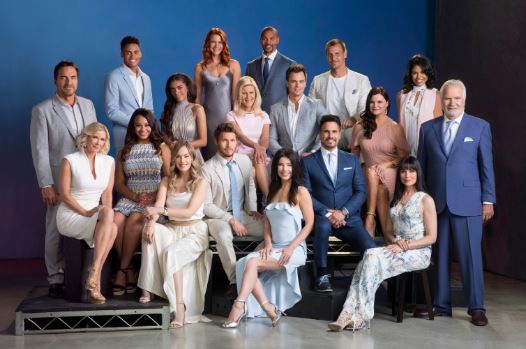 The Bold and the Beautiful fans are not always all about the men. We have our favorite male characters, obviously, but we also have a long list of women we really love. We have to admit that our list of women changes regularly. There are new women we really love. Some we don't, and others who change over time and make us love them when we might not have really felt that way about them in the past. This is not something we are proud of, but we do think that we have a current list of favorites that just won't change. What do you think about this list and the people on it? We are all about it.
Steffy Forrester
So, she's not always been someone we've loved or agreed with. In fact, she's been someone who has made us question everything about our sanity and her own more than once. She's a woman who has made more than her own fair share of poor choices, and she's been kind of a bully over the years. Her biggest target has been and probably always will be her own sometimes step-sister, Hope. These two are getting along better now than they ever have, but they've had a long history of hating one another.
They have had a long history of being mean to one another, and she's always managed to win when it comes to Hope. But she's grown a bit since becoming a mother, and that's been a bit refreshing. We love seeing her feeling empowered and good about herself. We love seeing her sit back and take control of her own life without worrying about men. She really seems to want to make a good impression on her daughter, and we like that. She wants to be able to care for herself, and we appreciate that, too.
Brooke Logan
We know, we know. She's a terrible mess, but we like her. This is a woman who always gets what she wants and always manages to make everyone else in her life feel that she's been made to choose these horrible things and do these hurtful awful things because of them. It's always their fault she messes up. She's managed to make it her goal in life to do things bad, wrong, and terrible and then make it seem like the person mad at her is to blame for every second of it. We are constantly amazed at her ability to do that. And we aren't sure that we can handle another second of her doing this to everyone in her life.
She's a favorite simply because she is such a mess. Yet she proudly owns that by never wavering from her hardcore belief that her actions are not her own, but rather the consequence of everyone else's behavior. She's amazing at making people feel that they control her behavior, and she is powerless to make it stop.
Katie
Did she take Thorne's last name when she married him? We have no real idea, but we like it. She's someone who we like. We can't help it. She's a mess all the time. She is scatterbrained, but she's smart. She's wise, but she's naïve. She's someone who can't quite figure out life, but she always managed to get back up and make things work even though she should be on the ground crying more often than not. Everyone in her life takes advantage of her kindness, and she almost always allows that. Yet she also manages to find the time to get her life in order when she needs to, and she's able to figure things out for herself.
When she's mad, she's mad, but she will always forgive everyone in her life and the way they've treated her. She will always find herself in the middle of a happy moment because she's so optimistic. That's what we love about her. She will always find a way to be happy even when someone else has tried to make sure she cannot find any other happiness in her life. She's a survivor, and it makes us love her more now than we ever have in the past. She's good to go.