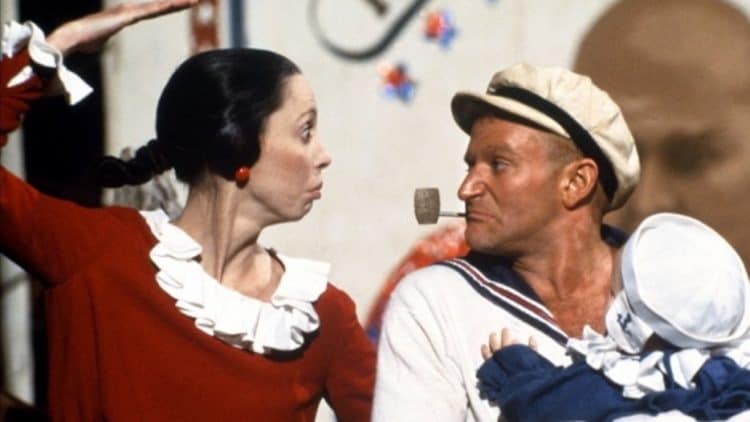 How many people remember the Popeye movie? How many folks might have thought that Sweethaven was located in a studio somewhere? Well, now you know better since the actual village is still upright and quite functional where it sits in the Maltese Islands, and it's open for guests that want to come and share the experience. Of course, it might be a smart idea to find a copy of the movie and watch it before thrusting yourself into this clustered little village just so you have something to go off of when paying a visit. It does sound like a lot of fun since the place has been kept up for decades now and has been updated to accommodate anyone that wants to take a trip and experience it for themselves. The attraction isn't as big as some folks might like but it is quaint and it's a part of movie history that can't help but maintain its charm after all this time. The movie was a bit odd since it turned a classic cartoon into a musical that didn't always make sense but was somehow endearing enough to remain on the fringe for so long. A big part of this had to be that it featured Robin Williams as the squint-eyed sailor and Shelley Duvall as the shrill but somehow alluring Olive Oyl.
If people can recall, the village of Sweethaven looked pretty rundown in the movie, as though it would have collapsed if someone sneezed too hard. The upside of this attraction is that it's been well-maintained over the years and is fully functional and prepared to accept visitors. Likely it will cost a bit since the location isn't the easiest to get to and it is a specialized area that acts as a very popular tourist attraction. But the chance to visit and say that you visited the Popeye set would be kind of fun since a lot of people are likely starting to let the idea of the famed sailor slip just a bit considering that he's more of a classic cartoon and not quite as up to date as many others. Popeye is a cartoon that a lot of us grew up with, while a good number of us watched reruns and were pretty young when the movie came out, we still tend to remember the guy with the squinty eye and the massive forearms. Heck, Family Guy even included a parody of the sailor at one point, and his image has been done and redone for pop culture purposes now and again to horrific effect, since the wrinkled old sailor has been pictured as a grizzled and extremely salty old man with that one glaring eye.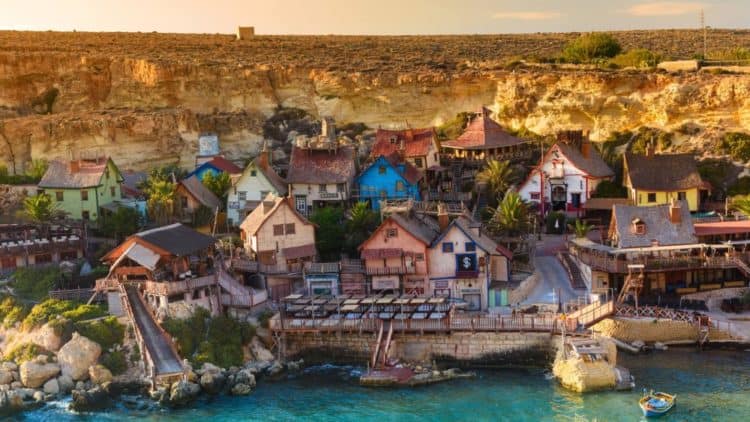 But the movie set that was used was both perfect and awkward in a way since that's what can be said of Popeye since he talked tough, when you could understand him, and acted tough when he needed to since he and Bluto were constantly at odds. If anyone recalls, it was usually over a shared goal or Olive Oyl, since Bluto had designs on her every now and then, but in the movie he definitely had plans of making her his wife, which would have been less than desirable obviously since Bluto was an absolute brute played by Paul L. Smith. The movie was still pretty hard to watch since for a good portion of it the musical aspect left a lot of people wondering just what the director was doing and why the songs were meant to make any sense, if they did at all. One problem that arises from turning animated favorites into live-action movies or series is that they don't always translate as well, since the freakishly big forearms that Robin Williams was given as Popeye looked absolutely grotesque. The best part is that Williams was a good pick since he was able to play the part of the scrappy sailor fairly well and added his own touch to the character, which could be why any of us really remember the movie at all. Shelley Duvall definitely did a good job as Olive Oyl, since a lot of times Olive was the damsel in distress, but in the movie she had a bit of an attitude that came through just perfectly and gave her another dimension that might have been missing otherwise.
Likely as not you're going to be spending a pretty penny to get the experience you want, but for those that are thinking it's worth it, the trip might be something special since it's not just a piece of cinematic history, but it's a pleasing getaway as well to a place that gives the feeling of getting away from it all in one of the most wonderful ways. It'd be a fun trip no doubt.