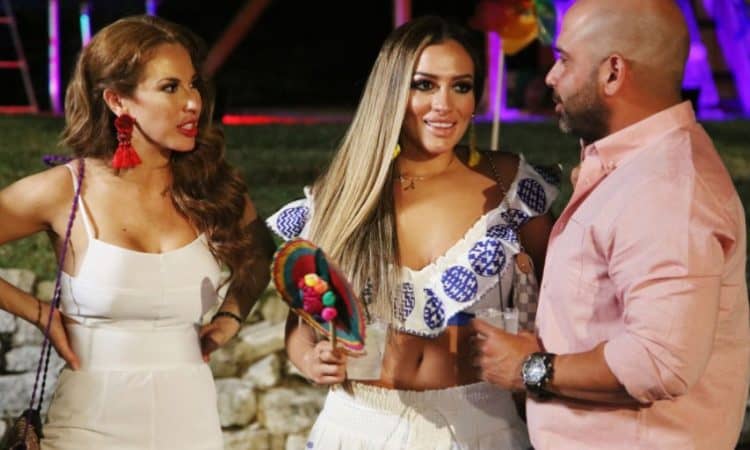 A while ago, Bravo promoted a tease about the new addition to its array of reality television shows. "Texicanas" is what you would expect the series to be called, and as its name implies, it follows the lives of six Mexican — American ladies residing in San Antonio, Texas. Just as in other Real Housewives shows, the ladies are super-rich, beautiful, and they are trying really hard to keep up with the contemporary social life. However, unlike in other popular shows, the ladies in Texicanas are speaking in some language between English and Spanish — Spanglish. Moreover, they are still trying to work through problems like cultural expectations of ladies, domestic violence, and green cards.
The show, which first premiered on Tuesday night after "Viewers" and "Mexican Dynasties", has feelings plastered all over the place. The women are upset about a plethora of things — from what is required of a San Antonian woman to language barriers and gossip. Penny Ayarzagoitia, one of the show's actresses, earlier on claimed there would be a little bit of everything in the series — from real-life stuff to a little bit of drama and tears maybe.
Read on to find out some of the things that might not know about Bravo's Texicanas:
1. Meet the Cast
Penny, who also serves as the show's narrator, is a real estate broker based in Texas. She, as the show premiers, summarizes the show as an exhibition of the lives of a few Latina ladies living luxuriously in America while still trying to conform to different aspects of the Mexican origins. "We are trying to condense these two worlds," Penny pronounces, "I think it will be quite different this show." Penny, a mother of two, does not shy away from her love of gossip, and the other ladies really make it easier for her to keep up with them.
Then there is Mayra Farret – she is a perfectionist; Lorena Martinez – a social butterfly; and Nolasco Anayancy — a daddy's girl who often travels back to Mexico, her birthplace. Ramirez Karla — the only one in the group who has accepted the art of mixing cultures — she refers to her husband as "Grexican," since he is half-Greek and half Mexican. Lastly, there is Luz Ortiz who seeks to reject every form of Mexican cultural norms.
2. Penny Ayarzagoitia, the Narrator
"You would be surprised — it does not take that long to get used to acting," Penny says of how she and her colleagues have adapted to life in front of the cameras. Penny believes that it came naturally to her and the actresses, and it was destined that they would be part of a show since all their personalities are completely different.
3. Bravo Initially Wanted to Film Penny's Family
The television channel, initially, was concerned about exposing Ayarzagoitia's family on air as well. Her husband and children were on board with the idea, even prompting Penny's husband to state that it would be crazy if she turned the offer down. Her kids got used to seeing the cameras around more often, even her parents, who had chosen to be blind to this, were quite supportive of the idea. However, as things turned out, Bravo procedurally moved further away from her family and chose to focus on Ayarzagoitia some more.
4. About Mayra Farret
We are introduced to Mayra Farret once Penny is done. She is quite different from Penny's contemporary female character — as you get to watch more of the show, you will see that she is more of a traditionalist. She acts like everyone aunt, and she does this with a big smile over her face. Moreover, Mayra is the only perfectionist in the group, and she portrays the picture-perfect life. Later on in the series, however, we see a different side of her story. She was, previously, a career woman, and she would like to pursue her career once more but she does not have a green card. Her conversation about being fulfilled and establishing a clear career path is a nice character arc because her character was quite buttoned up at first glance.
5. Lorena Martinez…..
Lorena Martinez is the gossip girl in the group. She is loud, and always the life of the party. She is always in the middle of drama in the series.
6. Luz Ortiz
Luz Ortiz is completely the opposite of Mayra, and as you might know already, they do not get along very well. She was formerly married and divorced; for this reason, she gets it very hard to be accepted by other Latino men. She portrays a strong and independent character with some people, like Mayra, claiming that she is too progressive for their liking. Luz's representation is quite important: she is the contemporary woman creating her own path.
7. More about Karla Ramirez
Ramirez is also a perfectionist, and just like Mayra, she is more skewed to the traditional perspective of affairs. She is, however, more self-aware than Mayra is. In the series, she talks about having everything in a perfect state: from her kid's hair to her house. She comes from Brownville, Texas, and she can explain life in the border town quite well. With Lorena, she loves taking extravagant lunch meals.
8. Penny Ayarzagoitia Does not Like Mexican Traditions
For sure, Penny's awkward relationship with the Mexican education she received from her parents as she grew up will take a central position in Texicanas. Penny claims that her greatest wish would be to break Latina roots. With this hope in mind, she has even installed a stripper pole in her home! The show's narrator is extremely proud and authentic — she, indeed, is the perfect representation of the duality of being Mexicana and Texan.
9. The Show's Main Goal
Bravo, during the show's premiere offered us a glimpse of what the actresses really hope to achieve by putting in the effort to film this series. The ladies hope to share their life with other ladies who may be going through similar issues that they are going through: domestic violence, green card, and cultural expectations of ladies.
Tell us what's wrong with this post? How could we improve it? :)
Let us improve this post!