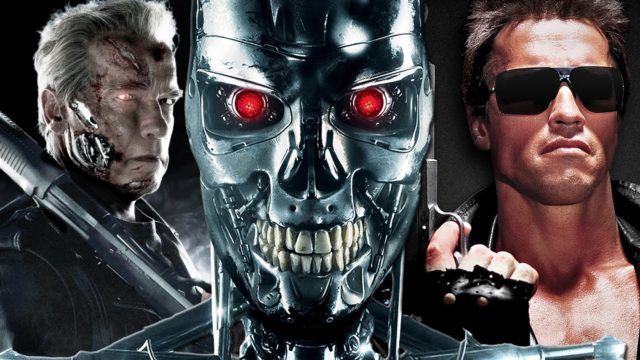 Admit it, you just heard the theme music going off in your head, right? That's okay, it happens to a lot of people since the Terminator movies are just that popular no matter how bad they managed to get throughout the years. One thing that bugs a lot of people however is the supposed lack continuity there is between the films. There is a very big sense of deus ex machina, which means that something essentially comes out of nowhere to wrap everything up in a neat little bow. The story itself never seems to wrap up since it's a big world and the propensity of time travel makes it possible for the story to keep going, but people still have an issue as to why the future continues to change so drastically from movie to movie.
It's kind of easy to explain, which might be why so many people have shot light years past it while attempting to understand.
For your entertainment, watch the trailers as I roll out the explanation.
The Terminator
In the first movie no one knew what to expect, as the idea of time travel was nothing new, but a murderous robot sent back to kill a single person since she was the mother of the resistance leader that would eventually threaten its existence was definitely something interesting. But think about this, if Skynet had killed Sarah Connor, who's to say that another leader wouldn't have risen throughout the years? That's a question for another time obviously, but the continuity that people want so badly starts here, as no doubt someone else sired John Connor back in the day before Kyle Reese showed up. But once Reese was there, the fate of the world was assured the moment that he and Sarah got together. The cycle began in this movie, with Reese taking over for the unnamed placeholder that had already set the whole thing in motion. Otherwise if another man hadn't gotten Sarah pregnant there would be no photo of her for Reese to hold onto, and no reason at all for him to go back since John Connor wouldn't have been born in the first place.
Terminator 2: Judgment Day
Here's where it starts to get interesting since everyone thought it was over, but the material that was retrieved from the first movie, the chip and the arm, led to Cyberdyne Systems reverse-engineering the technology that would eventually become Skynet. This facilitated the need for Skynet to send another terminator back in time to kill John Connor, but also for the Resistance to send their own terminator to protect him. The future hadn't changed much at this point since it had only been reaffirmed. Remember, Skynet was going to take over eventually anyway since no one had even bothered to strike at the source in the first movie, as they were too busy with the terminator at the time.
Terminator 3: Rise of the Machines
This is considered to be one of the worst movies in the franchise and there's a good reason. If you're wondering why I'm not covering the Sarah Connor Chronicles it's because I chose to stick to the movies, where many people can follow the path fairly easily. But in this movie the future had changed somewhat. It was needed since the two terminators that had been sent back were destroyed, Cyberdyne Systems was destroyed, mostly, and so it was believed that the war had been stopped. But of course progress never stops due to one explosion, as Skynet found another way to be developed and sent another terminator back, as did the Resistance. This time however the terminator was sent to take out those that would be Connor's top people as he'd gone off the grid in fear of Judgment Day, which seemed destined not to come. But inevitability has a way of frustrating and confounding everyone as Judgment Day was going to happen all the same. Skynet had taken many precautions to insure that it survived, and not all of them were riding on the shoulders of an unstoppable killing machine.
Terminator: Salvation
As Skynet had to change again, so did the future. The Resistance kept on pushing forward as much as they can, so Skynet had to come up with a way to try and eradicate them so that their efforts to stymie its progress could no longer succeed. So it sent a terminator the likes of which no one had seen yet, an infiltrator rather than a powerhouse that could slip inside the enemy ranks and do the most damage. Marcus thought he was human, but in truth he was the most advanced terminator of his time, not fully machine but definitely not all human. Skynet was desperate to take out John Connor and was doing whatever it could to wipe out the human species, throwing just about everything it had at them in order to finally end the war. As a result, the future continued to change as it continued to mess with the past.
Terminator: Genysis
A lot of people had an issue with this one as well, but in truth it seemed like a resurgence that was truly going somewhere. The story was chewed up and spat back out with Kyle Reese making an appearance yet again, this time in a manner that none of us likely remember but was once again a result of time travel messing with the time line. In this version Connor and Reese have known each other for years, as Connor trained Reese to be the soldier he was. Kyle remembers the world of before, and he remembers the new measures that were taken in order for Skynet to launch its attack on the world. But this time around John Connor, the legend, is the one that was usurped and finally corrupted into serving his sworn enemy. The legend of John Connor effectively came to a very bad end in this film, but once again, in a past where he doesn't yet exist, the future can be shaped any way it needs to be.
The Terminator continuity is a cycle that might wobble from its tracks now and again, but upon the release of the first movie it was a continual circle that changed slightly and then almost entirely throughout each revolution. It's a continuous story, but the changes wrought by the constant time travel are to be expected since if you change one thing in the past, the ripple effect has nowhere to go but forward.