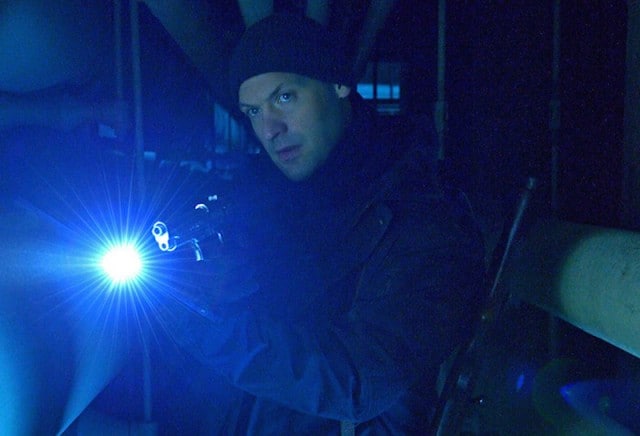 A title like "The Battle for Red Hook" suggests a fight of an epic scale on The Strain, appearing to foreshadow an important turning moment for the series. Never before has something been titled an official "battle" between the humans and strigoi; beyond that, we've neither seen the vampires' ability to function as a military device, nor the fragmented NYPD and Coast Guard's skills at somehow locking down Red Hook and making it NY's one and only safe zone. In fact, the whole first half of the title is extremely important. "The battle" denotes a definitive fight, and the "for" suggests something a little more philosophic and spiritual, that this legendary clash illuminates something else about the people fighting in this war – "The Battle for Red Hook," as a whole, tells us this is something more than a fight for a physical space (and for those who think titles aren't important, please refer to Breaking Bad's second season).
Does "The Battle of Red Hook" live up to its title, then? The answer is a resounding no. From beginning to end, "The Battle for Red Hook" is The Strain at its most mindless, a wildly predictable – and thoroughly neutered – story about the titular battle for New York's one beacon of hope. Rather than a focused narrative about the various players of The Strain coming together for an important fight, "Red Hook" splits up its narrative between three equally pathetic stories: Fet's hurt feelings (the yang to Dutch's eternally confused yin), Eph's inability to shoot the gun he just acquired to kill Palmer with, and The Master's innate ability to seem all-powerful and completely stupid, all at the same time.
Of the three, Fet and Dutch's emotions are the most forgettable, a story that gets riddled with more cliches in every moment, from Fet's long hugs (complete with emoting faces of pleasure) to Dutch and Nikki's angry sex to Nikki suddenly becoming useful in the final seconds when she saves Dutch's life (which requires Dutch to become a fumbling idiot for, in the middle of a "massive" vampire fight). Every scene featuring either one of them is trite and thoroughly lifeless, from Nikki's painfully unfunny "You look so gay right now" comment while Dutch is using a welding torch, to Fet's relentlessly sad puppy face every time he appears in the same room as the girl he he had sex with twice. By asking the audience to empathize with two relationships we couldn't care (or simply know) less about, there's no life to the love triangle the last few episodes have tried to engage with: it's thoroughly empty, a story delivered with no emotional conviction beyond the most saccharine suggestions, robbing us of Fet's campy attitude and Dutch's…. well, Dutch is a pretty useless character, but she was certainly more fun to be around before her and Fet had their brief romantic fling.
The other stories fare no better, tied up in an "epic," tide-turning fight that clearly was shot on a very tight budget. The battle this episode centers everything around is about as tense as a Sunday morning cup of tea, lacking in the kind of dramatic scope something like this should entail. The Strain as a whole is perhaps summed up best when Feraldo looks at the horde of approaching vampires: the camera lingers on the front of the line, never pushing back to explore the depths of The Master's influence on the city, and how this presents a daunting challenge to the few people protecting Red Hook (again, Red Hook is supposed to be some sanctuary, but Eichorst gets in extremely easy, and it's said there are only about a dozen people actively protecting the entry to the city at any given time). There are suggestions of political failure and social inadequacy when Feraldo's colleague runs away and leaves her to fend for herself (after she refuses to clear the section of fancy townhouses in the Upper East Side), but these are dropped in favor of giving Feraldo a gun, and splitting time between Eichorst's trash talking and the easy, lifeless victory the Red Hook community has against the dozen or so vampires that apparently "assaulted" their facility.
Pick out any of these scenes, and a dozen idiotic details come to light: how can Eph be a master of pistols, yet not even be able to hold his new rifle properly? Why does Eichorst keep talking about killing the leaders of the human resistance, yet instead just steals old photos and snickers about "what's to come"? How does The Master have the ability to isolate one strigoi's memories, share them twith other strigoi, allow the first strigoi become sentient and use The Master's powers to see through other people, all while enacting a completely short-sighted, useless attempt to infiltrate a tiny component of New York? Nothing in "The Battle of Red Hook" feels logical. While Feraldo taking an assault rifle and leading the resistance is a powerful image, the sheer mindlessness of everything around that singular scene robs "Red Hook" from having any kind of lasting affectation on its story, characters, or audience.
In totality, "The Battle for Red Hook" is just another episode of The Strain doing absolutely nothing, albeit under a slightly flashier, louder package than previous similar episodes have delivered. Not even dropping half the main cast for an episode helps things out. Instead, "Red Hook" re-fragments itself by turning into three different fights at once: Kelly fighting Nora and Fet to protect Zack (who remains the worst), Eichorst slowly walking towards Eph and Setrakian, and Feraldo's attempts to fight for the city, all three of which are underdeveloped and as by-the-numbers as one could imagine. It's not the most aggressively awful episode of the series, but certainly one of the worst, an hour that disguises itself as something meaningful, while doing absolutely nothing at all to advance (or more importantly, improve) the growing list of ineffective stories and one-dimensional characters within it.
Other thoughts/observations:
– Hey, The Strain has a full title sequence! Unfortunately, it's full of random images and a certain campiness the rest of the series never tries to embody.
– Eichorst and The Master are both the worst kind of TV villians: those who purport themselves to have a certain level of elegance and intelligence, yet act as brashly and stupidly as every other nameless thug in cinematic history.
– "You look so gay using that tool" might be the single worst line delivered on The Strain.
– Since when did vampires start snapping people's necks? Doesn't this defeat the whole purpose of turning everyone?
– Eph may want to rethink that Mauser K98 purchase.
[Photo via FX]