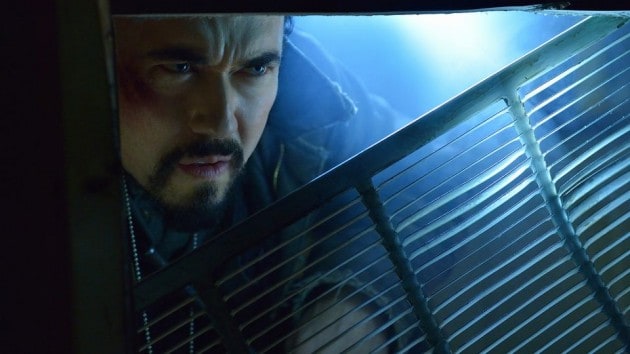 "Quick and Painless" holds dual meaning for The Strain – in that it's the episode title, and the general emotion one walks away from the proceedings. Surprisingly brisk for an episode with really only one story that's going anywhere, "Quick and Painless" packs in a nifty Eph reboot among some table-setting on the human side of the battle for New York, which makes for a surprisingly entertaining hour of vamp-hunting, especially given the show's previous history when it comes to episodes designed to bide time between large story beats.
Of course, that praise comes with its caveats. Outside of Eph, there's literally nothing of depth happening in this episode. Nora decides not to go to Washington and helps Feraldo kill her infected nephew, Zach is mildly annoying, and Fet finds himself (along with Dutch) helping the cops with their useful weapons against the strigoi. All of these stories are essentially circular, filling in minor gaps in harmless narratives while Eph gets the bulk of the development (and excitement) of the hour – which, given how the sequence plays out, offers The Strain a chance to evolve, something it has struggled to do since its introductory hours.
From the moment Eph rips off his wedding ring and begins shaving his head (by the way: wouldn't drinking hairy alcohol get old really fast?), "Quick and Painless" moves with purpose to redefine a character in a way we've only seen at times with Setrakian – and even then, those turns mostly come in the form of cliche Nazi death camp stories, save for the most recent flashbacks. As soon as the wig and wedding ring are off, Corey Stoll's performance comes to life, sneaking onto a government train headed to the capital, and eventually throwing Barnes off a moving train to protect his alibi (and exact a little revenge for making this trip so difficult in the first place, getting him wanted by the police and whatnot). While drinking Eph is not the most entertaining, drinking and determined Eph breathes new color into The Strain's muted tones and surface-level characterization. For the first time in awhile, it appears The Strain is using the moments it scales back the action to explore character – and while it only happens consistently with Eph, it's still a positive sign for a season that was starting to flounder, just as it was heading into its second act.
Outside of Eph and Feraldo's plan to take back Red Hook, things in "Quick and Painless" are about as calm as the dinner Palmer is enjoying with Coco, who is clearly going to manipulate Palmer into doing something stupid later on this season (seriously: her loyalty is being explained to us far too frequently). Abraham enlists Marlo Stan  Alonso Creem (not joking) to help him hunt down the Occido Lumen ("That's two c's"), one of many stories percolating for later episodes. In fact, entire storylines are sidelined to make these incremental movements, which for many shows would upset the natural balance of characters human and otherwise. In "Quick and Painless," focusing on the human side of the world gives everything a bit of room to develop, which sounds minor, but is a major step forward for a show like The Strain still trying to find its groove.
Unfortunately, this can't be a lasting formula for the show, given how many vampire characters exist on it (one more just got added, presumably the character Vance was originally planned to be before getting killed; if it is, he's a very important one). The Strain needs to find ways to make the inhuman side of its stories grow, a considerably harder task considering the natural lack of empathy that comes along with telling the stories of the bad guy. Yet this is the grave The Strain dug for itself (no pun intended); "Quick and Painless" shows a glimpse of what the show might be with a more one-sided perspective, an approach The Strain's inherent construction will never allow it to take. When given respite from the mythology and goofy costuming of The Master, The Strain is capable of producing some pretty strong (if weightless) material. "Quick and Painless" unveils some of that potential with its Eph story, though it remains to be seen whether it can translate that into other characters, those both living and undead.
[Photo via FX]