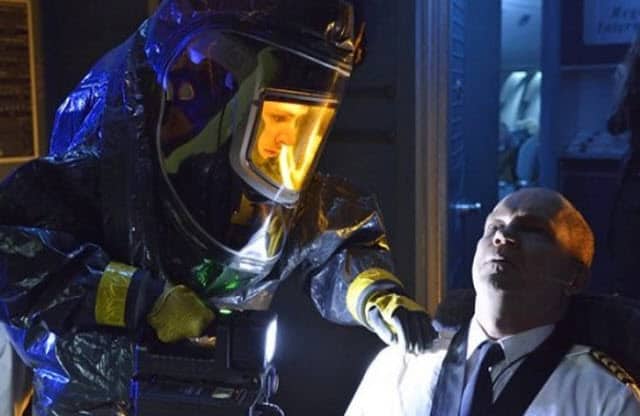 Outside of showing off a fancy hair piece for star Corey Stoll and introducing an extremely unclear zombie/vampire hybrid tale, I'm not sure what The Strain is, or actually wants to be. Guillermo del Toro's attempts to revive the vampire genre certainly has its caveats – and with del Toro behind the camera, "Night Zero" is packed full of awesome shot composition and stark, unsettling visuals – but outside of that, it's not much more than a series of cliches and vagueries, a pilot too concerned with being myserious, to the point where the entire show feels like small glimpses into the tiniest corners of a massive world: certainly intriguing in moments, but unable to sustain dramatic momentum for any period of time.
Some of this is undoubtably rooted in the rudimentary steps of a dramatic pilot centered on a scientist: he's got to have some quirks (he insists on drinking cold milk while working), he's got to have some personal issues (he's going through a divorce, and is just too busy to do anything but text his child), and he's got to be a man ignorant to the craziness around him; even after seeing an apparition, 200 unexplained deaths, and a lot of vague warnings from an old man, he's only willing to call what's clearly a vampire's sleeping place a "coffin", which is treated by the show like some big mental step forward for him. It's all handled with the delicacy of a bull in a china shop: the harder The Strain tries to make a point about someone or something, the more it feels like the show has a cool premise and no idea how to implement it into a living, breathing world.
There's just so much of it that feels random: there's unexplained business cards that reveal hidden agendas, a man who can't breathe and hires stereotypical Latino gangbangers to do his dirty work (did he really need to be wearing flannel and calling his madre? Seriously?), and the sinking feeling that there's some kind of dark conspiracy at work, not supernatural forces entering our world with no discernable motivations. Whoever these non-breathers and double agents are, they are working towards something for some kind of overtly suggested reason: and in a way, it lessens the creepiness of a vampire virus finding its way into Manhattan, the only real time "Night Zero" becomes an interesting mix of vampire story and beyond-the-dead drama I found myself wanting more of.
Simply put, The Strain feels… well, strained, for a lack of a better word. The humor, the characters, the developing situation surrounding the strange flight from Berlin to New York… it all feels very thin, even with a 62-minute pilot to develop its world and establish its characters. Sure, this complaint could be attached to just about every pilot ever produced, but there's something dissonant about the show's confidence in the story it wants to tell, and the results that are appearing on screen. Like the virus the show depicts in its opening credits, "Night Zero" attaches itself to various characters and settings: but we don't understand why it's doing any of this, the only compelling reason appearing to be that the contents of the strange coffin are connected to everything else. Why? We really have no idea beyond Abraham Setrakian telling us so: and with nothing else to go on, there aren't really any stakes established except "parasitic vampires, y'all! One of 'em crushes skulls!", which doesn't really make for a compelling, intriguing hour of television. With twelve episodes to go in its freshman effort, there's certainly time for improvement and fill in these holes: but until The Strain figures out exactly what it wants to be: a character-based story about a mind-boggling, scary-as-hell infection, or a visually-rich horror show with thin characters and lots of gore. Both can be fun TV shows: but if The Strain is going to take the "fling stuff at the audience and see what sticks" mentality, it's going to become a tough watch – and quickly.
Other thoughts/observations:
– Corey Stoll's head piece looks as goofy as his name sounds: Ephraim Goodweather.
– Main character with a supportive co-worker, sharing some sexual tension? Check. Secret double agent inside a government agency? Check. Creepy vibes from old men? The Strain's got that in spades, my friends.
– Abraham was in a concentration camp, which suggests one thing: VAMPIRE NAZIS.
– Who is this Eldritch Palmer guy sitting in a super-cold room and getting excited about vampires arriving? I have no idea who he is, what he is in this world, and why he wants to live like a polar bear in the middle of Manhattan.
– A metal rock star who is just metal "for the p***y" and drug use? There are about thirteen character cliches I can check off in his three scenes in this episode.
– so love is a really good thing… but it's also an all-consuming infection? Wait… what?
[Photo via FX]