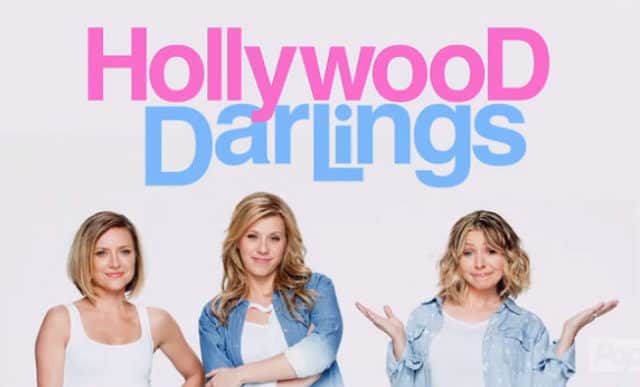 Seeing is believing, and after watching the season 2 premiere of Hollywood Darlings I can safely say, do believe the hype. Whatever you thought of the first season, this season is better! If you missed the Pop network's season 2 premiere of Hollywood Darlings, go stream it over on their website. (It's about 21 minutes)
This season promised to feel like a sitcom and not a reality show – and it really does! Yes, it still stars Jodie Sweetin (Full House, Fuller House), Christine Lakin (Step By Step) and Beverley Mitchell (7th Heaven). These child stars from the 90's play "exaggerated versions of themselves" – which, let's face it, is the truth of every reality show that's on. However, it's using less reality show music to narrate scenes. The jokes can stand on their own. Also gone are those "let's talk to camera" group asides.
What stands out the most though are the performances. Yes, I said performances. Ironically, the show feels more honest and real than the first season. It's kind of the way a scripted show tends to evoke more emotions than a reality show does – even when it's scripted comedy. Reality shows are more voyeuristic, while scripted ones draw you in. Season 2 of Hollywood Darlings does the latter.
Take the opening of the season 2 premiere of Hollywood Darlings. It was priceless! Who has not been out with a friend who completely redoes the menu – or maybe you are that person? Regardless, you are sucked in! Either you're sympathizing with Jody and Christine, or laughing at yourself as Beverley. As for that party like it's 1999 storyline, they definitely nailed the time period! I especially loved the homage to music videos of the 90's – hilarious!
Hollywood Darlings Season 2 Sneak Peak
When I interviewed co-executive producer Kourtney Gleason she talked a lot about the strong outlines of the episodes that were done and the actors knew "exactly what they were doing" each day. She also compared the format to Curb Your Enthusiasm. It's a fair analogy. This season is like watching fun sketch comedy and it lets the actors actually act. Watching it you remember that these women had great comic timing as kids. They still do.
What's the big tell that this season is a different show than last year? You don't actually need to know who the actresses are in real life to enjoy the show. They could be totally fictional characters who were on fictitious shows and it's still funny as heck! For instance, take a look at this sneak peek from Hollywood Darlings season 2, episode 2.
Granted, if you were a fan of their shows there's a real bout of nostalgia to enjoy while watching. It's fun to see them all grown up navigating Hollywood and life!
You can watch Hollywood Darlings season 2 Wednesdays at 8 pm ET on the Pop network, or catch up online at www.poptv.com/hollywooddarlings!