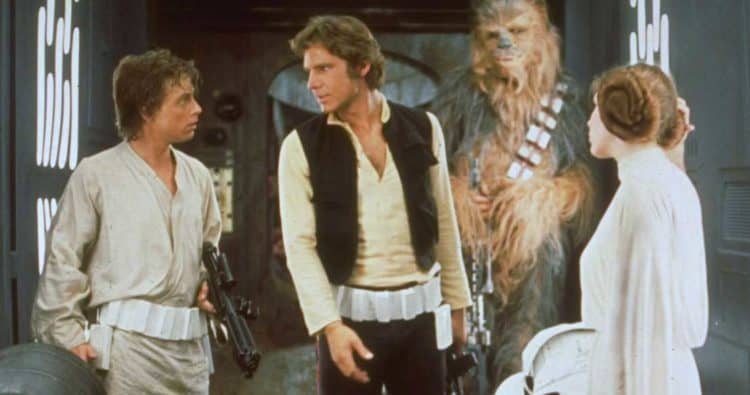 There's a lot of argument on whether George Lucas really sold Star Wars to Disney on the cheap or if he was cheating himself out of a humongous payday that might have been to come. But the feeling is that Lucas was ready to give it up a while ago since he wanted to spend more time with his family and he'd distanced himself from his own creation before the sale took place. In a sense, and it hurts to say this, Lucas had turned his back on Star Wars after a while, looking at it as little more than a cash cow that allowed him a great deal of financial success as well as maneuverability. That might not be entirely accurate, but it's certainly a feeling that many a Star Wars fan (the toxic, the good, and the indifferent) might touch upon now and again. In reality, it's more likely that Lucas was willing to unload Star Wars on just about anyone that could meet his price and continue the franchise in their own way. There have been rumors that he's been unhappy with what Disney has done with the franchise, but as many people might be willing to state, it's a little late for him to have buyer's remorse and it's not likely that he'll come back without some serious caveats being made by both Lucas and Disney at the same time.
The arguments have endured for several years now since The Force Awakens came out and made a general mess of its own premise by making a lot of people think that Finn was going to have a lot more presence than he actually ended up having in the trilogy. Plus it gave Rey a leg up that she desperately needed but didn't earn in the same manner, which is just one of many arguments that have been made throughout the years regarding Star Wars. And to think, there were those of us that saw this and said "Gee, what could possibly happen?" with the utmost sarcasm. The very idea of Lucas selling to Disney was enough to make a lot of people cringe inwardly since it meant that a company that was known for taking whatever it touched and dulling the edges was about to take over one of the greatest franchises ever made and likely do with it what it would, which didn't bode well for Star Wars in the least. And years later, here we are debating how good or horrible the current trilogy was, and actually watching as people state that the oft-maligned prequel trilogies 'weren't that bad'. If nothing else in 2020 was bound to make you do a doubletake then this would do the trick, since a large number of Star Wars fans have been adamant throughout the years when it comes to downplaying just how effective the prequel trilogy was. Now that a trilogy has come along that doesn't really fit with a lot of peoples' idea of how the story should have gone, and we're still arguing over whether the Legends canon should have been used (even though Disney is cherry-picking from it relentlessly), and why it would or wouldn't work in the current realm of Star Wars.
George Lucas selling Star Wars to Disney was perhaps one of the most momentous things that could have happened for either company, and the reason why it might have felt cheap to a lot of people is that Disney had no trouble earning back the money it spent to purchase Lucasfilm, and on top of that, the Mouse House even got Lucas to further the story a bit before handing over the steering yoke and bidding adieu to the creator. It's been widely known for a while that Lucas didn't feel that the Extended Universe was in line with his idea of Star Wars, but it's also been felt for some time that his grasp of what the franchise has become kind of slipped a while back and that he's been stuck in the original and prequel trilogies without any desire to move forward. So in truth, the franchise came to belong to the fans at one point since many of the fans happened to enjoy the direction that the EU took and, despite what anyone wants to tell you, it does mesh quite nicely with what happened after Return of the Jedi. The possibilities to have taken from the EU would have taken the franchise in a number of directions that would have seen multiple characters take on their own arcs and some characters retire sooner than people might have liked. But it would have been a darn sight better than what we've seen at present and would have been far more diverse if the Mouse House had decided to take a risk and go for it.