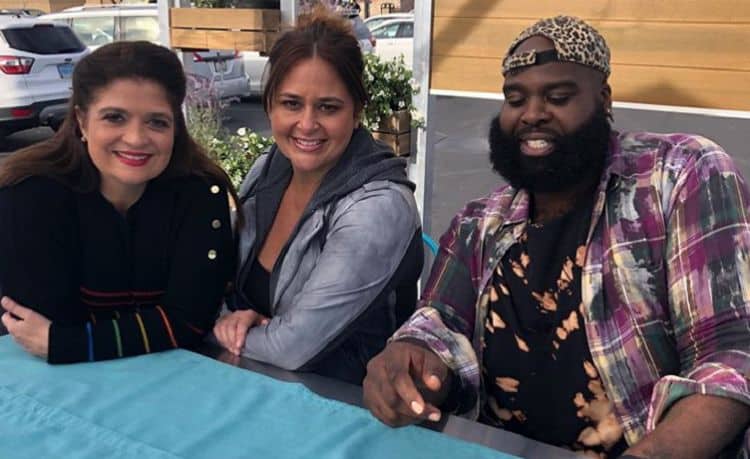 If there's one thing that everyone can agree on, it's that food is delicious. In a world where people are constantly being divided, food is one of the few things that has the power to bring people together. Chef Alex Guarnaschelli knows this first-hand. The well-known and highly talented chef has made a name for herself thanks to her ability to create and innovate in the kitchen. Alex became famous when she appeared as a contestant on Iron Chef America in 2007. The following year, she went on to host her own show The Cooking Loft with Alex Guarnaschelli. If you've been following Alex's journey from the beginning, you know that her cooking skills aren't the only thing that has interested people about her. Her nickname "ICAG" has also sparked a lot of people's interest. What to the mysterious four letters mean? Let's talk about it.
What Does ICAG Mean?
Once you realize what the initials mean, you'll wonder how you never thought of that before. Without further adieu *cue dramatic drumroll* ICAG stands for Iron Chef Alex Guarnaschelli. Alex has worked hard to earn this prestigious distinction and she is truly the definition of an Iron Chef.
How To Become An Official Iron Chef
Unfortunately, Iron Chef, Iron Chef America, and all of its spin-offs are no longer on the air. So the chances of becoming an Iron Chef in the United States appear to be nonexistent at the moment.
That said, however, earning the coveted title was pretty straight forward. According to Leaf, "you have to be one of the most highly regarded chefs in the country and receive enough votes to be awarded the Iron Chef title through a series of rigorous cooking competitions, which air on another Food Network show, "The Next Iron Chef."
Despite the shows no longer being produced, being an Iron Chef is something that still holds a lot of weight in the food industry.
Alex's Culinary Journey
Alex was born and raised in New York City and first developed an interest in cooking after spending time in the kitchen with her mother, Maria Guarnaschelli, who is also a well-known cookbook editor. Alex's father also loves to cook and specialized in making Italian and Chinese food. According to Alex's bio, "The food we are exposed to during childhood can have a profound effect on our cooking (and eating) choices when we become adults. I am certainly no exception. My mother would whip up a soufflé from scratch on a weeknight and my father would stir fry some Cantonese food the next. I was exposed to a wide variety of cuisines thanks to the boundless interests of my parents. I can remember moments where I would watch my father sear a steak and sauté vegetables while I washed an array of lettuces. "
Studying In France
When Alex went off to college she decided to study history, but her interest in food never went anywhere. After earning her bachelor's degree, Alex went on to work under chef Larry Forgione who encouraged her to study culinary arts in France. She eventually went on to graduate from La Varenne Culinary School.
According to Eater, "After seven successful years in France, Guarnaschelli returned stateside, joining the venerable Daniel Boulud at restaurant Daniel in Manhattan as sous chef. She moved to Los Angeles for two years and worked at the acclaimed Patina restaurant in West Hollywood. In 2003, she became the executive chef at Butter Restaurant in New York, where she creates an eclectic American and green market-inspired menu."
Acting Opportunities
After appearing on Iron Chef, Alex's popularity began to soar. She has consistently been on TV since 2007 and has competed in and hosted a variety of shows. Additionally, Alex has landed a few acting opportunities. Most notably, she appeared on Billions and Young & Hungry.
Alex's Accomplishments
Being an Iron Chef isn't the only awesome thing Alex has done over the years. She has released three books within the last ten years including her most recent release in 2020, Cook With Me.
Outside of her professional life, Alex has also had some big moments. In 2007, Alex married fellow chef Brandon Clark and the two welcomed their first and only child together that same year. Unfortunately, the couple's marriage was short lived. In 2020, Alex shared that she had gotten engaged to Top Chef winner, Michael Castellon.
Alex is currently the host of Supermarket Stakeout which airs on the Food Network. With such an impressive track record, there's no doubt that we'll continue to see lots more of Alex in the future.