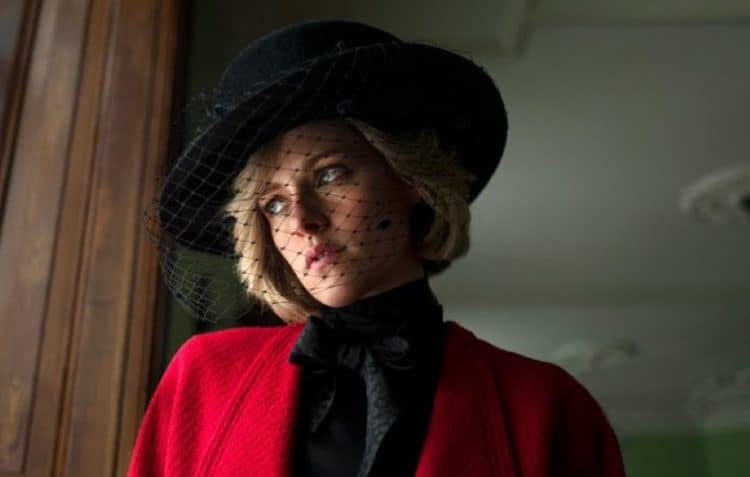 Even the most hard-pressed cynic finds it difficult to find villainy and fault in Diana, Princess of Wales. Somewhere amongst the mysterious façade, it is more responsible to say that she certainly was not a villain, just as she certainly was not a "saint." One of the most iconic and influential women of the 20-th century, as well as a certain historical figure in both cultural studies and future historical accounts of the the British monarchy, attaining a true composite of this beguiling lady is nearly impossible, but recent screen adaptations depicting her seem to think they have the answer. They truly do not. But Diana's influence is something along a scale by which even historians will struggle to arrive at a proper narrative. It is not inaccurate to say that Spencer's Pablo Larrain had the right idea in comparing her to Lady Anne Boleyn–the doomed second wife of King Henry VIII in the sixteenth century–as her status in British royal history will certainly equal Boleyn's as the centuries go on. With the passage of time following a public figures death, there are inevitable books, films, and television specials and series that are made to appeal to the masses of fans of the deceased. Due to Diana's influential fame and philanthropic endeavors, it was only a matter of time before we started seeing fictional portrayals of her, and that time is now. But unfortunately, the true essence of Diana is seldom ever captured in all it's complexity. Here's why.
Filmmaker/Showrunner Bias
The concept of hereditary monarchy is a peculiar thing in 20th and 21st-century discourse. This is made all the more apparent due to the rise of modern philosophical theories such as existentialism and nihilism roughly 100 years ago, to say nothing of the erosion of religious power and iconographic influence to the present day. The concept of a person ascending to a nation's head of state position by virtue of birth and sacred blood making them an Earthly vassal of a deity is questionable to say the least. But apart from literal meanings, Britain's constitutional monarchy is akin to a binding glue of sorts as well as a cohesion of national unity, smart and responsible politics, and identity. Within this burgeoning dichotomy entered Lady Diana Spencer in 1980. Diana's courage in sharing to the world the tawdry details of her marriage were explosive in the early 1990s, and for a certain amount of hardcore fans, those revelations are still shouted from the roof tops on social media, despite nearly a quarter of a century after her untimely death.
In addition to reactionaries alone, filmmakers and storytellers have also shown a need to run with her side of a two-person, intimate story and mine it all as certifiable truth. Before the last few years, 2013's Naomi Watts-led Diana was the first mainstream release of a film to fictionalize Diana, and sure enough, the film decided to focus on the last few years of her life once she divorced Charles. This film was a misfire, and was lambasted by critics and audiences alike for its unfocused narrative and inability to capture some of Diana's lasting accomplishments from 1995-1997 and focus instead on her whirlwind love life with Dr. Hasnat Khan and Dodi al Fayed. I have no problem in saying that the film is garbage. Then came season four of The Crown in late-2020, and despite a luminous performance by Emma Corrin who finally gave us a performance of Diana's life in the 1980s when she became a superstar, Peter Morgan, who harbors republican sentiments towards the British monarchy, turned her narrative into a literal fairytale where her husband and in-laws were fantastically wicked–his bias (and fabrication) in the writing of this was so severe that it was nearly unwatchable–and I adore this series.
2021's Spencer was a step in the right direction, and Pablo Larrain at the very least depicted the situation between Charles and Diana, as well as the Queen, in an accurate neutral grounding that correctly placed all parties as flawed and caught up within a system that stifles individuality and freedom of choice.
Diana Was a Complex Figure and Not Blemish-Free
Like all human beings both present and long dead, perfection and pristine virtue is a myth of the highest proportions. You know there is a problem if a person tries to cast themselves as a person untouched by the vices and imperfections that define the human experience, and to Diana's credit, she admitted as such. Yet she still had a tendency to court this kind of Mother Theresa on the fashion runway type of persona, and however much we admired her if we were around in that era, we have to stop pushing an ideal that defies the basic tenets of what it means to be human. What it means to be selfish, vain, self-serving, and opportunistic–all traits Diana has been accused of. A marriage is almost never a cut and dry union where one person alone brings it all down–it takes two to tango, and to not believe that is to peddle in blinded allegiance to an ideal you are coveting. Diana shared her feelings on her marriage quite a bit in her lifetime, yet it must be said that apart from an admittance to also committing adultery in a 1994 interview, her ex-husband, the heir to the British throne, has never broadcasted his private life in books and interviews as Diana did. Yes, they were public figure's and civil servants, but in all honesty, the details of their marital issues are and never were anybody's business apart from their own. It would be nice to one day find a fictional film or TV series that could at least approach these objective truths with responsibility and a commitment to accuracy–not sensationalist screenplays that are committed to pitting Diana the Saint against an evil institution. There comes a time after the passage of consistent time when we should all mature beyond the high school courtyard.