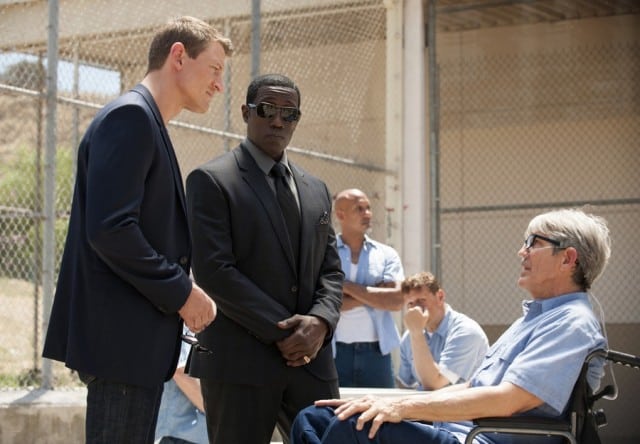 For The Game on The Player to make any of The Sense, the rules need to be consistent. Yet, The Player has aired four episodes, each with Games that had distinctly different sets of Rules attached to them, including how The House and The Dealer were allowed to behave while The Kane (what I'm calling Alex for now) is out in the world, spraying gunfire around Vegas to help/save/kill someone in the name of doing good and finding his wife. "The Big Blind" is another example of this, with a doozy of a "plot twist" that undercuts everything the series has established to this point.
This week, Alex finds himself fighting off multiple hitmen, when an angry wife (and mob daughter) puts out a failed hit on her husband, and he retaliates. If the premise sounds thin, that's because it is: most of the episode is spent either in chase scenes or staring at Cassandra's stressed face as she struggles to balance work and personal life, a trait that only seems applied to her character – though of course, this is a show where a battered woman puts out a hit on her husband, so it's not like The Player is trying to break new ground in gender roles , anyway.
But I digress. With such a silly, pointless "case of the week," "The Big Blind" has to rely on its overarching stories to keep things together. Unfortunately, this amounts to the aforementioned Cassandra material, along with a war flashback of Alex and his ex-wife, a moment triggered when Mr. Johnson changes the rules off-screen, and sends every single hitman hired to the "safe house" Alex and Mob Wife had literally just walked into. Now, don't you think something like this might affect The Odds, the almighty numeric powers that both Cassandra and Mr. Johnson are so intent on preserving? One might think doing something like that would affect the odds – and yet, Mr. Johnson does it anyway, mere hours after telling Alex that messing with odds will lead to a misbet.
Which again raises questions: if the people betting on the game are funding this operation, are any of them actually making any money? It's not like this show explains to us who these invisible people are placing their bets on – do they shift when money is coming in heavily on one side? Can Mr. Johnson change anything on the fly? Does any of this actually matter except as a goofy framing device for mediocre Case of the Week Plus One Or Two Explosions Material?
Of course, the answer to all these questions is the same: look under the thin veneer of "character" and "plot" The Player tries to have, and the rules of The Game – and The Idiots playing it – fall apart. There's no substance here – or I'd know the name of Cassandra's boyfriend, and/or care about their relationship, or wonder why Alex is totally cool playing a game and trusting people who are constantly changing the rules and digging into his personal life, both of which seem designed around getting him killed. Of course, The Player knows this, and hopes some loud, mostly incoherent action scenes will distract audiences. However, when those moments are as tepid and nonsensical as the ones in this episode – Alex lights a dude on fire and kicks him down the stairs of a building under construction, that he's on the top floor of: does this sound smart? – The Player is really just playing the audience, disguising one of the most hollow shows on television with a lot of fake gunfire and fireballs (unfortunately, not the cool Street Fighter kind).
[Photo credit: Colleen Hayes/NBC]