Holy smokes….so last night's episode of The Philanthropist just reinforced my opinion that James Purefoy would have made an EXCELLENT James Bond.
Actually, last night he was more like Liam Neeson/James Bond/Indiana Jones rolled together! It was awesome. Paris was the title of the episode, and usually when you think of Paris, you think Eiffel Tower, kisses in the moonlight, funny hats, pigeons everywhere, accordions…..Ok maybe that's only what my brain pictures. Anyway! Paris took on a very dark tone when we found out about a major human (women, rather) trafficking ring that just so happened to find its way into Teddy's altruistic lap.
The Maidstone-Rist crew consisting of Olivia, Phillip, Teddy, and Dax arrived in Paris on the basis of acquisitions and mergers, buying up some railway subsidies and bauxite (an aluminum ore) from a Bulgarian mining company. Upon checking into the hotel, Olivia runs into an old friend of hers named Isabelle who is the PR manager for the hotel.
We are reminded that even though Teddy has decided to become a philanthropist, he's still clinging to parts of his old personality (wow he IS human!). Poor Phillip puts on his 'mother hen' hat when Teddy chooses to drink and gamble all night in the hotel casino, and decides to go put him to bed. After all, they do have a huge meeting with the Minister of Transportation the next day. Before Philip leaves, Olivia decides to take control and goes to get Teddy herself. On the way, she runs into Isabelle (her old friend) who has just been slapped by the grand-daddy of all pimps, and the head of the trafficking ring, Bejan. They decide to go to the hotel cafe, and sit down to talk about what happened. Teddy finds them, and Isabelle confesses that she foolishly owes a large sum of money to Bejan, and that its futile to try and stop Bejan, because there are even cops on his payroll. Good thing she's sitting right next to a man with a never ending cash flow. Seriously, where does he keep all those rolled up bills?! They agree to pay her debt and help her get out of dodge.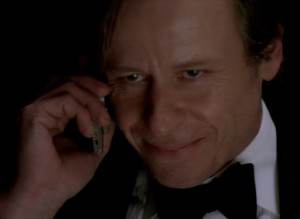 Once everyone is together again (Philip, Olivia, and Teddy) they are about to regroup when all of a sudden Isabelle comes crashing through the glass ceiling and plummets to her death. After a shady run-in with a detective that was far too defensive over Teddy's assumption that Bejan had anything to do with her death, he goes to find Olivia and Philip. Obviously Bejan was not willing to let her go in exchange for money, so he killed her. Don't mess with the Russian dude. Olivia takes her death pretty hard, and she and Teddy (sorry Philip) brainstorm a way to rescue anyone else in Bejan's path of destruction. What does Teddy normally do to get to the bottom of things? He uses his former life and money to get right in the middle of it. Teddy decides to be a paying customer, and buys Ivana, Bejan's prized posession. Olivia and Teddy question her, and learn that Bejan was indeed behind Isabelle's death, and that Bejan is planning to kidnap Ivana's 15 year old sister. Teddy just won't have any of that, so he and Dax leave to go rescue her. Much to Philip's dismay, he knows Teddy probably won't make it back in time for the meeting with the Minister of Transportation, so he decides to handle it himself. The Minister of Transportation, Yves Moehringer, is played by Lambert Wilson (yeah! The guy from Sahara!) who is a complete and utter dbag! (I think there will be one in every episode.) He decides that since the CEO of the company isn't going to attend the meeting, there will be no railway subsidies given.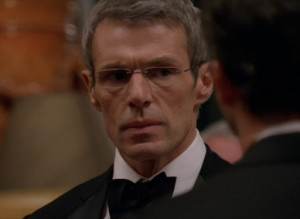 We flash back to Teddy and Dax trying to rescue the girl, and just when they have her in their sights, she is jumped by some of Bejan's guys and they are reduced to following them to the safehouse. At the safehouse, we learn just how many women are being transported on Bejan's behalf. They count 20-30 women being transported out of the country by train, and Teddy feels completely helpless (And probably a little ashamed since his last travels to Paris have yielded him nothing but women). There's that vulnerability that I love about The Philanthropist!
Still determined, Teddy decides to cook up a plan to save both the railway/bauxide deal, and all the girls. He has Philip dig up as much dirt as he can on the Minister of Transportation, and he heads off to consult Bejan about closing down the casino to have a party with a few friends, the Minister of Transportation, and all the girls that he has. Bejan is hesitant until Teddy agrees to pay him half a million in cash. To make sure that the deal is sealed, Teddy goes to that shady detective I mentioned earlier, and basically says "Look. I'm not stupid, and if you go squealing to Bejan, I will have my buddy Dax mess you up like you can't imagine." The detective, Teddy hopes, is scared enough to keep his mouth shut. Oh, and Teddy throws in a little word called "immunity" to seal the deal.
Philip and Olivia manage to dig up a lot of dirt on the Minister of Douchebaggery, Yves Moehringer. Turns out he is Bejan's brother in law. Oh so now we get why Yves was hesitant about giving up those railway subsidies. They plan to use this against him during the big casino shindig.
While the party gets started, Philip and Olivia hold down the fort and Teddy and Dax go to see if they can rescue any remaining girls from the safehouse, including Ivana's sister. This part was particularly awesome and I won't ruin it for you, but there is plenty of fire, heartfelt moments, and everything you need to make you wish James Purefoy was James Bond himself.
They head back to the party, and Ivana, Teddy, and Bejan meet in an empty room in the hotel. Teddy shows Bejan the cash, and at that point, I was really scared that Ivana was going to betray him by siding with Bejan and leaving with half a million. She didn't even have to do that though, because Bejan could tell that he had been betrayed by looking into her eyes. At that point, Teddy gets a gun to the eye socket, and that made me extremely uncomfortable. I can't even walk in front of a BB gun without getting scared it's going to go off! Somehow Teddy manages to talk Bejan into marching him outside so people wouldn't hear the gunshots, and they disappear off to an undisclosed location under a bridge by the Seine river. I knew Teddy was going to live, because we've got an entire season left, but when Bejan had his gun to Teddy's head and was saying his last words, I cringed a little bit. A shot rang out and Bejan dropped dead, as the detective stepped from the shadows and put an extra bullet in Bejan to be sure. I always feel relieved when characters do that, because you never know.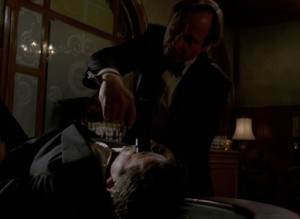 Unscathed and suave as ever, Teddy heads back inside to deal with the last agenda on his to-do list, and that is outing Yves Moehringer's involvement with the trafficking ring. He shows him pictures of what all the girls have gone through, and Ivana gives a compelling speech about the pain and anguish she endured so that Yves could profit from it.
Each episode is usually a retelling of the story, and we learn that Teddy's narration was to the Prime Minister, who in turn grants Maidstone-Rist the railway subsidies, and a medal for his bravery which Teddy wants nothing to do with.
As Philip and Olivia are leaving to back to the USA, Teddy decides to stay and enjoy Paris for one more night. He finds a brunette seductively looking at him, but decides against giving into temptation and goes for a walk. You can tell that he is still thinking about what had happened to him, and even after solving the problem, feels like he needs to do more. Each act of philanthropy seems to be purging Teddy of his old self, and the metamorphosis is actually very compelling to watch. Am I the only one who feels this way? What are your thoughts on The Philanthropist so far? Have the episodes made you want to change anything in your life?
Tune in next week as Teddy recounts his visit to Kosovo! Until then, thanks for reading!