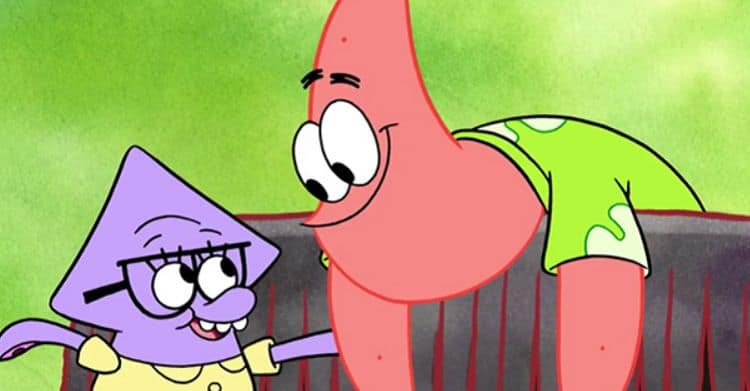 How many Spongebob fans are waiting anxiously for this spinoff to arrive? It's likely that quite a few of them are since it would appear that Patrick Star's show is going to be every bit as crazy as his buddy Spongebob's, but how often we'll get to see Spongebob is kind of hard to say since after all, this is Patrick's show. The talking sponge might show up regularly simply because the two are pals, but as though the main intent of this show is to focus on Patrick and his family and whatever antics they might get up to, which is bound to be considerable since Patrick is, well, Patrick. That means that he's bound to say and do the ridiculous things that people will laugh at because they're comical without trying to be and are bound to keep a lot of long-time fans happy. As a character, Patrick has usually been at Spongebob's side more often than not and has shared adventures with his yellow buddy for years, but this time around it's bound to be interesting to see what happens when he's with his family and things start to get kooky.
There's at least some thought that it's going to be just as good as the Spongebob show, but there's also the question of how many characters from the original show will be making appearances now and then. In order to really make it work it does feel as though Patrick should be able to interact with several of the characters that have been so popular over the years, while perhaps gradually pulling away from them for his own show. Of course, if this is before he met Spongebob it would make a lot of sense as well considering that it would give more time to flesh Patrick out as a character and explain him to the fans. However, it's going to be built up it's easy to think that a lot of people will be tuning in since this spinoff is one of those that a lot of fans have kind of been waiting for and will no doubt react to in a positive manner. At least, that's the hope.
It feels as though studios are doing whatever they can to make spinoffs more attractive to the public, but there are plenty of times when they've simply fallen short of the mark by either leaving too much of the source material out or relying too heavily on the source material when trying to break away from it. There are characters in every story that could easily break off from the main tale and tell their own saga since their backstory promises to be quite rich and inviting to those that want to listen. Then there are those that might appear interesting when they're around the main characters and aren't being made the center of attention, but kind of fall apart when they're allowed to be on their own. Patrick is a strange character in that he does feel that he could make a spinoff work in some strange way, but it's also something that needs to be monitored in order to make certain that it will be worth the effort since his role on Spongebob for a long time has been as a friend to the main star but to not be the main star on his own. So pushing him as the main character will be intriguing, to say the least since it's definitely possible that he can take over, but it's not something that feels as though it's guaranteed.
Sidekicks have attempted to go out on their own in the past, as have costars, and there have been times when it's worked and times when it hasn't. One sidekick that a lot of people tend to think about is Robin of Batman and Robin, and while it's true that one Robin became Nightwing and another became the Red Hood, the point is that it can happen that a sidekick can go out on their own and do something great. But where this breaks down is when the sidekick really can't go out on their own for one reason or another since their story is either too weak, their character isn't fully developed, or something happens in which the writers simply can't see a future for the character without someone there to help them along. That's likely what Patrick's family is for since it does feel that without them, or without Spongebob, that he might not really be much of a character on his own. He might last for a couple of episodes and then stand there staring off into the distance for no good reason. The thing about this however is that a lot of characters in the original show, including Spongebob, might not have lasted as long if not for each other. So to be fair, The Patrick Star show has a decent chance of making it work.
Tell us what's wrong with this post? How could we improve it? :)
Let us improve this post!