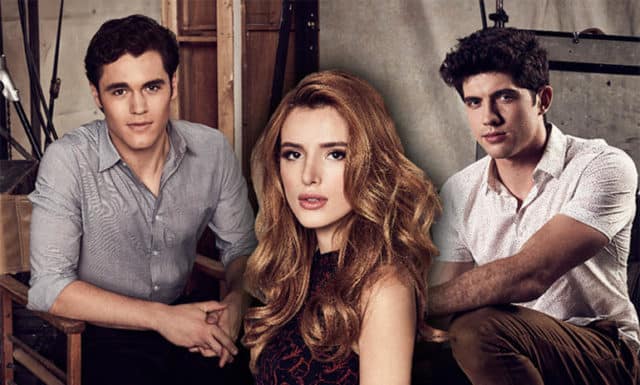 The new hit series "Famous in Love" focuses on Paige Townsen, a common girl pursuing her education in college as she lands a Hollywood movie role. Her life is transformed and fans get to watch the drama unfold. Bella Thorne and Keith Powers do a bang up job of acting and followers are thrilled to find out new tidbits about their favorite actors. We discovered five things about Famous in Love that you probably didn't know.
1. Actress Bella Thorne who plays Paige is dyslexic
You wouldn't know it by the way that she memorizes her lines, but it's the truth. Bella had difficulty reading in school and found it difficult because she had a tendency to confuse the letters B and D. She had a tough time when it came to tasks which involved reading out loud.
2. Keith Powers is a fan of Marlene King
When he found out that Marlene was the executive producer of the show, he got really excited. He was impressed with the job that she did with Pretty Little Liars. He shared that he has confidence in her work and this is one of the factors that drew him into the cast of Famous in Love.
3. Bella Thorne has a lot in common with Paige Townsen
The character Bella plays is very similar to her in real life. Thorne understands the issues involved with becoming famous at an early age. She also knows what it is life to be thrown into the spotlight and having privacy interrupted by fans and media. This has made Thorne a good choice for the part of Paige. Of course Bella has some very different aspects to her personality, but she has a good grasp on what the character is going through.
4. Bella Thorne is not a native English speaker
Thorne who plays Paige was born to a Cuban father. In her early years, she learned to speak in Spanish which was her first language. She learned English at an early age also and as the years went by she spoke English only. She is not currently fluent in Spanish.
5. Keith Powers is an everyday guy when he's not acting
Powers shared in an interview that she loves his acting career adn it makes him happy to be part of a successful television show. When he's not on the set, he lives his life like an average guy, going to the gym, going to movies and playing video games. In an interview he shared that there is nothing complicated about him as a person. He enjoys the simple things in life in his down time.
These are five things that you probably didn't know about Bella Thorne and Keith Powers of Famous in Love. The talent that each brings to the set is seen in the magic that they create in each scene. Bella's grasp on her character gives her the additional insight to portray the character to perfection. Although the two are not identical with regard to personality or experiences, there are enough similarities for Thorne to make the character highly believable, and this adds an aire of realism to the series.
Tell us what's wrong with this post? How could we improve it? :)
Let us improve this post!