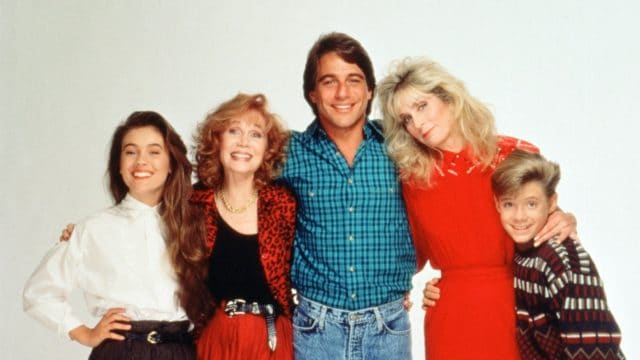 "Who's The Boss" was a popular television sitcom that ran for 196 episodes. The show centered around a retired baseball player (TonyMicelli) who took up employment as a housekeeper for Angela Bower, a New York advertising executive. The two raised their children together with the assistance of Mona Robinson, Angela's man hungry mom. What ever happened to the cast of this popular series? Here is a look at where they went after the final episode and what they're up to today.
Tony Danza
Tony Danza played the part of Tony Micelli. He had already made a name for himself as an actor prior to "Who's The Boss" as Tony Banta on "Taxi." After the show ended in 1992, He appeared in several television sitcoms including "The Tony Danza How," and "Hudson Street." in 2009, He starred in the A&E reality show "Teach: Tony Danza." He taught English in a Philadelphia High School for one year. He also appeared in films including "Angels in the Outfield, "Don Jon and "Crash."
Tony released an album in the 50s crooner genre titles "The House I Live In." He has published two books. One is a cookbook and the other, memoirs of his experience as a teacher. In addition to this, he is a minister, ordained through the Universal Life Church. Tony divorced from wife of 25 years, Tracy Robinson. He has one son, a grandson and three daughters. Danza turned 66 in April of this year.
Judith Light
Judith played the role of Angela Bower for the full 196 episodes of the series. She was previously known for her role as Karen Wolek on the popular daytime soap "One Life to Live."
After "Who's The Boss," Judith continued on to accept roles in "Law & Order:SVU,"Ugly Betty," and work in broadway for which she won Tony Awards in both 2012 and 2013. Rer most recent work is her role in the series "Transparent."
Judith has become a powerful gay rights activist. She sits on numerous boards in support of AIDS foundations and LGBT organizations. She was instrumental in helping her co-star on "Who's the Boss," Danny Pintauro in coming out to the world. She married fellow actor Robert Desiderio in 1985. The couple did not have any children and are still together.
Alyssa Milano
Milano played Samantha Micelli, the daughter of Tony in the show. She gained immense popularity with teenage girls during her time on the show. After the series ended, she played the role of Amy Fisher in "Casualties of Love: The Long Island Lolita Story," "Poison Ivy II:Lily," and on "Melrose Place" as Jennifer Mancini in 1997. She played the role of Phoebe Halliwell on the popular series "Charmed" for eight years, and most recently starred on "Mistresses" and hosted the third season of "Project Runway All-Stars."
She went on to tie the knot with Cinjun Tate in 1999, but the relationship ended. Alyssa married David Bugliari, CAA agent in 2009. The couple have one son, Milo, born in 2011 and their daughter Elizabella, born in 2014. Milano also created her own fashion line for women who are fans of sports, called Touch.
Danny Pintauro
Danny Pintauro was Jonathan Bower, Angela's son in the show. Fans watched him grow up in the series. Prior to "Who's the Boss, he was the first "Paul Ryan" on the popular soap "As the World Turns," then went on to the part of Tad Trenton in the movie "Cujo." His years as Jonathan Bower were the last for his acting career. Danny went to Stanford University and graduated with degrees in Theater and English. He made a few appearances in television including a role in "The Secret Life of the American Teenager," and an appearance with Oprah Winfrey in 2015. He came out with the help of Judith Light, as being gay in 1997. He married his boyfriend Wil Tabares in 2014. He was diagnosed as HIV positive 12 years ago, and is currently living in Las Vegas where he manages a restaurant for a living.
Katherine Helmond
Katherine Helmond was Angela Bowers' mother Mona Robinson. The man-hungry mom helped both Angela and Tony with rearing the kids when she could. She won a Golden Globe Award for her role in addition to being nominated for two Emmy Awards. After the series ended Katherine accepted recurring roles in "Coach" and in "Everybody Loves Raymond." She's also appeared in "True Blood," "The Glades" and has lent her voice in animated films including the voice of Lizzie in the "Cars" films. Katherine married her current husband David Christian in 1962. They are practicing Buddhists. The actress is 86 years old.