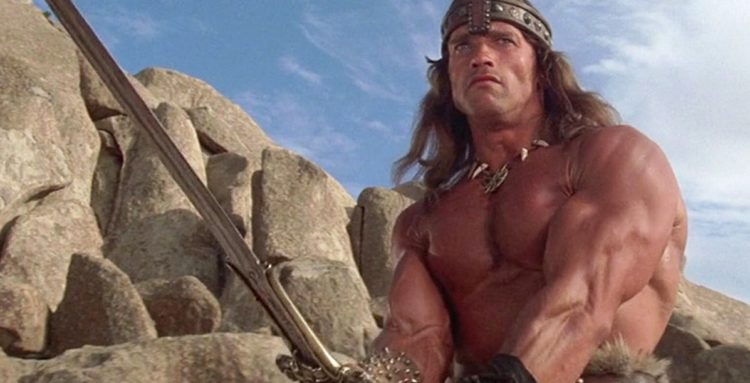 It's freaky. But is it TOO freaky? Oh hell no, too freaky would be Arnold Schwarzenegger being featured in something like Showgirls, which would be so uber freaky that just watching might make your eyes melt out of their sockets or turn all the way around to avoid any damage that might be done to your pupils. This is just flat out funny to see Arnold being depicted as various cast members from The Office, and even gives Junior flashbacks in a way since if anyone remembers he did dress as a woman in that movie, forgettable as it was for a lot of people. This might not be a easy to forget however since that kind of image might haunt you for a while. Arnold's face on anyone's body but his own is a little bit to absorb since those block-like facial features are hard to confuse for anyone else's. Of course if he was anything like Michael Scott or Dwight Schrute there's a good chance that he'd be a lot less tolerable as a character considering that his ability to inflict harm and Dwight's less than pleasing attitude at times don't feel like they'd make for a friendly coworker. This spoof is pretty funny to be certain, but it's still a little bit freaky, though definitely not too much.
https://www.instagram.com/p/CBl3xvJJEmW/?utm_source=ig_embed
One can definitely tell that the time that people have at this point is overwhelming when it comes to thinking of things to do since there have been a good number of spoofs that have come out in the past few months, some of which have been quite funny and others that are a little, meh. The effort that goes into them is still impressive though since it does take some time and a bit of skill to make this happen, meaning that whoever's doing it has some experience online. The Office has been a big target of a lot of articles lately, which might make one think that the show is coming back somehow, but more or less it has more to do with the idea that people can't just let the show go, since obviously it meant a great deal to a lot of people. Fitting Arnold in there is just another great way of making it appear even funnier and in some ways a little crazier than usual, which is kind of a challenge at times but is still doable. Deepfake has shown been doing this kind of thing for a while and getting better and better at it as some of their work is hard to tell unless one has already seen it, meaning that it's simple enough to know what to look for.
But it does make a person wonder just how far this kind of programming will go and whether or not it will be used for a different purpose eventually. Obviously that's a bit of a conspiracy theory that doesn't really need to come to light since we have too many of those going around at the moment. But it's a thought, isn't it? Everyone wants to know just how far this or that is going to go when it comes to technology, and as things continue to progress it's easy to think that there isn't a cap on that at the moment, meaning that the sky isn't so much the limit as it is the view. Using a computer program to place another person's face on another person's body is something that is easy to see as funny and endearing, but also kind of disturbing and provocative in a big way since it invites a lot of ideas as to what can be done next. While it's not necessarily a bad thing it's something that you can't help but think might lend itself to certain abuses once someone figures out how to make it look even more real and work any bugs that might still be in the system. At that point it becomes imperative to find those that will practice a good sense of morals when using said programs so that there's no major issue concerning likeness rights and possible lawsuits that might arise from using an image that isn't approved. It's easy to think that not every spoof out there is entirely allowed, but at this point there's been no general outcry from anyone that hasn't wanted to see their face done up in this manner.
In fact it's kind of an honor in a funny, almost engaging way since it's the kind of publicity that's not bad, good, or even indifferent, it's just funny and witty in a way that invites a good deal of laughter and a lot of amusement. From that kind of perspective one can easily come to the idea that when it's all in good fun, any face is fair game.