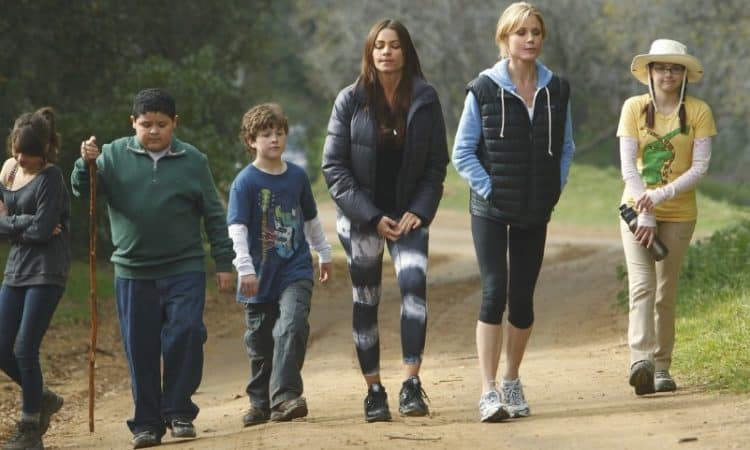 Modern Family is a cultural phenomenon. Thanks to witty plot lines and relatable characters, the show has won the hearts of people all over the world. Not only is the show ABC's longest-running comedy series to date, but it's also one of its most lucrative ones. Interestingly enough, during its 3rd season, it already became the tenth biggest money maker of 2012, pulling in a staggering $2.13 million per episode.
The financial success of the show has, as you'd expect, translated into some very hefty paychecks for its ensemble cast. In 2012, the checks got even bigger when the adult cast members banded together to sue 20th Century Fox for a pay rise. While they didn't quite manage the $200 thousand per episode bump they were hoping for, they weren't left too disappointed. They eventually received a $150 thousand episode deal.
So now that the show is over let's look at just how much they've managed to accrue in net worth over the years. Here are the net worths of Modern Family cast members,
12. Jeremy Maguire Net Worth – $150,000
Character: Joe Pritchard
137 Episodes (2015-2019)
The 7-year-old Jeremy Maguire joined the ABC sitcom in 2015 as the youngest member of the Pritchard clan. While other kids his age were still struggling to tie their own shoelaces, Maguire managed to pull in a tidy net worth of an estimated $150 thousand. His work on Modern Family may have come to an end, but we can be sure we'll be seeing a lot more of him in the years to come.
11. Aubrey Anderson- Emmons Net Worth – $6 Million
Character: Lily Tucker- Pritchett
234 Episodes (2011-2019)
Until Jeremy Maguire joined the regular cast in 2015, Anderson- Emmons held the status of Modern Family's youngest cast member, having joined the show at the age of 4 as a replacement to the original Lily (or, as it turns out, Lily's), Ella and Jaden Hiller. Unlike the show's other child actors, Anderson- Emmons didn't receive a pay raise during the 2012 negotiations, despite her agent pushing for her to do so. However, she's not let that hold her back from achieving one of the biggest paychecks of any 11 years in Hollywood. According to Celebrity Net Worth the child star is now raking in a not to be sniffed at $70 thousand per episode. With a net worth of $6 million, it's fair to say the kid's done good.
10. Rico Rodriguez Net Worth – $12 Million
Character: Manny Delgado
282 Episodes (2009-2019)
One thing's for sure- you can't accuse Rico Rodriguez of being work-shy. The talented youngster has not only appeared on every episode of Modern Family to date but he's also written a book, 2012's Reel Life Lessons… So far appeared in 7 films (including a cameo as himself in The Muppets), featured in 20 TV shows, and picked up ten awards for his work on Modern Family. In the process, he's also managed to accrue an estimated net worth of $12 million.
9. Nolan Gould Net Worth – $12 Million
Character: Luke Dunphy
282 Episodes (2009-2019)
Thanks to his role as the easy-going youngest child of Claire and Phil Dunphy, Nolan Gould has certainly been raking in cash over the last few years. But then again, would else would you expect of a card-carrying Mensa member with an IQ of 150? The 20-year-old actor may have skipped ten grades in school thanks to his smarts, but he'll certainly not be skipping out on the bill any time soon… with a take-home pay of $125,000 per episode since 2018, Gould has secured himself a neat net worth of $12 million.
8. Ariel Winter Net Worth – $12 Million
Character: Alex Dunphy
282 Episodes (2009-2019)
There are not many 21 years old that can claim a career that spans 17 years, but then again, Ariel Winter is no ordinary 21-year-old. Winter claimed her first acting job at the age of 4 with a 2002 Cool Whip TV commercial. The gig clearly gave the youngster a taste for entertainment, and she quickly followed it with roles in shows such as Freddie, Monk, Bones, and ER.
Her career in animation began with her casting in Phineas and Ferb, and she's been lending her voice to the character of Sofia in Disney's Sofia the First since 2012. You can also hear her dulcet tones in Bambi II, Ice Age: The Meltdown, and the DreamWorks Animation feature, Mr. Peabody and Sherman.
For all her success in animation, Winter is without doubt best known for her role as Alex, the smart-as-a-whip youngest daughter of the Dunphy family. Since 2018, Winter has been pulling in an impressive $120 thousand per episode (a hike on her previous pay of $70 thousand per episode). All in all, the sum total of Winter's efforts in the entertainment industry amounts to a very healthy net worth of $12 million.
7. Sarah Hyland Net Worth — $14 Million
Character: Haley Dunphy
282 Episodes (2009-2019)
28-year-old Hyland kicked off her career with bit parts in such films as Private Parts, Annie, and Blind date. In 2009, the actress cemented her future finances when she landed the role of Haley Dunphy. Since then, Hyland has gone on to claim numerous awards and nomination nods, including four Screen Actors Guild Awards for Outstanding Performance by an Ensemble in a Comedy Series, which she shares with her fellow cast members.
Since becoming a household name for her work in the ABC comedy, Hyland has had her pick of movie roles- catch her appearances in 2017's Dirty Dancing, 2014's Vampire Academy, and 2015's Scary Movie 5. Her impressive body of work has seen her earn more in a decade than most of us could dream of in a lifetime…. according to CNW, Hyland can boast a net worth of $14 million.
6. Julie Bowen Net Worth – $18 Million
Character: Claire Dunphy
282 Episodes (2009-2019)
At the time of her casting as the matriarch, Claire Dunphy, Julie Bowen already had several big TV and film roles under her belt. Her role as Aunt Gwen in the teen drama Dawson's Creek was the first to bring her to our attention, and she subsequently garnered fame (and not a little fortune) for her roles as Carol Vessey in Ed Denise Bauer on Boston Legal.
Meanwhile, she was also building herself a nicely lucrative career on the big screen, with such memorable roles as Virginia Venit in Happy Gilmore, Amy Finch in An American Werewolf in Paris, and Nikki in Amy's Orgasm. Her 2009 casting in Modern Family took things next level… by 2014, Bowen was pulling in a $190,000 paycheck for each episode of the show, and by 2018, it had leaped to $500,000.
Even if Bowen never works another day again now that Modern Family ended, we're pretty sure she'll have no problem keeping up the mortgage payments… not with a net worth of $18 million, that's for sure.
5. Eric Stonestreet Net Worth- $23 Million
Character: Cameron Tucker
282 Episodes (2009-2019)
Eric Stonestreet shares a number of similarities with his Modern Family character, Cameron Tucker. Both are good ol' country boys from Kansas, and both have a slightly unsettling obsession with clowns. Fizbo, Cameron's clownish doppelganger, actually had its origins in Stonestreet's childhood — by the age of 11, Stonestreet was honing his entertainment skills at children's birthday parties, as, you guessed it, Fizbo the Clown.
By the early 2000s, Stonestreet had put his clowning days behind him . He was building an impressive portfolio of shows such as ER, CSI: Crime Scene Investigation, Bones, and NCIS. His 2009 casting in Modern Family, however, saw his career rise to hitherto unseen heights.
The doors of Hollywood are now well and truly open to Stonestreet. He can thank his performance in Modern family for his casting in films such as Bad Teacher and The Secret Life of Pets. He can also thank it for the healthy state of his bank balance. With the cool $500 thousand per episode since 2018, Stonestreet now has an estimated net worth of $23 million.
4. Jesse Tyler Ferguson Net Worth – $25 Million
Character: Mitchell Pritchett
282 Episodes (2009-2019)
Until Modern Family came calling, Jesse Tyler Ferguson's career revolved largely around Broadway. He had roles in off-Broadway and Broadway productions, including the Tony Award-winning, The 25th Annual Putnam Country Spelling Bee. TV tended to be more of a sideline to his work in the theater than the main event.
He appeared in 2 episodes of Ugly Betty between 2007 and 2010. Also, he appeared on 19 episodes of the short-lived The Class between 2006 and 2007. Also, he had some small (and sometimes uncredited) roles in between. All in all, it would be fair to say Tyler Ferguson wasn't exactly setting the small screen on fire. In 2009, that all changed when he was cast in the role of Modern Family's Michell Pritchard. The gig not only elevated him to a household name, but it also gave a very healthy boost to his bank balance.
Tyler Ferguson was pulling in $190,000 per episode between 2014 and 2018. Then in 2018, his earnings leaped to a massive $500.000 per episode. Even if the actor had never earned a dime before Modern Family, the show would have guaranteed him a fortune. At the time of writing, Tyler Ferguson's net worth is estimated to be a staggering $25 Mill.
3. Ty Burrell Net Worth – $26 Million
Character: Phil Dunphy
282 Episodes (2009-2019)
Modern Family isn't the only show that's contributed to the actor's healthy bank balance. Prior to his casting as the show's hapless Phil Dunphy, Burrell was pulling in respectable acting gigs. He was in films such as Black Hawk Down, Dawn of the Dead, and The Incredible Hulk. While such roles are unlikely to have paid quite as well as Modern Family, if the reports are to be believed, it's clear that every little helps, as Burrell can now claim a net worth of a cool $26 million.
2. Ed O'Neil Net Worth – $65 Million
Character: Jay Pritchard
282 Episodes (2009-2019)
Thanks to his long career in TV and film, O'Neil entered Modern Family as the show's biggest name. That's why he was awarded a salary that duly reflected his status. During the show's first season, O'Neil pocketed a healthy $95,000 per episode, along with a back-end stake in the series. His pay-per-episode rose with each season, and by 2012, O'Neil was taking home $200.000 per episode.
When his co-stars banded together in 2012 to fight for a salary increase, O'Neil joined them. He agreed to take a cut in wages to reflect those of the rest of the cast. He did, however, still manage to hold onto a larger share of the back-end profits. Despite the slight setback, O'Neil's pay-per-episode has increased with each subsequent season and is now higher than ever. As of 2018, he was earning $500,000 per episode, which contributed to his net worth of $65 million.
1. Sofia Vergara Net Worth – $180 Million
Character: Gloria Delgado- Pritchard
282 Episodes (2009-2019)
Sofia Vergara is box-office gold. And with her list of film and TV credits getting longer by the day, she's becoming unstoppable. Vergara achieved the status of a household name in her homeland long before Modern Family. She was a star on legendary shows such as Fuera de serie and A que no te atreves.
She was also pulling in a healthy amount of work as both a model and a TV commercial star — her affiliation with Pepsi Co, for example, began all the way back in 1989 when she appeared in her first commercial for them at the age of 17. However, despite a few roles in some famous films, her career struggled to gain traction in America. That was until her casting as the feisty Gloria Delgado-Pritchard, that is. Within just three years of the show hitting our screens, Vergara was being hailed by Forbes as the highest-paid television actress in the world.
Her fortunes only increased when her pay-per-episode on Modern Family jumped from $190,000 to $500,000 in 2018. Combine this with the fortune the actress pulls in from other brand deals, and you can see why her estimated net worth is a mind-blowing amount of $180 million.