The holiday season is over, but not before the Hecks celebrate the new year on The Middle. As the family rings in 2012 at home, only Frankie and Sue are excited while Axl claims, "This year already sucks."
Frankie, with the help of Axl's negativity, comes up with the brilliant idea to assign New Year's resolutions to each other. If they can keep their resolutions for a week, Frankie will take them to King Henry's all-you-can-eat buffet. After drawing names, the following resolutions are anonymously assigned:
Axl: Stop being a pig and clean that filth hole you call a room.
Brick: Stop reading all the time.
Sue: Stop trying out for things you'll never make.
Mike: Smile more.
Frankie: Spend more time with Brick.
Frankie is sure that Brick assigned her resolution, and she feels awful that he has to ask for more time with her. When Axl was born, she took a year off, and she took three months with Sue. Brick only got a week, and as we learned in a previous episode, that baby wasn't actually Brick. Frankie feels like she knows nothing about Brick other than he likes to read. She doesn't even know his favorite color, so she sets out to complete her resolution by trying to get Brick involved in her life: setting ant traps, helping with laundry, etc. When Brick seems less than enthused with hanging out with her, she decides to take him to work. Frankie assumes it will bore him, but it's her last hope, and it turns out to be the best day ever for Brick. Since he's not reading, he is seeing details of life for the first time. An office chair fascinates him for two hours, they dance with one of those huge inflatable dancing guys, and he gets to sit in one of the convertibles on the car lot–a yellow convertible, and it turns out that yellow is his favorite color.
Asking Brick not to read for a week might be equal to asking a smoker to give it up for a week. He's addicted, and he hilariously chews gum to soothe the short temper that ensues when he can't pick up a book. As Axl is cleaning their room, he finds a book and tosses it at Brick, who freaks out: "Hey! Are you nuts? I am in detox. You can't throw an open book in my face."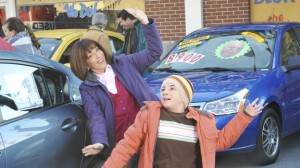 Axl finds something else in his room: a paper he failed to submit when he was in the fifth grade, entitled "Fire Trucks and Why They Are Awesome." It was a paper that he feels lost him an A in the class, and if he got an A, his parents had promised him a giant cookie. Frankie and Mike don't feel like finding the paper is a legitimate reason to get the cookie; after all, turning in the paper is an important part of the process. Axl is determined to get the cookie, albeit six years late, so he hunts down his fifth-grade teacher in the middle of class. Although she thinks he's nuts, she humors him and says he needs an A on the paper to get an A in the class. She takes off one point for each year he was late, picks out some other errors, and notices he used the wrong version of there/their/they're in a sentence. She says that as long as he has learned which version to use, he can have an A, and asks him what the proper spelling is for the sentence, "I really enjoyed seeing all the fire trucks there." He has no clue, but a sweet girl in the class steers him in the right direction and he gets his A so he can get his cookie.
Sue is at first upset about her assigned resolution. Why would her family want her to stop trying out for things? As always, she can only put a positive spin on it: it must mean that they want her to make her own opportunities! Brad has just joined the wrestling team, so she decides she's going to start a cheerleading squad for wrestling: the wrestlerettes. She starts a list of 200 items to convince the coach why this should happen, starting with, "If there weren't supposed to be wrestling cheerleaders, why would 'pin' rhyme with 'win'?" The list is meaningless: the coach immediately approves her idea because he couldn't care less. Sue is thrilled. She gets to hold her own tryouts, where a total of four girls show up: one of them being Weird Ash, who went to prom with Axl. Sue is the best, enthusiastic leader of a team, declaring, "We represent the team! We represent the school! We represent America!" Back at home, she has to choose a person to cut, because the team was only supposed to have four people. After having experienced so much heartbreak herself, she can't do it. There will be five people on the team, at least until the first practice where it all falls apart. One didn't show up. Weird Ash and another girl have to leave to watch Phineas and Ferb–they didn't realize it was going to be a big time commitment. The final girl has to quit because her religion prevents her from wearing short skirts. Like a champion, Sue gets her squad back together before their first wrestling meet by having practices at her house so Weird Ash can see Axl, and by allowing the religious girl to wear a long skirt. They are a fantastic team.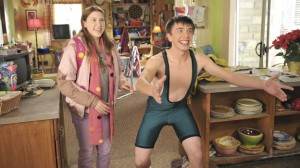 Mike hates his resolution to smile more. It got him in trouble at the bank, where a teller named Tina chatted with him for 20 minutes. He tries smiling at his employees to say thanks, and it completely creeps them out. He calls Sue a show off because he just can't smile like her. His smile finally comes in handy when Frankie realizes she left Brick at work. In a rush back to get him, they get pulled over by a cop. In her panic, Frankie almost gets them report to Child Protective Services, but Mike flashes a smile at the female cop and they are on their way.
At the end of the week, they have all kept their resolutions and they go to the buffet. We find out who assigned each resolution: Axl gave Frankie's (he wanted her off his back), Mike gave Sue's (Sue still thinks it was a positive thing), Sue gave Brick's, Brick gave Axl's (it's his room too and he wanted it clean), and Frankie gave Mike's.
I hope 2012 is the year of the Hecks. Watch new episodes of The Middle on Wednesdays at 8pm ET on ABC.