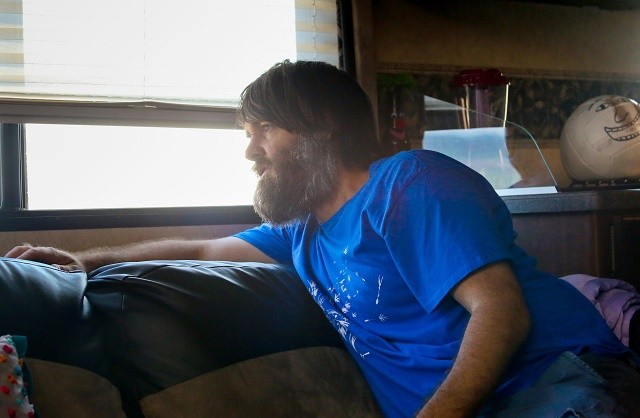 "Dead Man Walking" is a litmus test of sorts for The Last Man on Earth, positing the question "What does an episode of this show look like without Phil?" Seems like a silly question to ask considering the title, but when taking into account how badly the show bungled the stories of Phil's Tucson neighbors, their return for the first time this season is The Last Man on Earth's opportunity to rebuild them. Separating Phil from them is a great way to do that. In most first season episodes, Phil was in nearly every single scene, which never gave anyone else the chance to establish themselves as independently thinking characters. Instead, they were just catalysts for Phil's worst traits, and with him on the sidelines playing with Skittles in the trailer, "Dead Man Walking" is a prime chance to begin that work.
Sadly, the return of the old Tucson crew brings the terrific opening episodes of Season 2 back down to Earth. Nobody's changed at all, and the writing around it still exists in the same vacuum: everyone is defined by their interactions in the past with Phil, save for Phil 2 (because he slept with Carol) and Gail (who was sleeping with Gordon). The Last Man on Earth writers fails to either grow these characters as they've done with Phil, or at least present their flaws as equal to Phil's own, which this episode certainly doesn't do. Without that, Carol's attempts to appease everyone to his return during Gordon's funeral falls flat – the only saving grace in those scenes is the morbid humor underlying it all.
Carol is the highlight of the episode, obviously. Her empathetic ways are a terrific counterpoint to the behavior of everyone else in the crew, again proving that she's the best human being of them all. "Dead Man Walking" maintains this, even in the face of her killing Gordon – who everyone says is a nice guy, but then is revealed to be a racist, violent, raging alcoholic, facts they're all willing to ignore in his death. Of course, Carol thinks telling them Phil is dead would be a good way to drum up empathy, which doesn't work – and drives Carol to some comedically rich places, like her mourning outfit on the beach, or the bewildered faces she makes every time she realizes just how much the Tucson crew hates Thandy.
I like that "Dead Man Walking" is leaning headfirst into the mistakes The Last Man on Earth made last season; however, it doesn't seem to be trying to change the status quo that much, keeping other characters at arm's length, and continuing to define them by their reactions to Phil and Carol, rather than adding new dimensions to them. The non-Phil and Carol characters still feel like they're secondary importance to the "love" story at the center of the show – and "Dead Man Walking" proves that the crew isn't developed enough yet to work as more than gimmicks, devices to inspire weirdness from Carol and desperation from Phil.
Take the final scene of the episode: Phil holds everyone at hostage to give them all heartfelt apologies (just as Carol's finally won them back over on who New Phil is), one of the funniest cringe moments this show's offered thus far. But there's no conversations to be had in this scene; it's just Phil telling everyone else why they're good people and he misses them, failing to embody the other side of the debate with emotions and feelings beyond fear, ultimately selling the moment short emotionally (while comedically, it shines above pretty much anything in Season 1).
Hopefully, this doesn't mean Last Man is regressing to first season stories, with Phil locked up in the yard (where the hell did that come from? Was that for drunk Gordon?), and everyone but Carol turned against him again. From the beginning, The Last Man on Earth's story of man's instincts to desperately seek out human companionship has been a strong idea, undersold by the lack of character development, and general ugliness of Phil's behavior throughout the first season. And while it felt like the first two episodes of the season were a return to the show's earliest, finest form, "Dead Man Walking" proves there's still some work to be done when Last Man wants to bring in other humans.
[Photo credit: Kevin Estrada/FOX]
Tell us what's wrong with this post? How could we improve it? :)
Let us improve this post!