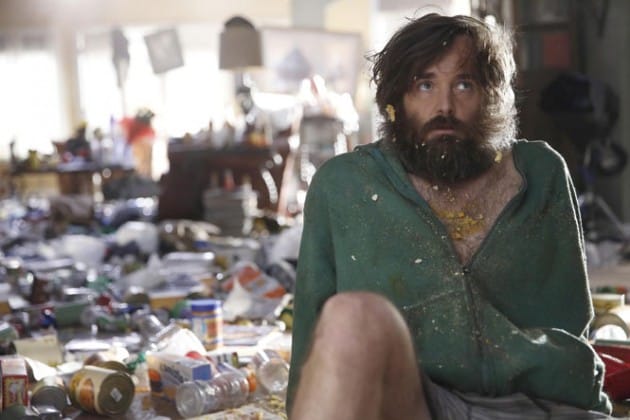 The premise of The Last Man on Earth is a simple one – the title really explains it all. Yet The Last Man on Earth is not a simple show, a comedy that is equal parts existential, absurd, and reflective – and at its best, a charming, weird combination of all three. Created by (and starring) Will Forte as the eponymous last man, The Last Man on Earth is the rare high-concept premise that works, a comedy that is as comfortable working in silence and subtlety as it is with delivering juvenile excrement jokes – which may not sound appealing, but makes for 2015's first promising new network series.
The two-episode premiere airing on FOX tonight are two wildly different episodes; the first, "Alive in Tuscon," focuses on the devolution of man, as Forte's Phil Miller (named after Forte's collaborators on the project, producer/director combo Phil Lord & Christopher Miller) travels around the United States, collecting heirlooms, taking over a mansion, and discovering that he's the only man left alive. With the distractions of the modern world removed, but still no need to revert to hunter/gatherer times of old, what is a man to do? Miller certainly doesn't have an answer; and slowly, the comedy of the earlier scenes, complete with wide-eyed close-ups of Forte's bearded mug, begins to fade away. "Alive in Tuscon" pulls the camera back, and becomes a series of long static shots, framing Phil's depressing journey into loneliness.
It's here where The Last Man on Earth really begins to dig into its premise, as Miller begins talking to God and any round surface he can put a face on (yup, there is a Castaway gag – we all knew that was coming). Faced with the end of civilization, Miller isn't looking to fix anything, or try to find anyone else anymore; after a year of searching, he just wants to have a conversation with someone. Which he does, in the form of Kristen Schaal's Carol, who Phil notices just as he's about to drive his pick-up truck, full speed, into a massive boulder (complete with a perfectly hand-drawn bulls-eye, of course) – after months of staring at a mannequin and talking to balls, he finally finds the very thing he's been searching for: a woman.
Of course, this leads to hijinks – Carol is the exact opposite of Phil, someone who hasn't let civilization escape her (or allow her to vacate her intelligence) in the two years since the world disappeared. Arguably the show's most poignant social observation, The Last Man on Earth suggests that men will be the first to return to animalistic tendencies in a post-civilization world, and that women will strive to maintain the structure that has allowed us to evolve; in other words, assuming the social responsibilities of civilization, something she's nearly caving under the silent, assumed pressure of. Now, the only off-putting moments of either episode is when Last Man plays Carol's attitude as tinny and petty; but her worldview is a well of hope that gives Phil's journey pathos, revealing that before the world ended, maybe he wasn't the most viable candidate to entrust the world with.
It reveals The Last Man on Earth to be something more than a high-premise comedy that relies on the comedic talents of one actor (which, let's be honest, are pretty impressive): it's a story about a man finding his purpose in the world, after spending forty years unable to find his place. There is a brief moment that flashes back to a happy memories of Phil's past, but it's fleeting, and not something Phil ever really lingers on. Instead, he lives a life of indulgence as the only man on earth, still feeling the pings of failure for never figuring out who and what he really was, or could be capable of. Those underpinnings really propel "The Elephant in the Room," which is a little less forgiving in its portrayal of Phil, who has retrograded to the point he could be mistaken for a raccoon loose in the neighbor's garden. He's become a sad creature, a reflection of the empty, superficial values in modern society, and how lost we would all be without those seemingly important (though silly) constructs – even Carol, who is the paragon of sanity and decency, can't reconcile that, following traffic laws in a world where everything is a parking spot and there is nobody to T-bone you at a red light.
It appears The Last Man on Earth's cast will grow slightly larger in later episodes, though it's not clear whether this will be in the present (of 2022), or exist mostly in flashbacks (I just know Mary Steenburgen is going to be on it, which should make anybody who likes anything happy). That's part of the mystery of The Last Man on Earth; how exactly are they going to pull this (admittedly budget-friendly premise) off for an entire season? Through two episodes at least, The Last Man on Earth is the most fascinating comedy premiere in recent memory, a surprisingly reflective show that takes a very simple premise and builds something meaningful and reflective out it, almost out of thin air.
[Photo via FOX]
Tell us what's wrong with this post? How could we improve it? :)
Let us improve this post!