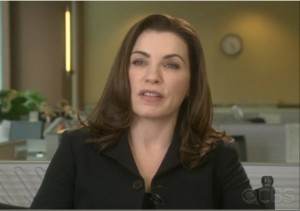 After last year's short-lived Canterbury's Law, Julianna Margulies takes a chance with another lawyer role in this season's political/courtroom drama The Good Wife. Margulies stars as Alicia Florrick, humiliated wife of Chicago prosecutor Peter Florrick (Chris Noth), who has just landed himself in jail under a cloud of political and sexual scandals. In order to support her two children, Alicia returns to the workforce as a defense attorney in a prestigious law firm.
Alicia has education and skills, but she's been out of the game for over a decade. Law school friend Will Gardner (Josh Charles) is a partner at the firm, and sets Alicia up with a junior position. Unfortunately the position is not necessarily hers to keep–she has six months to prove herself and beat out 20-something hyper competitive Cary Agos (Matt Czuchry) for the job.
Everywhere Alicia turns, she's bombarded with TV, newspapers, and online videos detailing the most sordid details of her husband's affairs. At work she's constantly associated with her husband, his reputation instantly gaining her both friends and enemies without her even uttering a word.
One of the top lawyers at the firm, Diane Lockhart (Christine Baranski), offers to mentor Alicia in her version of the "boy's club". Alicia quickly learns, however, that Lockhart is only content to mentor her as long as she doesn't threaten Lockhart's position as queen bee. Alicia also gets a lot of snark about her age and abilities from the young, attractive, and intelligent in-house investigator Kalinda (Archie Panjabi).
In the pilot of The Good Wife, Alicia is given a pro-bono case of a retrial involving a woman accused of murdering her ex-husband. Alicia is told by everyone at the firm that it's a slam-dunk that requires no skill or effort. The previous trial ended in a 6-6 split of the jury, so all she has to do is present the same case and end up with another hung jury.
Problem is, after Alicia does some investigating, she discovers it was actually 11-1. Five of the jurors agreed to switch sides due to exhaustion over arguing with the holdout, rather than reasonable doubt. Realizing she may lose the case and any chance at landing a permanent job at the firm, Alicia digs deeper to try and come up with a new defense. With help from Kalinda and a nudge in the right direction from her imprisoned husband, Alicia finds some evidence anomalies that may just win her an acquittal.
The Good Wife pilot was an excellent and complex opener to a hopefully equally ambitious series. The investigation and courtroom storyline had some great "a-ha!" moments, and it was fun to cheer Alicia on each time she told off or showed up one of her enemies. The Good Wife writers cleverly take a political wife and the extraordinary circumstances of her life, and manage to show us how her struggles parallel many of the everyday person's existence. We feel all the angst of starting a new, high pressure job full of sharks in sheep's clothing. The audience can also identify with efforts to juggle a job and family, and a difficult mother-in-law.
What makes all of this work well is the fact that The Good Wife's Alicia is smart, skilled, and sly, so she's an angsty hero we can root for instead of a whiny victim. And while Canterbury's Law was serious and gloomy, The Good Wife has some great moments of humor and sharp-tongued sarcasm. Sports Night veteran Josh Charles is a perfect fit for this sort of smart and funny drama, as is the brilliantly haughty Christine Baranski (Ugly Betty, Mamma Mia). David Paymer's acerbic judge had some of the best lines in the pilot, using dry wit to keep lawyers on both sides from ever imagining they had the upper hand in his courtroom.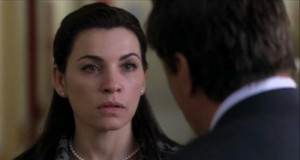 Law & Order vet Chris Noth makes an easy jump from tough cop with a questionable record to slick politician with a questionable record. He's got a good rapport with Margulies, and it will be interesting to see how these two characters interact in the future. Peter clearly wants things to go back to the way they were, but Alicia realizes over the course of the pilot that nothing will ever be the way it was again. She's carving out a new life for herself, and it looks as if Peter's possible release from prison will force her to decide on the question of their marriage sooner than she expected.
As with Nathan Fillion-led drama Castle, I also enjoy that so far the kids on The Good Wife are well-behaved. They've been put into a difficult situation, so some rebellion is expected, but it will be nice if they don't turn into unsympathetic monsters. In the pilot, both son and daughter seem smart and savvy like their mom, and she does her best to keep them as her first priority. Here's hoping it keeps working that way.
The Good Wife definitely has promise as an entertaining series. The combination of family dynamics, political drama, courtroom antics, humor and possibly romance should keep everyone interested. With an excellent cast and acclaimed director Ridley Scott as one of the executive producers, The Good Wife has a lot of the right elements to be a quality show worth watching every week.
The Good Wife airs on CBS, Tuesday nights at 10/9c.
PHOTOS: Julianna Margulies, Chris Noth, The Good Wife pilot and promo screencaps, c2009 CBS Television Studios.