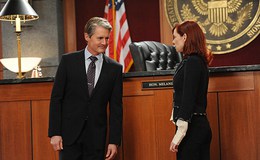 'Going for the Gold' is an especially fitting title for this week's episode of The Good Wife in which Carrie Preston's Elsbeth Tascioni and Kyle Maclachlan's Josh Perotti go head to head in a final showdown to tie up DOJ's accusations against Eli Gold. Perotti is as formidable as ever, turning Tascioni on her head every five minutes when he whips up a new way to seek justice against the retired Florrick campaign manager. It's a game of musical co-conspirators (as guest judge S. Epatha Merkerson so cleverly puts it) as Perotti enlists the help of Frank Landau, resident Eli-hater Jackie Florrick, and even Diane Lockhart.
If we know anything about Tascioni, it's that she ain't goin' down without a fight. In a clever twist of legal magic, Tascioni files a defamation lawsuit on behalf of Gold in order to get the names of the co-conspirators that Perotti refuses to name. It's deliciously deceptive and luckily for Tascioni, the judge on the case hates the DOJ and subsequently cannot give a damn about Perotti's plight. I won't spoil the ending, but it's so much fun to watch the two attorneys do their little dance as Perotti continues to attempt to woo Tascioni.
Back at the State Attorney's office, Peter is struggling to win a debate against formidable female powerhouse Maddie Hayward under the guidance of his shiny new campaign manager George O' Malley (er–Joran Karahalios. Sorry T.R. Knight. You'll always be 007 to me).The debate isn't even halfway over before Peter goes crawling back to Eli, begging for advice against Jordan's wishes. And by the end, of course, Peter comes out looking like a champ while Maddie flails all over the town hall floor.
As Alicia learns this week, with great power comes great responsibility. As her new status as equity partner kicks in, it's her duty to cut the billable hours of the fourth-year associates. Which is a shame, really, as I was just starting to bask in the lovely friendship alliance that was Alicia/Cary before they had to go and take it all away from me. Even cutting her own hours instead puts her in hot water with Diane, who's insistent that she remain firm and lay down the law (Ha. Get it?). She can't be their buddy any longer.
Honorable mentions:
1) A few stolen glances between Alicia and Will, who are both sick with a cold this week. Hmm. Any guesses as to how that happened? Wink wink. Nudge nudge.
2) Will attempts to professionally woo returning star Amanda Peet (YES!), whose character is shopping around for a law firm for the state attorney's office. Their chemistry is undeniable and dammit if I can't help but ship them, too. Oy vey.
Sound off in the comments below!
Grade: B+