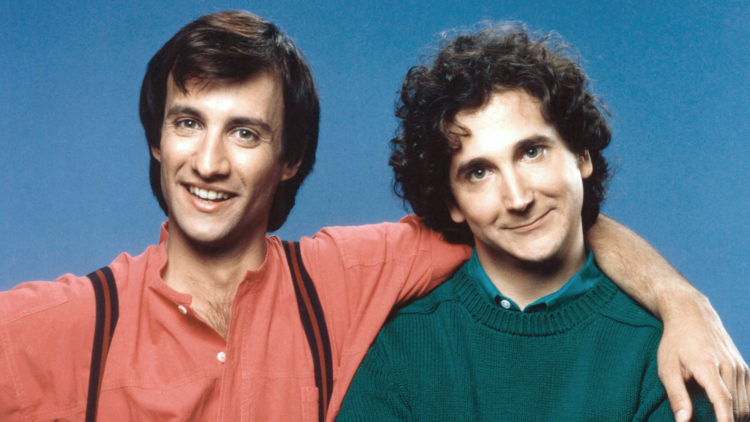 What if you could convince your favorite band to perform your favorite 1980s sitcom theme song? That's what happened when Adam F. Goldberg, executive producer of The Goldbergs (Wednesdays at 8 p.m. on ABC-TV), convinced I Fight Dragons, his favorite band, to record a cover version of the theme from Perfect Strangers. The Goldbergs will pay tribute to Perfect Strangers with an all-new episode entitled "Our Perfect Strangers" on ABC-TV on Wednesday, February 27 at 8 p.m. In the episode, Erica (Hayley Orrantia), Barry (Troy Gentile) and Adam (Sean Giambrone) are not happy when their distant relative Gleb (Joey Slotnik) visits from Russia, until they realize he can make their lives so much easier.
I Fight Dragons has a close connection to The Goldbergs, as they recorded the show's theme song. "Since they wrote The Goldbergs theme song, I naturally wanted them to record the greatest theme song of the 80s and they crushed it!" said Goldberg. Goldberg blends a 1980s song into every episode, many times they are a nod to his past or one of his favorite bands.
In last week's episode, Johnny Atkins, a regular on The Goldbergs, donned 11 different Rush concert T-shirts, another nod to one of Goldberg's favorite bands. Earlier this season, Goldberg dedicated an episode to another favorite of his, Queen, with an episode entitled Bohemian Rap City, featuring "Bohemian Rhapsody" with a twist. His fascination with the Perfect Strangers theme song goes back to his days of watching 1980s television.
"When I was growing up, I would often only watch a show just to hear the opening credit theme," said Goldberg. "A defining element of the 80s sitcom was the Perfect Strangers theme song by Jesse Frederick and Bennett Salvay. We often debate in the writer's room the greatest 80s sitcom theme song and universally agree that it's Perfect Strangers."
"I always loved Perfect Strangers for it's silly take on the odd couple format, but the highlight was always singing "Nothing's Gonna Stop Me Now" as a kid," recalled Goldberg.
"In 'Our Perfect Strangers' episode, we recreated the opening credits shot for shot which was an utter joy," added Goldberg.
The Goldbergs' executive producer Adam F. Goldberg often creates "totally surreal" highlights featuring life-long friends, heroes, idols, and other well-known celebrities from his personal life of growing up in a suburban Philadelphia neighborhood in the 1980s into his show. Adam F. Goldberg and Doug Robinson are executive producers. The episode is produced by Adam F. Goldberg Productions, Doug Robinson Productions, and Happy Madison in association with Sony Pictures Television.