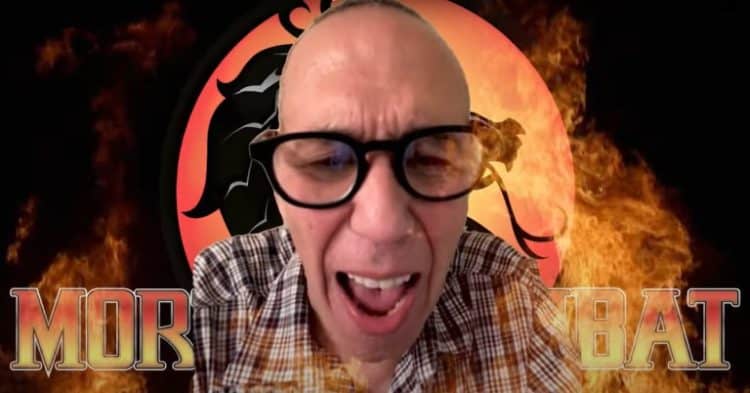 This would have given a very different feel to the original game, wouldn't it? Imagine, instead of hearing that deep, bass growl that made some players jump the first time when they heard "FINISH HIM" or "FINISH HER", Gilbert Gottfried had come squawking from the TV speakers instead. A lot of people probably would have laughed, but you can imagine that some folks would have tossed the game away rather than hear the famous comedian's parrot-like screech coming at them at full volume. Without trying to offend Mr. Gottfried, this just wasn't the type of role that a lot of people could see him performing, but for a gag, it's definitely funny. Yet, for some reason, this techno-rock version of the Mortal Kombat theme kind of feels like it's missing something, some crucial element in the music that just isn't there. Maybe it's my own hearing that's going, but there's some quality to the theme that doesn't appear to show up in this video, even though the theme is still impressive and the music is on point otherwise. As one of the many that were there when Mortal Kombat became one of the biggest crazes in the country, it could also be that memory isn't serving as well as it should, but oh well. The theme is still great even with the inclusion of Gilbert, whose very annoying voice has helped to make him one of the most noted comedians and actors of his time. In recent years he hasn't exactly been quite as famous since one has to admit that the guy's routine does get a bit old after a while, but he's still someone that a lot of people tend to look to for a few laughs now and then, and he's one of the many actors that people will still speak highly of since he did give people a big reason to laugh for a couple of decades.
But Mortal Kombat definitely needs a lot more 'oomph' to it since this is one of the qualities that managed to draw in so many people over the years and the nasal tones of Gilbert Gottfried are good for a laugh, but after that's been done it's time to get down to business. Clips like this are great for showing what happens when people get bored or have an idea that might not make sense to a lot of people but still somehow gain traction among those that want to take on the project. There's nothing wrong with it at all since having fun with stuff is a big part of what makes living worth the effort and gives projects like this value. Seriously, if we couldn't find a reason to laugh at stuff then life might get kind of boring and unbearably tragic. That could be why some folks still don't see the big deal when it comes to making such gory video games and why some folks have made a stink about it for so long. Remember when Mortal Kombat first came out and people figured out the blood code? The first time that Sub-Zero ripped someone's head off, or Scorpion burned someone alive, or Kano ripped a person's heart out, a lot of people lost their minds since video games were suddenly promoting 'real' violence. This kind of shows that Mario stomping on various fantasy animals was okay so long as the blood and guts weren't shown.
But compared to the way things are now, Mortal Kombat was pretty tame when it first came out. Of course, comparing the way it was back then to the way it is now is kind of ridiculous since as the technology has improved, the effects have become gorier, more realistic, and yet somehow they're not talked about as much. It's funny how that happens since at one point Mortal Kombat was being vilified as one of the most graphic games around. Now that the video game industry has seen such horrors replicated over and over though, and has actually rated games much like movies, it's fair to say that things have evened out a bit and some folks have taken a massive chill pill as they look away rather than bother to comment on MK any longer. Some still do, there's no doubt of it, and some of those same people might think that it would be hilarious to see what kind of effect might be had by putting Gilbert Gottfried's voice into the MK games of today, but somehow it feels that it wouldn't do as much as people might hope. True, it might very well turn some people off and make them wonder if a new glitch had popped up in the game, but overall it feels as though the MK crowd would just laugh and roll with it.