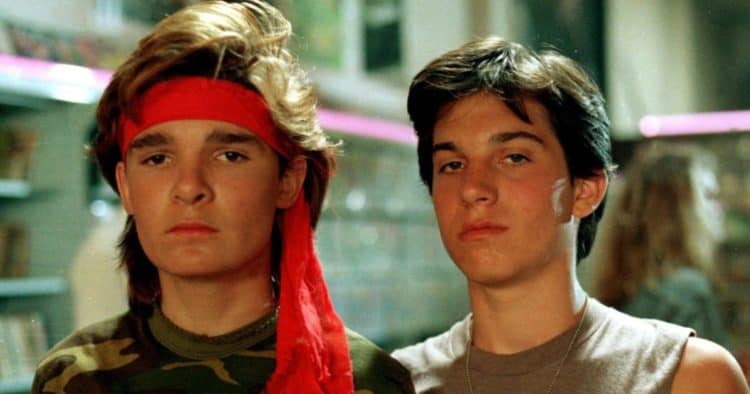 Out of everything in The Lost Boys, the Frog Brothers were what people held onto after all this time. Try to let the irony of that sink in when people claim that they love this movie so much that they'd watch it again and again, and yet the Frog Brothers are the most memorable bit simply because they keep showing up again every few years. For those that don't know there are two more movies that followed the first one with Edgar Frog as the main character and his brother having been bitten by a vampire. In the third movie he gets his brother back, but it's only after a long and protracted struggle that makes you wonder, once again, why you bothered turning the movie on when it's not really all that great. In a sense, the Frog brothers are the comedic relief of the movies but they're also the only reason why it seems to get remembered these days since Corey Haim passed away some time ago and Jason Patric might not even want to talk about the movie unless he's in a decent mood. The rest of the cast, the main characters at least, have either passed away or moved on as they continued their careers. In a sense the Frog brothers are the only old school members of the bunch that still remain, and if there's another movie, well….let's just hope for the best.
I won't say that they were the worst part of the movie since they did provide quite a bit of hilarity and were fun to watch, but at the same time they were a little over the top even for that day and age since they didn't seem to know a thing about tactics and were more than willing to follow whatever they read in comic books and what little bit of fact pop culture could provide. Of course making them hardened, seasoned vampire killers might have made them targets that would have been eradicated a long time before the movie since it's kind of obvious that David and his bunch were well beyond the Frog brothers in terms of ferocity, strength, and intelligence. The fact that they had Sam in the original movie was kind of a boon, and the added fact that Michael might have turned but was still firmly set against David and his bunch was another big up that the Frog brothers were able to use. Plus they were kids at this point so making them into hardened hunters would have been a little out there since they ran a comic book shop and were more or less fanboys that thought they were tough.
Edgar Frog became the whole deal in the next movie as he took on a new gang of vampires that thought they were just as bad as the original bunch, but he'd become a seriously changed individual since it was established that he'd had to go on the hunt for Sam, who'd become a vampire at one point. This kind of makes a person wonder if the entire family had been attacked and turned or if somehow Sam had been the only one that had suffered in some way. There wasn't a whole lot of in-depth explanation as to what happened to anyone from the original movie as it seemed to be focused almost entirely on Edgar and his pursuit of vampires. In a big way this never could have come to the big screen since not only was it a continuation of a movie that was more of a cult classic than anything, but it was a rather wasted effort to make people care about the movie again since if folks are going to remember The Lost Boys they're going to remember the first one and leave it at that more likely than not.
The return of the Frog brothers is something that would have a lot of people looking at a person in a confused manner since it's likely that they wouldn't know what in the heck the person is talking about. Those of us that grew up with The Lost Boys as one of our favorite movies though would get it and might groan or get at least a little bit excited. The latter would likely last only as long as it took for the nostalgia to wear off, since honestly the two were the goofiest characters in the movie and didn't do much to be taken that seriously. They were fun and they were the kind of additional characters that round out a movie in a way, but overall the Frog brothers were really the type of individuals that you just shake your head at and wonder how they're allowed to survive throughout the movie. Thank the writers for that one.