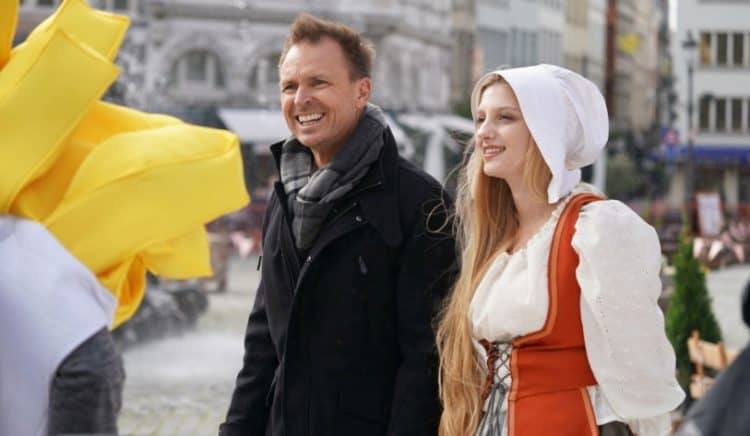 The Amazing Race is a one of a kind show. Each season, teams of two embark on an adventure that is sure to change their lives – and could possibly result in them earning a million dollars. If you're not familiar with the show, it is essentially a scavenger hunt that takes place all over the world with each team competing to get to the finish line first. Along the way, teams are asked to put their mental and physical abilities to the test in a series of challenges. As you can imagine, the challenges vary in difficulty and some can be downright dangerous. There have been lots of moments in the show that have kept viewers on the edge of their seats, and we've narrowed them down to the top five. Here are the five most dangerous challenges The Amazing Race has ever had.
1. River Sledging (Season 5)
Not to be confused with sledding, sledging is an adventure sport similar to white water rafting. Instead of riding down the river in a raft, however, people lay on small board-like devices and hold on for dear life. Even though the contestants were wearing life jackets and helmets, there are lots of things that could go wrong in a challenge like this. Someone could easily become overtaken by a wave and find themselves unable to breathe and/or call for help. According to a Reddit user named heartbeat2014, the activity "was later prohibited in real life due to safety, one of the Bowling Mums talked about it in an interview and how they felt nervous about how anything could happen out in the water despite their safety briefings/protective gear".
2. Free Fall At Batoka Gorge (Season 27)
If you're afraid of heights (and not ready to face your fear) The Amazing Race is probably one show you want to avoid. Almost every season, there seems to be a challenge that deals with extreme heights, and season 27 might have had the scariest and most dangerous challenge height related of them all. In this challenge, one member of each team was tasked with free falling from the top of the gorge and dangling above the Zambezi River to get their next clue.
3. Crocodile Cage Diving (Season 27)
Would you be willing to dive into a body of water to feed hungry crocodiles if you could do so from the 'safety' of a metal cage? Fhr the contestants on season 27 of The Amazing Race, the answer was yes. Sure, there is a layer of safety that comes with being in a tank, but one wrong move and exposed limb could lead to a life altering disaster. After all, there was enough space in each cage for a person to stick their entire arm through. Fortunately for everyone involved, no one left the show missing any body parts, but the viewers at home were still feeling a little uneasy with each dive.
4. Soweto Cooling Towers (Season 7)
If you're a fan of The Amazing Race, this is one challenge that probably had you sitting at home with sweaty palms. For this challenge, constants had to walk across a suspension bridge held up between two cooling towers that extend nearly 30 stories in the air. Of course, the show took as many safety precautions as possible to minimize the risk of a bad situation, but it's hard not to remember the fact that falling from such a high place could easy result in death. In addition to being featured on the show, the Soweto Cooling Towers have become a popular location for thrill seekers. There are lots of videos online that show people bungee jumping or free falling from the top of the towers.
5. Watermelon Launch (Season 17)
It doesn't seem right to make a list like this and not mention the watermelon launching challenge. While this challenge may not have seemed inherently dangerous, it proved that extra precautions need to be taken any time projectiles are involved. In the challenge, contestants were asked to launch small watermelons using a slingshot device. Things were going well until Claire Champlin launched a watermelon that ricocheted off of the slingshot device and came flying back directly at her face. Although the accident was incredibly painful, Claire didn't sustain any permanent injuries. During an interview with Entertainment Weekly she said, "I thought I was going to go down in history for so many other things. But if the watermelon is my claim to fame, I guess I'm just going to take it and run with it. A watermelon, it can't hold me back."
Tell us what's wrong with this post? How could we improve it? :)
Let us improve this post!