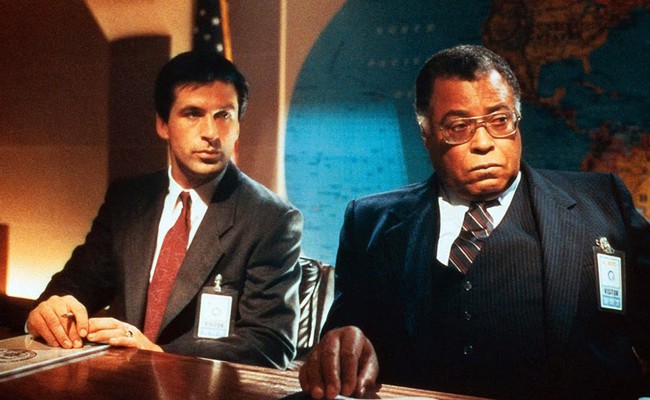 As a lot of us have seen throughout the years Alec Baldwin is a very funny guy. He can be a serious crack-up between imitating Donald Trump on SNL and all the various movies he's done over the course of his career. But he's also quite skilled at being someone that can turn in a serious role that leaves you convinced of the veracity of his talents. From the earliest days of his career when he was still considered a sexual icon to even the current day when he's older, heavier, but no less charismatic, he's been the kind of guy that people like to watch because he's got the kind of charm that just turns people on and makes them want to watch him. When it comes to serious roles Alec Baldwin is perhaps one of the best guys out there to put in the spotlight, and among the Baldwin brothers he's certainly the cream of the crop.
Here are five films that show just how great Alec can be in a serious role.
5. Prelude to a Kiss
This is kind of an odd movie since it's not a comedy but it is a romantic fantasy as an old man that is dying of cancer requests to kiss a mans bride and thereby switches spirits with her. Through this switch he finds that he doesn't want to switch back until Peter can look beyond the physical beauty of his wife and see into the soul of the woman that he loves so much. Once that happens Julius agrees that he'll switch back. This movie is one of many that urges people seek something deeper than just the appearance of a person that attracts them and find something that's inherently beautiful inside.
4. The Departed
The Departed is a movie that makes you hope that what you see is just a dramatization and not at all real since there are more leaks in the police force in this movie than a sieve considering that Frank has a contact high up in the ranks. The cops have their own plants as well but as Captain Ellerby soon finds out he can't really rely on his fellow officers at all times. In many ways Ellerby is more of a bystander when he's supposed to be the man in charge. He simply wants things to go right and when they don't it makes him look bad and he makes himself look even worse by losing his temper.
3. The Edge
Charles is suspicious of Bob pretty early on in the movie and he's right to be of course since Bob and Charles' wife are having an affair. The whole trip to Alaska is to find a way to get rid of Charles via 'accidental means'. The only problem is that when their plane crashes in the wilderness they're forced to find a way back to the lodge and during the trip an enormous Kodiak brown bear begins to stalk them. During the trip back Bob plummets into a deadfall after admitting that he was going to kill Charles for his wife, but Bob is so badly injured that he doesn't survive the trip back, and Charles is able to return to reveal to his wife that he knows of her betrayal.
2. Glengarry Glen Ross
Real estate is in fact a tough business, and one has to have the kind of heartless nature it takes to really excel at it sometimes. But all in all, the withering abuse that is heaped upon the men in this scene is something that would make anyone else get up and walk out with the words still trailing them and possibly sticking with them for the rest of their lives. There's such thing as a pep talk and then there's the kind of talk that makes you wonder if a firm really wants more than a handful of people working for them as this is obviously a way to weed out the weaklings that want to work but don't want to be so ruthless and cold when it comes to succeeding in a business where people seem willing to actually tear one another's hearts out in order to make sure that the other guy doesn't make his quota.
1. The Hunt for Red October
Jack Ryan is convinced that Ramius is trying to defect but since he's an analyst many people don't want to listen to him considering that he hasn't had a lot of time in the field. In fact he's an office man to be honest and this makes him even more hesitant to and see firsthand what's going on. But when a submarine that has advanced technology like the Red October is involved and there's no way to know if it's going to attack or not it's best to have someone out there that sees another option that doesn't involve going to war.
He can be funny, but he can be serious too.