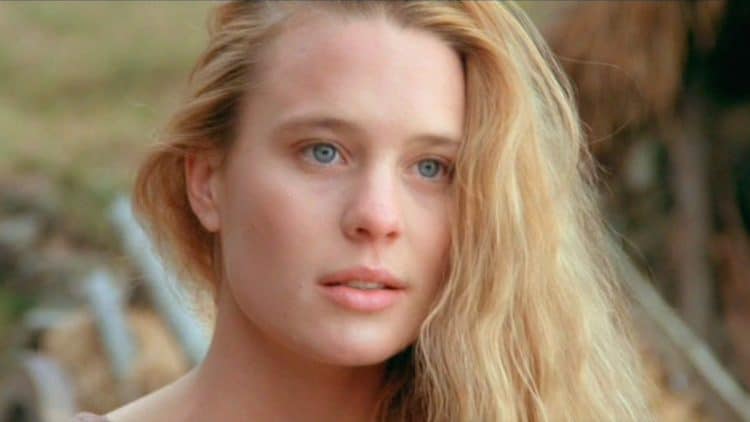 It's hard not to think 'class' when you see Robin Wright since she is a very impressive woman that has gone through a transformation of sorts throughout her career as she's grown up into the woman we see now right before our eyes. It's true that in House of Cards she became pretty vicious since her character was married to a man that had huge aspirations and saw everyone around him as a pawn or someone to be manipulated to his needs. But in the movies she's been nothing short of great since she's taken part in a lot of movies that have either been largely forgotten by now or have become something of a legend in the minds of many of us that watched them when we were kids. No matter how you've come to know her as an actress Robin Wright has been someone that you really can't forget once you see her.
5. State of Grace
Movies that involve people going back to their old stomping grounds and hooking up with old friends and old flames don't always go that well since the truth is that going back is almost never a good idea no matter how welcome you are. Terry finds this out when he goes back to his old neighborhood since no matter that the woman he loved is still there, and his best friend is still there, things have changed in a way that's hard to get around. The streets have become more dangerous, the stakes have been raised, and for someone that's an undercover cop things are even more dangerous among the mob since it's a death sentence if anyone finds out.
4. The Conspirator
The death of President Lincoln was a confusing and very dangerous time for a lot of people since quite honestly it was a moment when the nation felt the assurance that no one was safe and that the south hadn't quite forgotten just what it had lost, and wasn't full prepared to admit that they'd lost in the first place. Some might say that's a bunch of bull, but the idea of assassinating Lincoln was one that had a great deal of sedition involved and a plan that didn't have a great amount of follow-through since things kind of went awry after that. But one thing was clear, the country was still in an uproar and it would be a while until things really settled down.
3. Wonder Woman
Admit it, Antiope is that cool aunt that we all remember until she's pushed too far and has to remember that she's there to teach and to train, not to coddle her niece Diana. Still, unlike Diana's mother she's a little more understanding and wants to train her niece, despite the fact that Diana is a little too impulsive and prone to being headstrong. Antiope is one of the greatest warriors on Themyscira and as it can be surmised has been through many battles, but it's kind of a hard thing to realize that she gets taken out while protecting Diana is kind of a hard pill to swallow since a warrior of her caliber being taken out by a gun is difficult to accept.
2. Forrest Gump
If there's any more proof needed that Forrest was just that good of a person it's that he kept pining for Jenny even after she ditched him and basically used him as much as she felt was necessary each and every time before she went traipsing off with another guy. The one thing that Jenny had that hampered her though was huge as being abused at such a young age definitely screwed up her head and priorities, as she knew very well that Forrest loved her but had to come to terms with the life she'd lived before finally realizing that he would always be there, even to the end when she finally couldn't hold on any longer.
1. The Princess Bride
Now if people want to complain about the whole damsel in distress stereotype then this would be one of the best movies to do it with since Buttercup is in fact one of the old-school damsels in distress that people have been railing against for a while now. She's definitely important to the story but the whole action and plot line uses her more as a prop than anything since Wesley's journey to rescue her and the many different challenges he goes through are definitely more exciting and are made all the more worth it once he finally does get to rescue her. This is one of those movies that you can't help but love thanks to nostalgia and the fact that it's still entertaining to this day.
She's been a class act the entire length of her career really, and is one of the more distinguished women of her time.