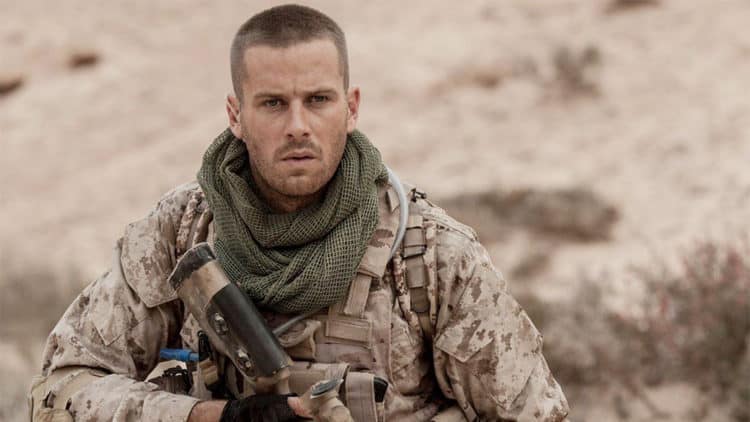 I'm probably not the first person to say this but Armie Hammer almost sounds like a specialized tool that you'd find in the armed forces. That lame joke aside, Armand, which is his legal name, came from a rather good life in which he and his family were very well off. In his junior year of high school however he was disowned by his parents when he decided to quit school and make his way towards an acting career. He eventually found success and he even started taking college courses to further his education. He and his family eventually reconciled and they became very supportive of his acting career, so things did tend to work out. In terms of his star status however he's had hits and misses, with his hits being moderate to big and his misses being something that he might not want to talk about at length. So yeah, let's not mention the Lone Ranger incident.
Here are a few of his best movies so far.
5. Call Me By Your Name
How you feel about homosexual relationships would go a long way towards telling if you like this movie or not, but as many people would say it's a coming of age story that teaches a very important lesson about sexuality and the importance of relationships. To some it might seem wrong since the age gap between the two is a bit much and in America it would be highly illegal if not for the fact that it was consensual. Not to mention the fact that the father of the younger man knew about the relationship and said nothing. But all in all it's a romance that's fleeting and not meant to last, though it was considered to be quite a beautiful and very revealing movie.
4. On the Basis of Sex
Based on the earlier life of Supreme Court Justice Ruth Bader Ginsberg this movie is an eye-opener that makes you truly wonder what it must have been like for her going into the field of law and being denied so many times when she tried to make a change. The government we know is not always a kind place and the laws that are on the books are not flawless obviously, something that Ginsberg saw and wanted to change in order to make things equal for men and women alike. Her approach wasn't always as professional or as smooth as she wanted it to be but her manner was relentless as she did her absolute best until she finally broke through and achieved her goal.
3. The Social Network
Think about this: there will come a time when people being born into this world will have sworn that Facebook was the only social media platform that could have ever been so dominant as to cover the world and bring people together in the manner that it did. A lot of people have already forgotten about MySpace and other platforms that attempted to compete back in the day, but they've also forgotten that while Zuckerberg might not like the way the film portrayed him, it wasn't that far off the mark. While Facebook is in fact useful and does get used by millions, it's still something that, in its infancy, was a very controversial tool. In fact some would argue that it still is today.
2. The Man from U.N.C.L.E.
There's always the argument of whether people from different nations can work together for the common good, and a lot of times in movies it's shown that this isn't always the case. But when two spies from opposing countries find it necessary to work together for a common cause they discover that they're not bound to become friends overnight but they can at least respect one another enough to understand a few fundamental truths. One of those is that when gifted the kind of power and tech that could make either of their countries nearly unstoppable, the power is best left to no one.
1. Mine
This is perhaps one of the most tense films you can find since the whole premise is about a two-man team that's sent to assassinate a certain leader but botch the job and have to run. During their run to safety however one of them steps on a land mine and is dismembered as his legs are blown completely off. Unfortunately the other man steps on what he thinks is a mine as well, though he doesn't step off. Instead of being rescued to become an amputee the injured man takes his own life. This leaves Mike all alone however to brave the desert and its many challenges alone until he can be rescued. When he finally decides to step off the mine he finds it's only a tin can, and is eventually rescued and taken home.
Armie is a good actor, but he definitely needs a film where he can shine.
Tell us what's wrong with this post? How could we improve it? :)
Let us improve this post!