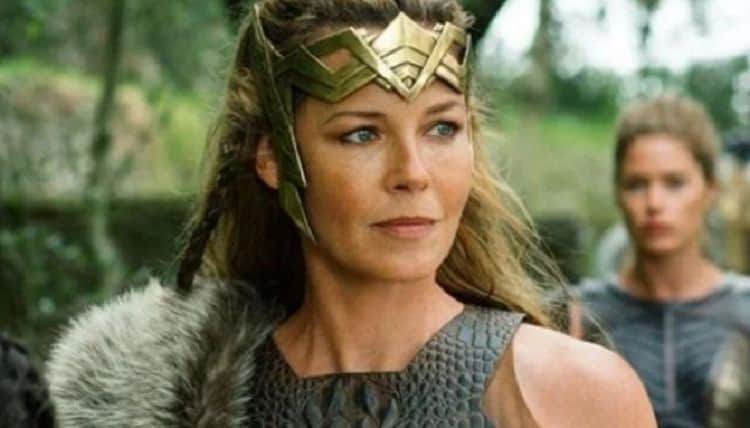 Convincing someone to take a role isn't always as difficult of a sell as it might appear to be, since Connie Nielsen was sold on the idea of being Queen Hippolyta in the first Wonder Woman movie without a lot of difficulty by Patty Jenkins. She's appeared as the same character in the Justice League movie as well, and there's an Amazon spinoff coming eventually, where Nielsen will take up the role one again, serving as queen to a warrior culture of badass women that have had more than a little to do with the current world-building in the DC universe. So far the Amazons have been built up to be a separate force unto themselves, a group that was depended on long ago when Darkseid and his forces came to conquer the world. But obviously they haven't left their island for quite a while in the present day and it's a wonder if we'll see that at all, or if this idea will be integrated eventually if the story keeps progressing in a way that makes it nearly impossible for Themiscyra to stay out of the fight. Connie Nielsen had this to say about her casting via MovieWeb:
"Patty Jenkins the director, her enthusiasm on the phone when she called me – because I was shooting House of Cards at the time – she called and she's like, 'Do you want to play one of the greatest warrior women of the Amazon nation?' I was like, 'Of course!' [Laughs] It was a no-brainer. I was like, 'That's gonna be a hoot.' And we got to get in the best shape of our lives training for that movie at 50-years-old. I was like, 'I'm into that. Let's go for it.' I adore her and I loved both movies' messages. [They're] really about justice and equality and love, and I'm a sucker for that stuff."
There are some folks that feel that the Amazons get a little too much hype considering that in Wonder Woman they were seen to be susceptible to bullets and for all their speed, skill, and ferocity, they could probably take on human opponents with ease, but might be outmatched when it comes to taking on metahumans with powers more significant than the average human. In short, they're impressive and they're definitely a fighting force that is worth keeping around in the DC universe, especially if things keep heating up to the point that they'll be needed in other movies. It's uncertain how they'll be used in the coming years, but it does feel as though DC isn't quite done with them since it would appear that the world is opening up a bit as more and more projects are bound to be announced. As for Nielsen, it sounds as though she's committed to the character and would enjoy playing her for as long as she's allowed. At some point, she might age out of the role, but it might happen that she'll be given a convincing character arc that will eventually give her a way to bow out of the DC universe in a way that will make sense and will allow fans to remember her fondly.
That's one of the many things to worry over when it comes to superhero movies, and it's something that people have already seen with other heroes since at some point an actor won't be able to maintain the youthful facade they had when stepping into the role of a hero to begin with. Eventually an actor will grow older and they'll have to give up the role in some way, and another actor will have to step in, hopefully one that's just as good or even better so as to keep the fans happy. Nielsen is currently in her 50s and in great shape obviously, but one of these days she's going to likely age out of this role or need to step aside as things move forward. But for now, she's definitely a great pick and someone that's been able to handle the workload she's been given, along with the other women that have been selected as the Amazons. Seriously, has anyone ever watched their workout routine? These ladies go through a strenuous workout that keeps them in shape and maintains that powerful look that most of them have in the movie. Saying that Patty Jenkins and her crew managed to pick the right women for the roles they were given is kind of an understatement since the truth is that had anyone else been given these roles it's fair to say that it might have been accepted, but the feeling could have been very different as well.
Connie Nielsen had no trouble saying yes to this role, and there's no doubt that she's glad she did since she's been rocking it.