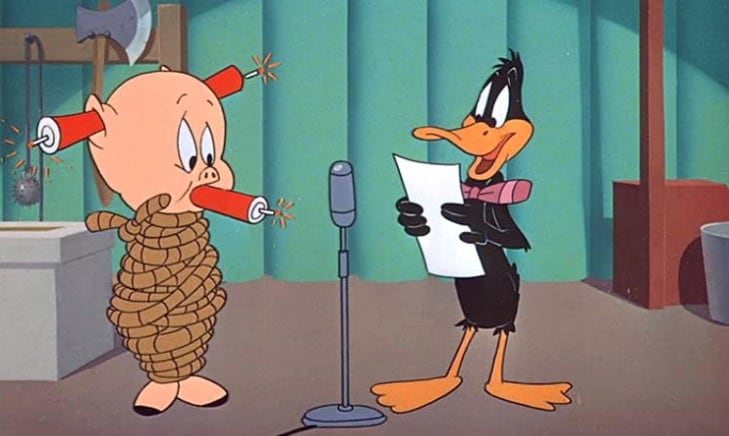 Growing up you expected Looney Tunes to be as crazy and unpredictable as possible and The Ducksters short was no different. Daffy Duck has always been one of the most crazy toons on TV and Porky Pig has unfortunately been the recipient of that crazed abandon more than once. In this short however there's an abundance of crazy that is allowed to run for a good chunk of the time until finally the tables are turned and Porky is allowed to get his payback. Of course these cartoons are violent enough that a lot of parents these days would gladly say "no" to their children if they tried to watch them, but the comedy that's introduced and the manner in which it's delivered seem to argue that the parody is funny enough to simply let things lie as they are. The Ducksters is, in short, a funny bit of comedy that goes over the top as is usually with the Looney Tunes and isn't to be taken seriously, no matter what kind of content they come up with. And with Daffy and Porky, that content is sure to be something that would be considered overkill anywhere else.
Here are a few things you might not have realized about the short cartoon.
10. It was released in 1950.
Yes that seems like a long time ago and to a lot of us it was. Looney Tunes have been around for quite a while you know, and they've been entertaining people for decades. Even when those that are ultra-sensitive have tried to get them taken off the air they've come roaring back eventually, proving that not everyone believes that they promote wanton violence.
9. The title was a play on The Hucksters.
The Hucksters is an older movie starring Clark Gable that has him playing the slick role of a man that's willing to do just about anything to make a buck it would seem, hence the title. The movie and this cartoon however are quite different in all but a few regards.
8. Porky Pig won quite a few insane prizes.
He won 600 gallons of Niagra Falls water, the La Brea Tar Pits, the Rock of Gibralter, and many others that were just as insane. But insane is the name of the game with Looney Tunes and Daffy and Porky are known for being at odds with each other quite often.
7. The short referenced a fictional film that was never made.
The film and the character that are referenced are entirely fictional but there was a movie titled Jungle Jitters that was directed by Ub Iwerks in the late 30's. There was even a Jungle Jitters produced by Warner Bros. Studios but it didn't feature a gorilla as Porky guessed.
6. The run time is 7 minutes.
Most Looney Tunes cartoons were pretty short and to the point. It's amazing how much they were able to get into one cartoon and still manage to get their point across, when there was one. Many such cartoons didn't seem to have much of anything other than the story and the plot to go off of, and even then at times it seemed as though they were barely skimming the surface of a rational thought.
https://www.youtube.com/watch?v=7S93Qd5CUpY
5. The show was a parody of Truth or Consequences.
You can definitely see the correlation, though in Truth of Consequences the consequences were never quite this dire. That's the joy of being a cartoon though, you can take a great deal of punishment and just keep on going. Wouldn't that be nice some days? Of course it might lend itself to certain abuses now that I think about it.
4. Porky Pig eventually took over the show.
When the show was over and Porky had his prize winnings he bought out the show and became Daffy's new boss. You can imagine, and you can even see on YouTube, how Porky gets his revenge on Daffy in numerous ways. Pretty much everything Daffy put him through is what Porky revisited upon him since as you know, Looney Tunes tend to believe in payback too.
3. Mel Blanc played all three voices that were heard.
Mel Blanc was quite busy during the Looney Tunes era and did a lot of different parts that people don't seem to realize. From doing Daffy and Porky to the heckler in the crowd Mel was responsible for making the voices sound the way they should have and giving them the right personality so that people would end up believing the characters and enjoying them for who they were.
2. It was shot in Technicolor.
Technicolor has been around since 1914 and has been evolving that entire time. Essentially it became the new way to shoot movies so as to give them not only color but a greater sense of depth and personality as well. There's a lot more to it, but that's something you'll need to look up if you're truly interested. Technicolor however did change the landscape of storytelling in a big way.
1. The questions were as obscure as possible.
It's a Looney Tunes cartoon, so of course they were going to be crazy questions. Anything resembling a sane question just wouldn't have worked for a laugh.
One of the main points of Looney Tunes seems to have always been that crazy was the best way.