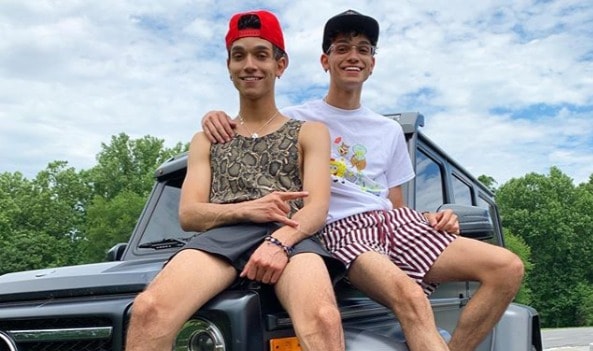 The Dobre Twins have been tearing up Tik Tok and YouTube for years. What makes them so accessible? How do they stay on top? We have so many questions about these ingenious brothers, but one thing is for sure. We love watching their antics, and so do millions of children and their parents all over America and the world. Modern kids programming is very different than it has been in previous generations. These upbeat, dynamic brothers have a line in on what children want and need to see. They use their talents for good, which is unique given the plethora of would-be sexual icons you can find on every facet of social media. We decided to dig into Dobre-world and came up with ten things you didn't know about the Dobre twins.
1. Not Alone
The Dobre Twins aren't the only brothers in their family. They are two out of four young Dobre men. Brothers Lucas, Marcus, Cyrus, and Darius have well over twenty million followers. Kids tune in weekly to see what the flipping, pranking, singing siblings are up to. Keeping up with this amazing family is one of the delightful and decidedly PG things a child can do online. Though the twins are the most popular, all the Dobre's have managed to appeal and stay relevant to their target audience.
2. Staying Positive
In a world of mean jokes, cyberbullies, and people ranting about how dumb they think things are, the Dobre's are a force for good. Keeping their message youth-friendly and uplifting is part of what sets the Dobres apart from the pack and keeps their audience engaged. Sure, they may pull a few pranks along with their stunts, and other videos, but they're benign and work very hard to keep their content available to all audiences.
3. Supercars
One of the exciting things audiences tune in for week after week is the supercars the Twins drive. In fact, the Dobre's cars have their own YouTube channel, which has around three hundred thousand viewers. Seeing them succeed in life and drive around in these incredible machines is its own source of inspiration. The twins and their brothers all sport fantastic shoes to go with their cars, showing the youth of America that you don't have to be a potty mouth or cater to the cruder audiences to make a place for yourself in life.
4. It All Started With Vine
Like many young and prospering social media stars, the Dobre Twins started on the now-defunct platform Vine. Lucas and Marcus didn't even do any talking in their first videos, instead letting their stunt work do the talking for them. Their quick, few second long videos gained popularity because of their flips and tricks at first before they branched out into dance moves and other entertainment. If you don't remember vine, it was the original social media platform dedicated to incredibly short videos. Just a few seconds long, the videos on Vine highlighted just one trick, song, or another piece of rapid-fire content, playing to short attention spans and the instant gratification mentality that's so pervasive today.
5. Famous Family
The Twins and their brothers may be the stars of the show now, but these guys come from famous roots as well. Their mother, Aurelia, was a medal-winning Olympic gymnast from Romania. That certainly explains why the guys are so physically inclined. Meanwhile, their father Boz Mofid was a gymnastics coach from Iran. The twins' parents have had a huge impact on their lives and helped them gain a leg up in the world. However, we doubt they could have predicted their talented young sons would ever make quite so much of a splash doing a few flips on camera.
6. Singing Sensations
Obviously, the twins have more than one talent. Even the most exciting gymnast in the world gets a little predictable and stale after doing flips for several years. We don't mean to denigrate the level of talent and sheer physical power a gymnast has to train and maintain. However, in today's culture, to remain on top of the social media game, people demand more than one specialty from their influencers. For the twins, part of staying on top has included their rapping. Their You Know You Lit video has over a hundred million views alone.
7. Show Some Fan Love
If you're a huge follower of the Dobre Twins, then you probably already know they sell merch. For those fans who are looking to stay on trend and show some support to their favorite social media stars, picking up a hoodie or some other branded merch from your favorite stars is a great way to let the world know you love the Dobre Twins. Plus, it helps them keep producing cool videos for Tik Tok and YouTube.
8. Youth & Vigor
Born January twenty-eighth, 1999, in Maryland, the Dobre twins are only twenty years old. Being a child or teen star has certainly changed over the years, but one thing remains constant. People love watching talented young people do what they do best. For the Dobre's, that's enough to make an incredible career out of, at least for now. What will the future hold for these influencers? We don't know, but hopefully, they'll keep making videos for years to come.
9. Net Worth
How much do the twins make for uploading a video every day of the week? Their current net worth is around $9 million and growing. According to Yahoo Finance, "Lucas and Marcus's channel makes between $33,200 and $531,800 a month."
10. Keeping it Close
You may have noticed that the Dobre twins don't overshare a whole lot of personal information. It's not that they have no lives outside their social media schedule, but becoming stars so young also means having a whole lot of people who would love to take advantage of your situation for money or fame at the very least. As a result, the twins have learned to play things close to the vest and keep their public faces on when they're not at home.
Final Thoughts
Goofing off with your siblings for a living sure seems like a dream job to us. The Dobre Twins have made a career out of being talented and funny at home, but it's not all fun and games. They have a self-imposed schedule and upload at least one video every day of the week, even when they aren't feeling up to it. They work hard for their money, and it shows. Do you keep up with the Dobre Twins on social media? Let us know what you think of them in the comments section below.
Tell us what's wrong with this post? How could we improve it? :)
Let us improve this post!