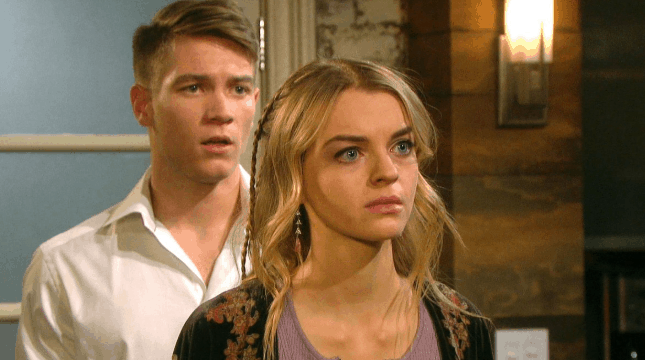 Days of Our Lives fans are not exactly immune to the way things are going for many people, but they do have some problems to deal with on their own. We do know, for example, that there is a big situation with Jack coming back from the dead. Who saw that coming? Well, maybe a few people after Will also came back from the dead. It seems people are being fake killed all over the place, and there is nothing we can do about that to help ease minds and forget the way things are going. But, we know that plot twists like this one are not exactly unique — yet we still don't see them coming more often than not. It makes us want to go back and look at the way things are going and the way they are working out so we can figure that more will happen that we just don't see coming. What are some of your favorite plot twists in Salem? Let us know in the comments below!
Patch is Back
For 16 years, fans mourned the fact that the lovable and amazing Steve was gone (and we are now, too) after he was almost killed, left in a coma, and Alamain poisoned the IV keeping him alive. He was killed. And we missed him from that date in 1990. There was a small chance he was still alive, as we did get to see that his casket was exchanged at the funeral. But as our hopes raised, the days passed. And passed. And passed. And passed. And we didn't know that there was a chance that things might change at all — and that was ugly. It was 16 years that we waited to see him return. It was a long time, and then he did. And then it stopped making sense. But, we are all for it and he was back. He's gone now, but we are all so hopeful that it's not another 16 years before he makes another return. We cannot wait that long!
Roman or John?</h2
We were all just sitting around wondering what was going on here. But, there was a time when Roman was just living his life. He was loving his wife. He was raising his kids. He seemed good to go in life, and no one thought anything of it. He's a man who makes poor choices, sure, but he wasn't anyone other than himself in this time, but it turns out he was very much someone else. All those years he spent just living his life, and it turns out he was John Black the entire time. We still don't really know what the heck happened, and we certainly cannot make any sense of it, but that's not the big deal. It turns out that John was Roman and Forrest Alamain was John, and we don't know what else. There was so much going on in terms of identity issues that we just sat back and wondered how we could fix this problem. It was too much for us.
Chloe and Nicole's Baby
We didn't see this one coming at all. Remember back in 2016 when we all thought Chloe got knocked up during some sort of one-night stand with someone who was probably very married and very unavailable and she kept that information to herself as she continued to show and had to let people know she was pregnant? She would not even tell her friends and family who got her pregnant, and that led to many speculations, rumors, and situations that didn't make people feel good. But then we all learned that there was more to it than just a married man who didn't want to find out he was having a baby with someone other than his wife. She made sure everyone knew the baby did not belong to Deimos, but that the baby was actually Daniel and Nicole's and she was a surrogate. Then she tried to keep the baby, things got ugly, people were mad, things were said, and situations were made very much worse. It was a big deal, and it was a great story line with so many twists and turns.