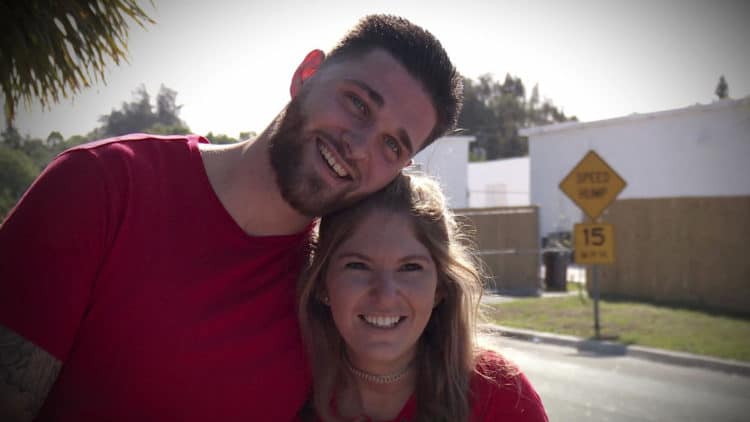 Maintaining a healthy relationship isn't easy, especially when one of the people involved is behind bars. WE TV's Love After Lockup seeks to explore those kinds of relationships. Since the show's first season in 2018, it has followed nearly three dozen couples as they fight to make their relationship work while their partner is incarcerated and after their release. While some of the inmates on the show are genuinely looking for love, there are others who are simply looking for a partner who can take care of them and help them transition back into society. As you can probably guess, many of the couples on this show end up going their separate ways. However, there are several couples who have managed to defy the odds and build successful relationships, even with all of the craziness life has thrown at them. Keep reading to find out which couples from Love After Lockup are still together.
John and Kristianna
From the moment John and Kristianna appeared on the show, it was clear that their relationship was going to be interesting. Kristianna was serving three years in prison for burglary. Although John was a free man, he had legal issues in the past. On top of that, John shared that he had a very questionable relationship history. He had been married several times and admitted to cheating on all of his previous partners. Although they hardly knew each other, they decided to get married immediately after Kristianna was released from prison. When I say immediately I'm not exaggerating. They literally stopped to get married on their way to the halfway house. Unfortunately, Kristianna ended up in more legal trouble upon her release which caused her and John to have to spend some time apart. During this time, John sparked up a flirtationship with Kristianna's sister. Most viewers were sure the couple was headed towards divorce, but someone they decided to work things out. From what we can tell, they are still going strong.
Shane and Lacey
Shane and Lacy are another one of the many couples on Love After Lockup who have had an incredibly toxic relationship. When we were introduced to Lacey, she was actually dating two men: Shane and her high school sweetheart, John. Once Shane was released from prison, she decided to stick with him and kick John to the curb due to his inability to get sober and stay out of trouble. Unfortunately, making that choice didn't give Lacey the happy ending she was looking for. John continued to attempt to get back into her life and she started to have doubts about Shane. Eventually, however, things between Lacey and Shane seemed to get to a good point. When the couple found out they were pregnant, they were in a great place and they were excited about building a family together. Once the baby arrived, though, Lacey felt like Shane wasn't pulling his weight in their relationship or as a father. Despite her threats to leave him, recent Instagram posts show that the couple is still together and making things work.
Andrea and Lamar
Compromise is an important part of every relationship, and Andrea and Lamar have both had to make lots of compromises in order for their relationship to work. Once Lamar was released from prison, Andrea decided to give up her quiet suburban lifestyle in Utah to move to Lamar's home state of California. Like any other couple, they faced lots of growing pains. However, there were lots of moments in the show where it flat out seemed like they weren't right for each other. On top of that, many saw Andrea's unwillingness to accept Lamar's oldest daughter as a red flag. Although they came close to breaking up quite a few times, it looks like they're still together.
Brittany and Marcelino
If there was an award show for Love After Lockup, Brittany and Marcelino would definitely be nominated for the franchise's most stable couple. Like every other pair on the series, they got off to a rocky start. When Brittany was released from prison, Marcelino seemed to be controlling and she definitely wasn't the type to be controlled. Somewhat surprisingly, though, they managed to adjust to each other and they have built a peaceful and stable life together. In addition to Brittany's son from a previous relationship, they also have two children together. Things have been going so well for the couple that some people even think that it's time to drop them from Life After Lockup because their storyline has gotten a little stale.
Dominic and Mary
Unless you're a diehard fan of Love After Lockup, you probably don't even remember Dominic and Mary. The couple was introduced during season one and they haven't been on the show since. When Mary and Dominic met, he had just gotten out of prison. However, it wouldn't be long before he was back behind bars. When he was released again, the couple struggled to find their footing together. Dominic expressed that he had doubts about continuing the relationship. Ultimately, Dominic realized how much Mary had sacrificed for him and he was grateful for all of the love she showed him. The couple was married in the fall of 2018 in a very intimate ceremony. In 2020, they welcomed their first child together and their relationship seems to be in a good place. Couples like Dominic and Mary are proof that sometimes these love stories really can have a happy ending.
Jeff And Anissa
One of the things we see time and time again on Love After Lockup is that many of the inmates see relationships with people on the outside as a tool for survival. As a result, many cast members have found themselves getting used for their money and other resources. Sadly, though, they're usually so caught up in the situation that they can't see it for what it is. That definitely seemed to be the case with Jeff and Anissa. The couple "dated" for 11 years with Jeff being behind bars for most of that time. The first two times they were supposed to meet, Jeff stood Anissa up. He later revealed that he never planned on meeting her and was simply using her for her money. But apparently, the third time really is the charm because Jeff actually showed up to meet Anissa after his third release. While he insisted that he had really developed feelings for Anissa this time around, there were still some red flags. Not only were there some things Jeff hadn't been honest about, but he seemed to be using Anissa for her money. He spent most of his time using her credit card to shop and play online poker.
Shockingly, though, Jeff and Anissa appear to still be together. However, when they post anything on their shared Instagram profile, people make it obvious that they don't think the couple is a good match. Under one of their pictures, a user even said, "Anissa come on! Of course he knows how to talk and what to say!! That's what inmates do is talk because that's all they have to do is talk! He needs to shut up and move on and out of your life! He is no good!…Life is way to short for you to put up with that! Kick that POS to the curb!! But he will only do what you let him get away with…..Sad".
Brittany and Ray
Brittany and Ray are newer to the series than everyone else on this list, but their relationship might just be able to withstand the test of time. All things considered, the couple has always had a fairly 'normal' relationship – even while Ray was in prison. They both seem to genuinely like each other and Ray hasn't shown any signs of being with Brittany for her money. At the same time, not everything between them is always rainbows and butterflies. Adjusting to life outside of prison isn't easy and Brittany's demanding ways can be a little stressful for Ray. Despite those things, they're both committed to making their situation work. Their season is still in the process of airing, but all signs point to them still being together. What we don't know, however, is whether Brittany has allowed Ray to meet her mother.
Honorable Mention – James and Alla
James and Alla were cast members on the first season of Love After Lockup. Like Dominic and Mary, they haven't appeared on the show since. At the beginning of their relationship, Alla was serving a five-year prison sentence for selling drugs. That would've been a turn-off to most people, but James was determined to stick by her side. Once Alla was released from prison, she continued to struggle with addiction. She passed away in the summer of 2021. She was just 31 years old. The couple wasn't officially together at the time of her death, but James always held out hope that they would eventually get back together. After her death, James wrote a heartfelt Instagram post expressing his sadness.
Tell us what's wrong with this post? How could we improve it? :)
Let us improve this post!